Britney Spears told a court she wants her conservatorship to end during rare public testimony Wednesday, saying she's been traumatized by the people who have controlled her life for 13 years.
The singer expressed her feelings to Los Angeles County Superior Court Judge Brenda Penny in the first public testimony since scrutiny heightened around her case in the wake of documentaries released this year.
"I want to end the conservatorship without being evaluated," she said. "In the meantime, I want this therapist to come to my home. … I'm not willing to go to Westlake and be embarrassed by all these paparazzi."
Click here to read Spears' full statement
Spears, 39, who been under the conservatorship since 2008, alleged that she has been subjected to numerous psychiatric evaluations and medications and that she has been traumatized by her father through his control. She told the court she didn't speak up publicly because she felt no one would believe her.
"I haven't been back to court in a long time because I don't feel like I was heard on any level," she told the court.
Her testimony detailed a number of frustrations about being unable to go forward with her own desires, such as taking a break from work, getting married or having more children. Spears alleged that she wanted to have her intrauterine device removed so she could have another baby but her conservators would not allow it.
"I've lied and told the whole world I'm OK, I'm happy. ... I've been in shock. I am traumatized," she said. "You know, fake it till you make it. But now I'm telling you the truth. OK, I'm not happy. I can't sleep."
Spears also said she was not aware she could request to end the conservatorship. She alleged that her father has punished her for not complying with his desires and felt like she was "enslaved" by his demands.
She said she once attempted to refuse a residency in Las Vegas, and within days, she was told by her therapist that she was "not cooperating" in her rehearsals and not taking her medications. She told the judge the therapist then immediately put her on lithium, which made her feel like she was "drunk" and scared.
She went on to say that everything that was done to her had to be approved by her father, who "100,000 percent loved" that he had control over her.
"Nothing has been done to this generation for doing wrong things, but my precious body who has worked for my dad for the past f------ 13 years, trying to be so good and pretty, so good ... I'm told the state of California allowed my ignorant father to take his own daughter — who only has a role with me if I work with him — they sat back and allowed him to do that to me?" she said. "That's given these people I've worked for way too much control."
The singer said she just wanted to have "the real deal" but noted that she did think she probably needed therapy going forward. She told the judge she wants to agree to her medical plan and choose her own attorney.
"I wish I could stay on the phone with you forever. ... I feel ganged up on, I feel bullied, and I feel left out and alone," she said. "I'm tired of feeling alone."
She alleged that her previous therapist abused his power, that her management forced her to perform for years on end without a break and that she was forced into a $60,000 a month treatment facility by her father.
"I haven't done anything in the world to deserve this treatment. It's not OK to force me to do anything I don't want to do," she said.
The public portion of the proceeding ended abruptly after the judge announced that someone had violated the court rules, which forbids listeners from recording, broadcasting or live tweeting the hearing. But before the public was kicked out, an attorney for Spears' father made a brief statement.
"Mr. Spears is sorry to see his daughter suffering and in so much pain. Mr. Spears loves his daughter and her sister very much," the attorney said.
He declined to comment Wednesday after the hearing.
There was no formal petition to end the conservatorship submitted to the court Wednesday.
Sam Asghari, who has been dating Spears since 2016, posted a selfie wearing a "Free Britney" T-shirt on Instagram hours before the hearing. Asghari previously criticized his girlfriend's father in an Instagram story in February, saying he had "zero respect" for the man.
"In my opinion, Jamie is a total d---," Asghari, who is from Iran, said at the time. "I won't be going into details because I've always respected our privacy but at the same time, I didn't come to this country to not be able to express my opinion and freedom."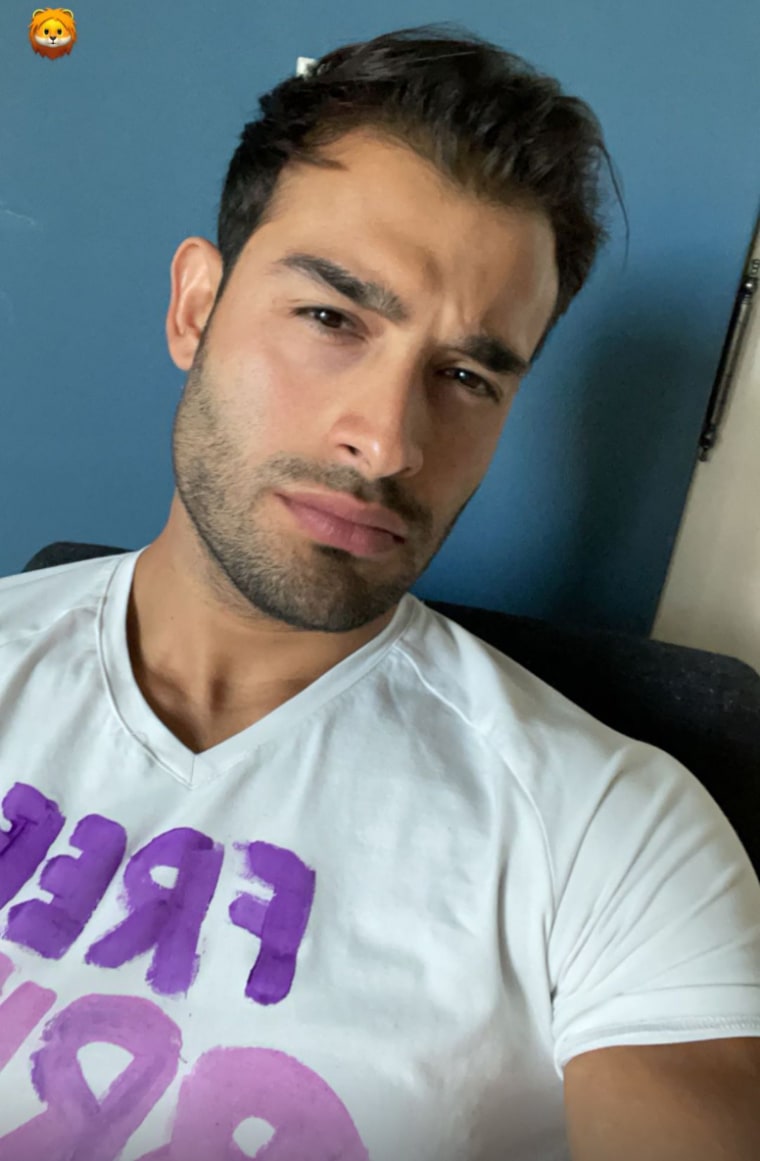 James "Jamie" Spears has been assigned as his daughter's conservator since 2008, shortly after Britney Spears had a public breakdown. He was temporarily made the sole executor of his daughter's estate in 2019 after his co-conservator, Andrew Wallet, resigned.
A year after Wallet resigned, Britney Spears' attorney, Samuel D. Ingham III, filed a petition to have Jamie Spears removed. Ingham said his client was afraid of her father and would rather have a professional handle her case.
Ingham also said Britney Spears would refuse to perform so long as her father is in charge of her affairs.
Penny denied the singer's request but did assign a financial institution, Bessemer Trust, to be Jamie Spears' co-conservator. She has also been assigned a conservator of the person, Jodi Montgomery, who handles the entertainer's nonfinancial needs.
Though much of her life has played out in the public eye, the court has sealed a number of documents from public record because of concerns about the singer's privacy.
But Ingham said Spears was "vehemently opposed to this effort by her father to keep her legal struggle hidden away in the closet as a family secret." He filed a motion last year to open her case to the public.
Fans have latched on to recent developments in Spears' case, starting a #FreeBritney campaign to end the conservatorship. Those who started the movement have expressed concerns that Jamie Spears has abused what was meant to be a temporary arrangement for his own personal gain.
Britney Spears' brother, Bryan, addressed the #FreeBritney campaign last year, saying he was aware his sister "always" had the desire to end the conservatorship.
"It's very frustrating to have," he said on the "As Not Seen on TV" podcast. "Whether someone's coming in peace to help or coming in with an attitude, having someone constantly tell you to do something has got to be frustrating."
Jamie Spears and his team have vehemently denied the accusations that he has abused his position, repeatedly stating that he only has his daughter's best interests at heart.
"Britney being safe and not being taken advantage of is his No. 1 priority," Vivian Thoreen, attorney for Jamie Spears, told NBC News in March.
But Britney Spears' life and legal battles have continued to make national headlines and have been the subject of two documentaries this year. The first, "Framing Britney Spears," was released by The New York Times on Hulu, followed by an hourlong BBC program called "The Battle for Britney: Fans, Cash and a Conservatorship."
Both projects scrutinize the singer's rise to fame, the media attention surrounding her personal life and her current conservatorship battle but without Spears' participation. She has made few public comments about her personal views on her conservatorship case until now.
Spears did address the documentaries, however, on Instagram. In a post on her account, she said the documentaries were hypocritical for criticizing previous coverage of her life as invasive while amplifying some of the most "negative" aspects of her career.
"Why highlight the most negative and traumatizing times in my life from forever ago ???? I mean DAMN," Spears wrote in Instagram post in May.
The singer also spoke up about her future in a video on her account last week, addressing fan questions about whether she would ever return to the stage. After years of maintaining a successful Las Vegas residency, Spears said in 2019 that she was canceling her upcoming shows and spent a month receiving in-patient mental health care.
"Am I going to take the stage again, will I ever take the stage again?" she said. "I have no idea. I'm having fun right now, I'm in transition in my life and I'm enjoying myself."