Britney Spears' new attorney filed a motion Monday to remove her father as her conservator, including new testimony that the singer's medical team has advised his removal in favor of her emotional well-being.
Former federal prosecutor Mathew Rosengart, who was hired onto Britney Spears' team July 14, told the court he intended to make the filing after he was approved to take the singer's case. James "Jamie" Spears has been accused by his daughter in court of abusing his power over her and ruining her life through the conservatorship.
The filing Monday requests the court remove him and replace him with Jason Rubin, calling it an "objectively intelligent preference to nominate a highly qualified, professional fiduciary in this circumstance."
"This petition is being filed concurrently with a petition for removal of current conservator of the estate, James Spears," the motion to appoint Rubin said.
The text adds that the petition to appoint Rubin is not waiving Britney Spears' rights to seek termination of her conservatorship. Rubin did not immediately return NBC News' request for comment.
Representatives for Jamie Spears initially declined to comment on the petition Monday. They did not immediately respond to a second request for comment in regard to the statements in the petition for his removal.
His legal team has repeatedly denied any allegations of wrongdoing.
The petition to remove Jamie Spears includes declarations of support from the singer's mother, Lynne Spears, and conservator-of-the-person Jodi Montgomery. Both women testified in statements dated Thursday that his relationship with Britney Spears is detrimental to the singer's wellbeing. "
Montgomery, who was appointed to Britney Spears' case in 2019, said she has personally witnessed the relationship, calling their dynamic "not psychologically healthy" for the singer's mental health. She called Jamie Spears' removal critical to Britney Spears' mental health and added that it is her belief that no relative should be in charge of the case.
"I have had numerous, ongoing conversations with the medical team, and we all agree that it would be best for Ms. Spears' well-being and mental health that her father stop acting as her Conservator," Montgomery said.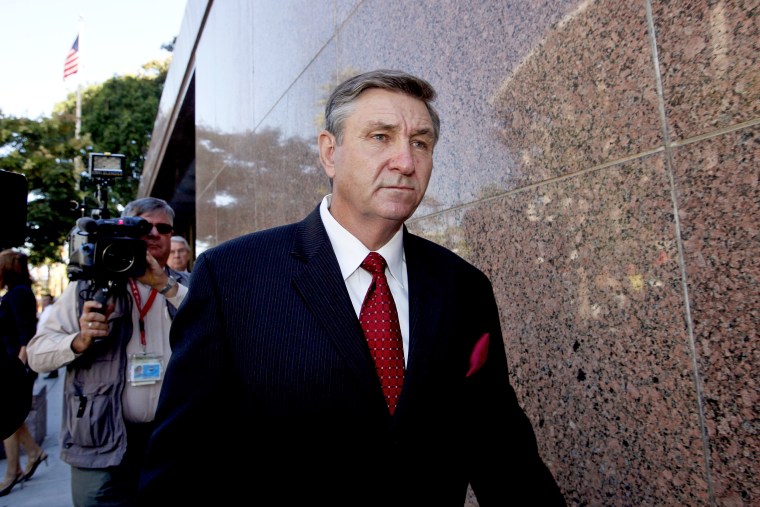 Lynne Spears noted that she became involved in her daughter's case during a "time of crisis" that began in 2018 and continued into the next year. She said that in that period Britney Spears was being treated by a "sports enhancement" doctor hired by Jamie Spears who was "prescribing what I and many others thought to be entirely inappropriate medicine to my daughter, who did not want to take the medicine."
She also said that Jamie Spears' "absolutely microscopic control" through threats and coercion has reduced his relationship with his daughter to nothing more than "fear and hatred."
Lynne Spears testified in her declaration that Jamie Spears has used his daughter's medical aides, household staff and security detail to "inform on and report back to him each and every detail of every action.
"Such scrutiny is exhausting and terrifying, like living in custody," Lynne Spears said.
Rosengart spoke to reporters briefly outside the Stanley Mosk courthouse Monday afternoon following a short hearing where the petitions were scheduled to be heard at a later date.
"Less than two weeks ago, we pledged that after 13 years of status quo we would move aggressively to suspend and remove James Spears," Rosengart said. "It is now a matter of public record that we have done so in less than two weeks. We look forward to litigating the matter in court."
In the petition to remove Jamie Spears, Rosengart hinted at possible further legal action and wrote that the court may one day have to decide whether Jamie Spears is "guilty of misfeasance or malfeasance" in his daughter's case.
Rosengart said noted that Jamie Spears has profited from his daughter's estate, taking a salary of $16,000 a month in addition to costs for office space and taking fees from her performance contracts.
"Although it is common for managers, agents and other industry professionals to receive a percentage of an artists' earnings, Mr. Spears is none of those," the petition said. "He is a conservator, and, as a conservator, his role is to be burdened by, rather than benefit from, the conservatorship."
Jamie Spears' legal team has repeatedly denied allegations of abuse, saying he only has his daughter's best interests at heart.
The motions to remove Jamie Spears and replace him with Rubin are scheduled to be addressed during a September 29 hearing, where Los Angeles County Superior Court Judge Brenda Penny is also expected to address a request for added security costs by co-conservator Jodi Montgomery.
During a hearing July 14, Britney Spears told Penny that she wanted to remove her father, have him investigated and charged with abuse. She said that her father has controlled every aspect of her life, from her diet to 70-hour workweeks.
She explained that her issues with her father span many years, saying her parents left her alone in their trailer multiple times a week. She said she used to fear that Jamie Spears would "show up drunk and embarrass her," referencing her father's past issues with alcoholism.
Britney Spears broke down in tears during the hearing, telling Penny she was "extremely scared" of her father.
Rosengart briefly addressed the court after the judge approved his hiring, calling on Jamie Spears to resign.
"If he loves his daughter, it is time to step aside — to move forward," Rosengart said.
Vivian Thoreen, attorney for Jamie Spears, told the court that Britney Spears' belief that her father is to blame for all her concerns is "simply not true" and that there is no basis for Jamie Spears to step down. She also alleged there were a number of "misstatements" made in Britney Spears' June 23 testimony, when she asked to end the conservatorship.
This is the second time in the past two years that Britney Spears has petitioned the court asking to remove her father.
Jamie Spears has been in charge of his daughter's case in varying capacities since it began in 2008 and was temporarily made the sole executor of her estate in 2019 after his co-conservator, Andrew Wallet, resigned.
Britney Spears' former court-appointed lawyer, Samuel D. Ingham III, filed the first petition to have her father removed in 2020, after Wallet's resignation. Ingham said Britney Spears was afraid of her father and would rather have a professional handle her case.
Her first petition was denied by Penny and the financial institution Bessemer Trust was assigned as Jamie Spears' co-conservator. But Bessemer Trust resigned following Britney Spears' June 23 testimony, telling the court it was unaware the singer wanted to end the conservatorship.
Penny formally approved Bessemer's resignation on Monday after ruling in favor pending a review earlier this month.
Melanie Mandarano, 32, is a New York City resident who flew to Los Angeles and gathered outside the Stanley Mosk courthouse Monday with #FreeBritney supporters. Mandarano said she plans to sublet her apartment and stay in Los Angeles to be at the September hearing.
Outside the courthouse Monday, she handed out postcards demanding an independent audit of Britney's case, excited at the prospect of a movement of ordinary people striving to make a difference.
"They called free Britney advocates conspiracy theorists and then when she spoke out in the first hearing it got everyone to really pay attention," Mandarano said.
Anthony Broccoli, a 25-year-old Los Angeles resident, said fans always felt that Britney Spears' conservatorship was "very off" and is frustrated it has taken so long to make a difference in her case.
"I think this should have happened a very long time ago," Broccoli said. "I'm glad it finally is in court documents and it's real and tangible. ... She shouldn't be in a conservatorship to begin with."