The CEO of Burning Man said Sunday that the situation at the venue in Nevada's Black Rock Desert was under control and far from alarming.
"There is no cause for panic," Marian Goodell told NBC News.
Burning Man's estimated 70,000-plus attendees were isolated at the venue known as Black Rock City as rain returned Sunday and as closed roads, muddy campgrounds and one reported death darkened the day.
Goodell, the CEO of the nonprofit Burning Man Project, which organizes the annual event, suggested the intense attention on the event during the holiday weekend was needless, characterizing it as "such a fuss."
Organizers have so far turned down help from the Nevada National Guard, Goodell said.
"We've made it really clear that we do not see this as an evacuation situation," she said. "The water is drying up."
Even with more rain falling, Goodell said she expected the annual burning of a 40-foot wooden man, which usually takes place on the last Saturday night of the party, would most likely happen at 9:30 p.m. Sunday.
Early Sunday evening, however, organizers said rain and mud made the event impossible, and it was rescheduled for 9 p.m. Monday. The final day of the event is traditionally when most festivalgoers leave. It was not immediately clear how the burning change would affect the exodus Monday.
The crowd at the countercultural music and arts festival was first advised to "shelter in place" and conserve food and water Friday, according to notices from organizers.
But by Sunday, many took them to mean party in place, and much dancing in the omnipresent mud of the party's dry lake bed was captured on video and posted to social media. Some social media observers from outside the festival were less than sympathetic.
The weekend rain was the product of a fall-like low-pressure system off Northern California, federal forecasters said. A 70% chance of rain was in store for the area around Gerlach, the nearest town, and a flood watch was in effect for a wide part of northern Nevada, according to the National Weather Service.
All inbound and outbound traffic remained generally prohibited Sunday, and the shelter-in-place recommendation was still in effect in the afternoon. Roads were essentially impassable, organizers said.
Electronic dance music DJ Diplo and comedian Chris Rock were among those able to find a way out Saturday. Diplo, born Thomas Wesley Pentz Jr., posted video of his exit to Instagram. It shows Rock and Diplo in the back of a pickup, a welcoming place after what Diplo described as a 6-mile trek through mud and puddles.
Pershing County Sheriff's Sgt. Nathan J. Carmichael said he witnessed a trickle of attendees leaving on foot Saturday. Organizers said Sunday that four-wheel-drive vehicles with off-road tires were the only ones able to make it out without getting stuck.
Saturday night, the party had seemed all but over as organizers said their main focus was getting people out. "Most Festival operations have been halted or significantly delayed," the sheriff's office said in a statement.
The reported death at the 3,900-acre festival site is under investigation, local authorities said Saturday. The cause was not clear Sunday.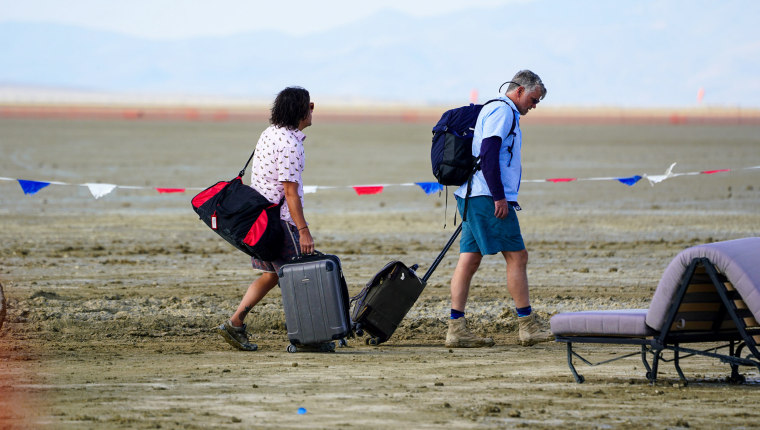 Carmichael estimated the crowd at more than 70,000, with the event's capacity, including organizers, security, and staff, set at 80,000 by the U.S. Bureau of Land Management, which manages the federally protected Black Rock Desert.
The festival has long attracted tech industry CEOs and Hollywood celebrities. Ticket prices this year started at $575, with vehicle passes going for $150.
Burning Man started in 1986 on Baker Beach in San Francisco, where it remained until it moved to the Nevada desert in 1991.
"This is not ending the Burning Man event by any stretch," Goodell said of the rain and mud. "It just makes us stronger."