Singer Chris Brown is being investigated for potential battery on a woman in Las Vegas, police said Saturday.
The recording artist's publicist slammed the allegation as "unequivocally untrue."
Officers responded to a report of a battery shortly after 10 a.m. at the Palms Casino Resort, where they found a woman "who appeared to have minor injuries sustained as a result of a battery," according to a statement from the Las Vegas Metropolitan Police Department.
It said an investigation indicated that an altercation took place at a party inside a room at the hotel when the woman tried to take a picture of Brown, 26.
"The victim was alleged to have been battered by Brown, who at the same time took her cell phone," the statement said. "A verbal altercation took place as the victim was escorted out of the room by private security and into the hallway."
Police did not identify the woman, saying only that she was escorted off the property by hotel security but later returned to report the incident. Detectives tried to contact Brown in the hotel room but the singer had already left, the force added.
Brown has not been arrested but a crime report has been taken for misdemeanor theft and misdemeanor battery listing Brown as a suspect, according to police.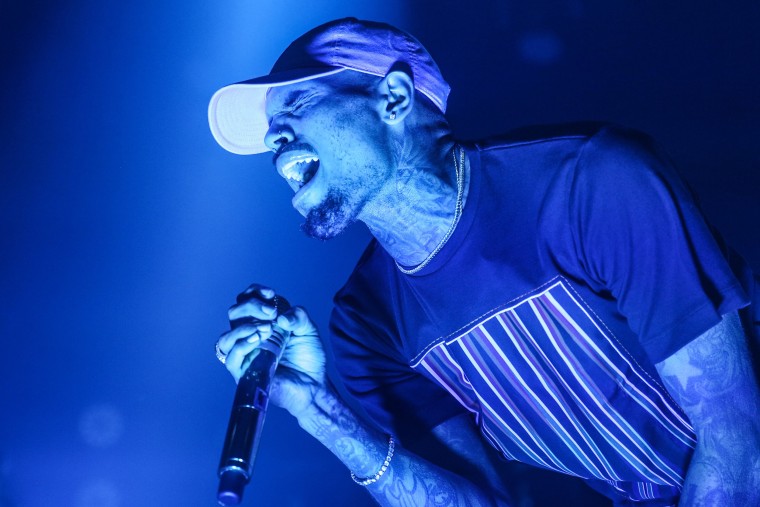 Brown's publicist, Nicole Perna, said her client's attorney has contacted Las Vegas police and called the allegations "unequivocally untrue."
She said in an emailed statement Saturday night that the woman was escorted out of the private party for "being disruptive and out of control."
"Once she was in the hallway, while waiting for Chris Brown's security to bring out her phone, she had a total meltdown — throwing her purse to the ground and claiming that she "could buy everyone in the hotel" — as witnessed by numerous people," Perna said. "Her claim that she had her phone in her possession inside the after party and was able to take a photo causing an altercation with Chris Brown is a complete fabrication."
She added that Brown had returned to Los Angeles from Las Vegas, where he performed at Drai's Night Club on Friday night.
The R&B singer was released from felony probation last year, more than six years after he attacked then-girlfriend Rihanna. The singer pleaded guilty to felony assault in the 2009 case.