The radio DJ accused of groping Taylor Swift is back on the airwaves after being hired by a Mississippi radio station.
David Mueller started his gig with Delta Radio on Monday with the first airing of the "Jackson & Jonbob Morning Show."
As first reported by the New York Daily News, Mueller's new show is his foray back into radio since he was fired from Denver radio station KYGO in 2013 after being accused of grabbing Swift's rear.
Delta Radio CEO and President Larry Fuss told NBC News he hired Mueller because of his experience in Denver.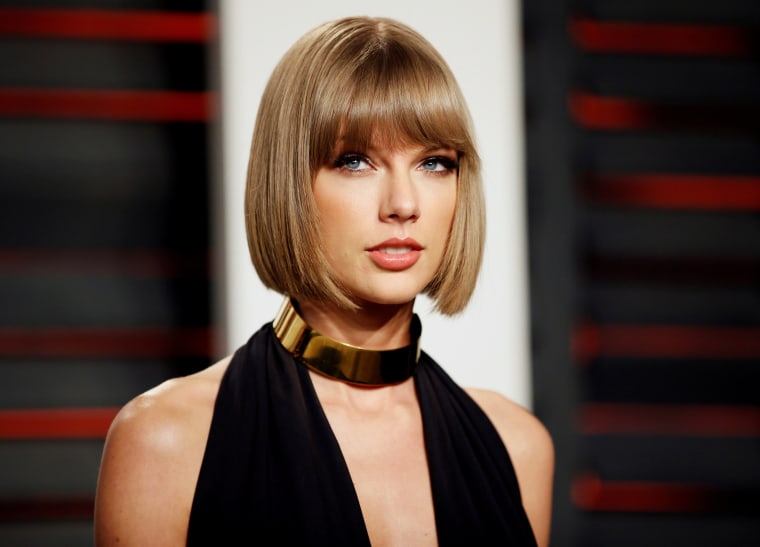 "Well, we hired him solely because we were able to get a guy who had major market experience to work at our little radio station in Mississippi," Fuss said. "The fact that he's a genuine guy, he sounds good on air, he's friendly, relatable. Just a good radio guy."
Fuss said he wasn't worried about the backlash from the civil lawsuits exchanged between Mueller and Swift over the alleged grabbing. Last August, a jury sided with Swift for a symbolic $1 settlement. Mueller has maintained he never inappropriately touched Swift.
Swift's fans were quick to express their outrage, Fuss said.
"The Taylor Swift fan base, at least the one who have contacted me, have been vulgar, vile, vicious," Fuss said.
On Twitter, dozens of angry fans have tweeted their anger about Fuss' decision to hire Mueller. Many tweeted they contacted Fuss directly to express their frustration, and shared Fuss' phone number urging others to air their grievances.
Fuss said he has received calls from Swift's fans calling Mueller a "convicted felon," "child molester," and "rapist" — none of which is true, he said.
"This is not a referendum on sexual assault," Fuss said. "I'm just a radio guy who was willing to give another radio guy a chance."
Fuss said there have been death and bomb threats since hiring Mueller. On Wednesday, Greenwood Police Chief Ray Moore confirmed that a bomb threat had been reported around 9 a.m. CT (10 a.m. ET) and bomb-sniffing dogs deployed. No evidence of a bomb was found.
"It's currently under investigation because we take these very seriously in today's climate. We have to take them seriously," Moore said.
Mueller came down to Mississippi several months ago to meet his new colleagues and "everyone was fine with it," Fuss said.
On his weekday morning show, Mueller still goes by "Jackson," the moniker he adopted at KYGO, but Delta Radio appended the name to "Stonewall Jackson" — a famous confederate general — to give it a Southern twist, according to the Daily News. Fuss said that on air Mueller is "just Jackson."
"He's overall a good guy, and I was just trying to give him a break to get his career on track," Fuss said. "He hasn't been on air in over five years since that incident happened in 2013."