Director Harmony Korine's sex, drugs, and violence-riddled "Spring Breakers" opened nationwide last weekend after a massive publicity blitz that capitalized on the scandalous coming-out party of its former Disney Channel stars Selena Gomez and Vanessa Hudgens along with ABC Family's Ashley Benson.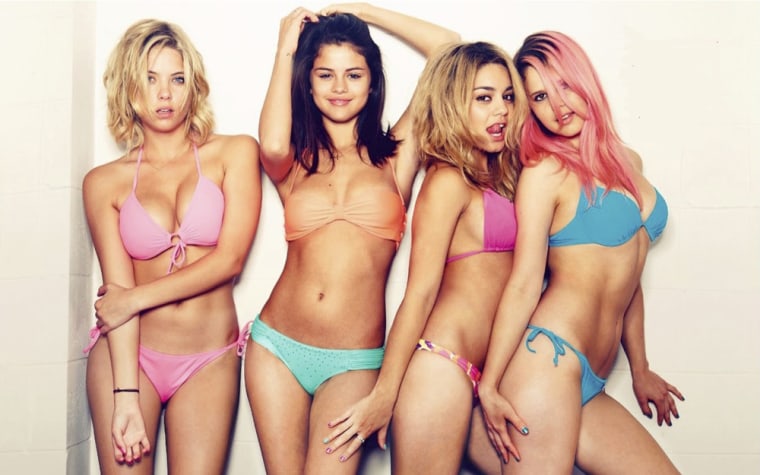 The sexualization of the "Wizards of Waverly Place"and "High School Musical" actresses was met with condemnation from some corners. At ParentPreviews.com, a review said that parents "will need to be prepared to explain -- yet again -- why their kids should avoid seeing their childhood icons depicting the most deplorable of adult behaviors."
And Billy Bush of Access Hollywood weighed in on the movie and how he told his 14-year-old daughter she was not allowed to see it. "'Spring Breakers' is rated 'R,' it's raunchy, it's filled with sex, drugs and violence," Bush said. "A lot of teenagers that grew up with Selena and Vanessa have seen the commercials and they think they're ready to see the movie. Safe to say, I think they're not."
But, instead of nationwide outrage at the box office, the indie movie ended up exceeding expectations, pulling in over $5 million, more than covering the reported $2 million it cost to make.
Remember when Britney Spears announced she was "not that innocent" through the lyrics of her 2000 hit "Oops I Did It Again"? The world was shocked. The pop singer had found fame on a platform of purity and watching her transition into a sexualized adult was a hard pill to swallow for many, namely the parents of her massive tween and teenaged fan base.
Spears was taking part in what has become a celebrity rite of passage for teenaged stars hitting their 20s: she was a "good girl gone bad." These days the practice of youthful stars shedding their innocent images is so frequent it's almost expected.
It raises the question: Have we become desensitized to the storyline?
Yes, says Michael Levine, an image consultant and founder of Levine Communications Office. "As we become a more and more and more and more technologically sophisticated society, we become, by definition, a less reverent, less sacred society," he said. "Things that 10, 20 years ago would be absolutely unthinkable have become more normalized," adding that, "many of these girls benefit from the controversy and the edginess."
IMDb.com managing editor Keith Simanton also argues that the idea of watching previously categorized "innocent" stars show a naughtier side incites intrigue.
"I think there was very much the 'Black Swan,' Mila Kunis-Natalie Portman curiosity factor there that drew people in to see 'Spring Breakers,'" Simanton said. "[The film's marketing] didn't leave much to chance that there was going to be something steamy going on."
Gomez, 20, and Hudgens, 24, are in crowded company when it comes to pushing the boundaries of their squeaky-clean Disney images.
"Remember when Miley Cyrus did that spread for Vanity Fair with Annie Leibovitz?" Simanton asks. "You look at those photos now and they're, like, not a big deal. But at the time it was, 'Oh my good Lord!' It seemed so shocking because here was this sweet really ebullient gal who shows us a dark side, which didn't fit our perception."
Simanton says the desire to mature and move on from the persona that made their mark also applies to male actors in the biz. "You look at Zac Efron in "The Paperboy" -- what's he's trying to do? He's trying to shed that image. Let's try and not have you think of me as Troy Bolton [his 'High School Musical' character] dancing around in the gymnasium."
Gomez, Bensen and Hudgens aren't the only ones taking on riskier roles this year. Emma Watson, of wholesome Hermione Granger fame, is set to star in a notably more mature role this summer in "The Bling Ring." The film's trailer shows the 22-year-old star robbing homes, dancing seductively and crying in court -- a massive departure from her "Harry Potter" role. But, Simanton doesn't expect a blowback from Watson's mature role selection.
"I think it's different because she's a movie star, she's not a TV star. She's basically known for eight movies and she's shown up over a long period of time changing herself," Simanton said. "With TV -- this is why actors both love and loathe getting TV roles because a) it's steady work, but b) if it's successful, you're Frasier Crane for the rest of your life. You're Gilligan. ... Her being Hermione Granger was more of a role. You really don't know who Emma Watson is, but you feel like you know who Miranda Cosgrove is and you kinda feel like you know who Miley Cyrus is or those two kids on "The Suite Life of Zach & Cody," because you saw them every week."
Related video: