Marty Sweeney isn't too worried about running out of baking supplies. Ever since Sweeney, a building materials sales manager, took over the family apple pie-making duties more than 10 years ago when his wife's grandmother died, he's learned to always keep at least 5 pounds of flour on hand.
His supply only grew when officials instituted social distancing measures in Cincinnati, where he lives. Among the first things his children did as the outbreak worsened was run to the grocery store to secure more baking ingredients. They wanted their pie and soft pretzels.
"Usually I'm sending pictures of bread and baked goods to torment my kids to entice them to visit me," Sweeney told NBC News. "I'll say, 'Hey, it's been a while, and this is just sitting here,' and then they'll come right over. I have one son that lives out in Denver, though, so he just has to suffer."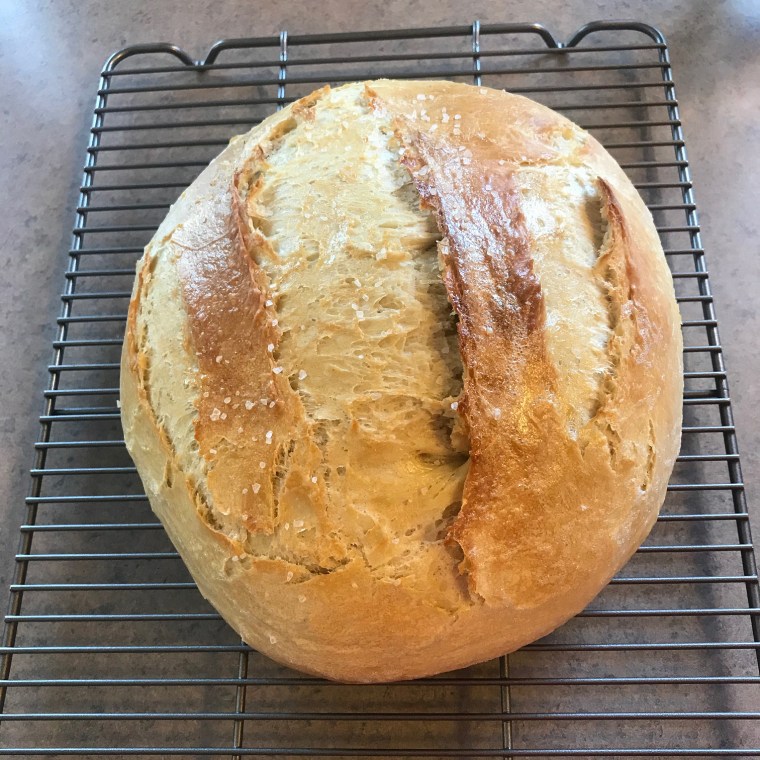 A quick scroll through social media may lead you to believe that everyone with the capability to do so is picking up baking as a social distancing hobby. And while the psychological benefits of baking have been well documented — it alleviates stress and allows for creative expression — there's one unequivocal drawback: Not everyone is as prepared as Sweeney. More bakers means less yeast and flour for shoppers.
Full coverage of the coronavirus outbreak
"'Real' bread is something I always wanted to learn how to make, and since I've suddenly found myself with so much free time, now seemed as good a time as any," said Sophia Zhu, a software engineer. "Also, I love food. I've also been cooking a lot more than usual, and it's been a little difficult finding bread in grocery stores."
While Zhu, who lives in California, hasn't had a problem finding flour, she said yeast "is nearly impossible to get ahold of" at her local grocery stores.
Jessica Morgan, co-author of the novel "The Royal We," has also dealt with supply shortages. A friend mailed her yeast after she had trouble finding some in stores, and she's slowly running out of flour. Her endeavor to spend as little time outdoors as possible and "not put a strain on delivery workers" during the outbreak has further complicated her attempts to get such ingredients.
"I have a lot of yeast now, thanks to my friend, but I'm running low on flour, so that's kind of a question mark," said Morgan, who, like Zhu, lives in California.
According to Christopher Clark, vice president of communications and administration for the North American Millers' Association, the global pandemic "has resulted in an unprecedented demand situation" for flour and other home-baking ingredients. However, neither he nor Brian Doyle, president of King Milling Co. of Michigan, foresee any supply chain issues. Clark said shortages in stores "are the result of increased demand, not a lack of supply," as "the industry has grain and the capacity" to transfer and produce products.
A spokesperson for Ardent Mills, Alicia Hassinger, owner of Everle Consulting, agreed, saying "pipelines are in good shape."
Bakers are making homemade flour and yeast substitutes
While officially there is no shortage of baking products, according to industry experts, many quarantine bakers are still having trouble getting ingredients, forcing them to get creative. For many, that means making their own sourdough starter as a workaround in the absence of yeast. That entails nurturing a culture of naturally occurring bacteria and yeast, which is mixed daily with flour and water. Sourdough starter takes about five days to a week to mature, and it can be made with virtually any kind of flour, which is especially helpful during flour shortages.
"It turns out you can pretty much substitute sourdough starter for yeast in any bread recipe and also use it as extra leavening or flavor for non-yeast recipes, so I've been using it in basically everything I bake," Zhu said. "I also dried some of it out and am planning to mail it to a couple of friends around the country who have also expressed an interest in trying to make sourdough."
Bakers can also make their own flour at home with the proper ingredients, as practically any grain, seed, nut or bean can be used to make a flour with a blender, Morgan said. For whole wheat flour or rye flour, one simply needs to grind whole wheat or rye berries.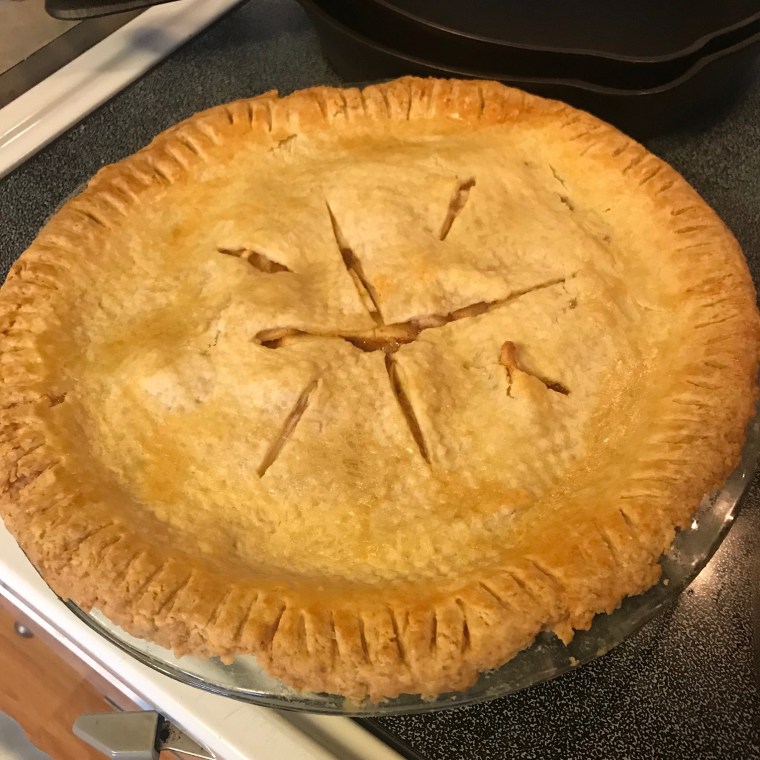 Morgan also uses an online encyclopedia detailing food substitutions when a recipe calls for an ingredient she doesn't have. While she didn't have to use it for her first loaf of quarantine bread — which she said she made because she couldn't find bread at the store — she suspects it will prove useful should other supply shortages arise.
And if quarantine bakers aren't brave enough to make their own flour, Sweeney suggests that they try flourless recipes that use oats and fruit as replacements. These recipes tend to be healthier and are gluten-free friendly.
Curtailing grocery store capacity by baking at home
While jokes about quarantine bakers' flaunting their creations online abound, some say baking has become not only a way to pass the time but also a way to curtail grocery store demand, avoid food waste and alleviate some of the demand on essential workers during the outbreak.
"I felt very basic when I decided to make my first loaf, because I think everyone who is fortunate enough to be home with a lot of free time right now is like, 'Well, guess I'm going to start baking some stuff,'" said Morgan, who started seriously baking only in quarantine. "I do feel very fortunate that I have the time and the ingredients to do this. It's quite a time-consuming process, but if we can make something at home and avoid adding to grocery store capacity or demands on delivery workers, I think it's our responsibility to do so."
As for Sweeney, he plans to perfect his pie recipe and experiment with different fruits so that once the virus abates, he'll have new leverage to persuade his children to visit.
"I keep thinking, what other fruits can I try for the filling?" Sweeney said. "I do apple pies, blueberry pies, blackberry pies, cherry pies, but those are all kinds of the standards. I keep thinking, what else is there that I should try now?"