The FBI has offered up to $25,000 as a reward for information on seven Andy Warhol prints stolen from a Missouri art museum last week.
The "Campbell's Soup" prints, part of a set of 10 worth $500,000, were taken from the Springfield Art Museum, in Springfield, after a break-in during the early hours of April 7, the FBI said.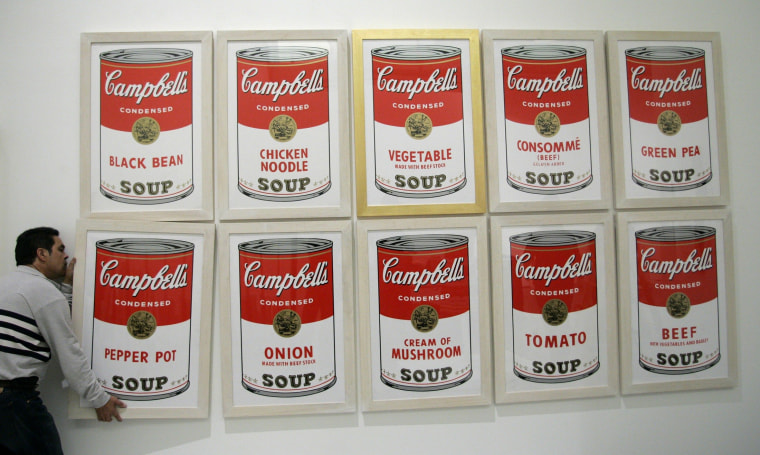 Related: Warhol's Elvis and Brando Works Fetch $151.5 Million at Auction
A spokeswoman for the FBI said Monday that no further information was being released on the details of the theft, and that an investigation is ongoing.
The Springfield Art Museum said in a statement on its website that a burglary had occurred and "The Electric Garden of Our Minds: British/American Pop" exhibit, in which the Warhol prints had been displayed, was closed as a security measure.
The screenprint works are part of Set Number 31 of the "Campbell's Soup I" collection, which has been owned by the museum since 1985.
The FBI's Art Crime Team said it is seeking help from the public in finding the stolen artworks, which measure 37 inches by 24.5 inches, and has asked anyone with information to contact the bureau's Missouri division or Springfield police.
Last year, nine original Warhol prints worth an estimated $350,000 from the late artist's "Endangered Species" series were quietly stolen from a Los Angeles movie business and replaced with color copies, in an art heist that went undetected for years.
Two of the prints, "Siberian Tiger" and "Bighorn Ram," were later turned over to police.
Editor's note: An earlier version of this article referred to the artworks as paintings. The works are actually prints.