Chock full of both debut and veteran performances and tributes to some of the cultural icons recently lost, the 62nd annual Grammy Awards offered few lulls. Here are some of the most memorable moments from the show.
Billie Eilish wins best new artist and four other Grammys
Billie Eilish won the Grammy for best new artist, a stacked category in which she competed against Lizzo, Lil Nas X, Black Pumas, Maggie Rogers, Rosalía, Tank and the Bangas, and Yola. Eilish first gained traction after she uploaded a song called "Ocean Eyes" on SoundCloud in 2016, but 2019 proved to be a breakout year for the 18-year-old artist. Her album "When We All Fall Asleep, Where Do We Go?" was released in March and debuted at No. 1 on the Billboard 200 and on the UK Albums Chart, making her the first artist born in the 2000s to have a No. 1 album in the United States and the youngest female ever to have a No. 1 album in the United Kingdom. She also took home Grammys for best song for her track "bad guy," record of the year, best pop vocal album and album of the year.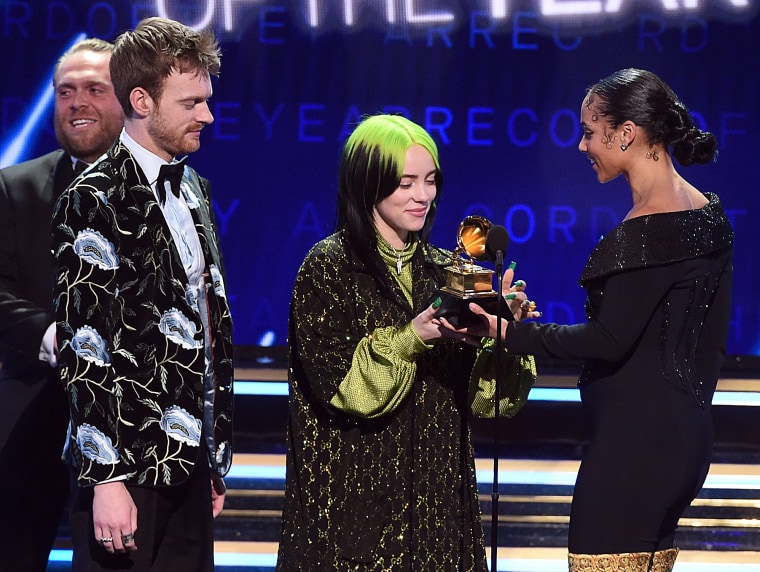 "We stand up here confused and grateful," Eilish's brother, Finneas O'Connell, said during the duo's acceptance speech for the best pop vocal album award.
When the pair returned minutes later to collect the award for album of the year, they simply said, "Thank you."
Alicia Keys, Boys II Men honor Kobe Bryant
Although the Grammys are typically a vibrant celebration of the most talented artists in the industry, this year's show took on a more somber tone as musicians honored NBA star Kobe Bryant, who with his daughter Gianna died Sunday in a helicopter crash.
The tributes began with Lizzo's performance of "Cuz I Love You" and "Truth Hurts," after which she declared, "Tonight is for Kobe." Lizzo was followed by Alicia Keys, the show's host, who took a moment as the ceremony got underway to reflect on the Bryants.
"Here we are together, on music's biggest night, celebrating the artists that do it best, but to be honest with you, we're all feeling crazy sadness right now," Keys said. "Because earlier today, Los Angeles, America and the whole wide world lost a hero."
Keys, joined by Boys II Men, sang "It's So Hard to Say Goodbye."
Camila Cabello sings to her father
Camila Cabello's Grammys performance struck an emotional chord with viewers, who said her song reminded them of the Bryant family. While singing, Cabello descended the stage and approached her father, Alejandro Cabello, as pictures of her childhood appeared on a screen behind her. Her father appeared to cry as she sang to him, and they shared a hug after the performance.
Lil Nas X and BTS' "Old Town Road" Performance
Lil Nas X, who gained prominence through his country trap single "Old Town Road," continued to fuse different genres in his latest performance of "Old Town Road," featuring K-pop band BTS and viral yodeling star Mason Ramsey. It was the first Grammy performance for BTS and Mason, 13, who is one of the youngest Grammy performers ever.
Demi Lovato debuts song written before overdose
Demi Lovato debuted "Anyone," a song she wrote days before her overdose, calling it "a cry for help." The "Confident" singer got choked up and began the song a second time, but that was of no importance to fans who called her performance "powerful" and gave her a standing ovation. The emotional song marked the first time Lovato has performed onstage since the overdose in 2018. She will also perform the national anthem before the Super Bowl on Feb. 2, adding to a stacked halftime lineup that includes Jennifer Lopez and Shakira.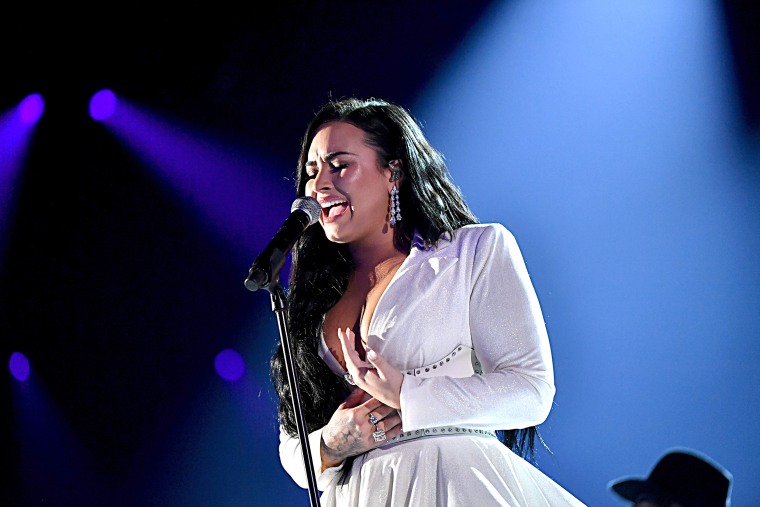 Nipsey Hussle tribute
The late Los Angeles rapper Nipsey Hussle was honored with performances by John Legend, Meek Mill, Kirk Franklin, Roddy Ricch and YG. The artist, who died in March, posthumously won the best rap performance award for his track "Racks in the Middle," a collaboration featuring Ricch and Hit-Boy.
"I wanted to thank all of you for showing all the love that I have felt for him all of his life and will always live in my heart," his grandmother Margaret Boutte said as she and his family accepted the award on his behalf. "So thank you, thank you, thank you."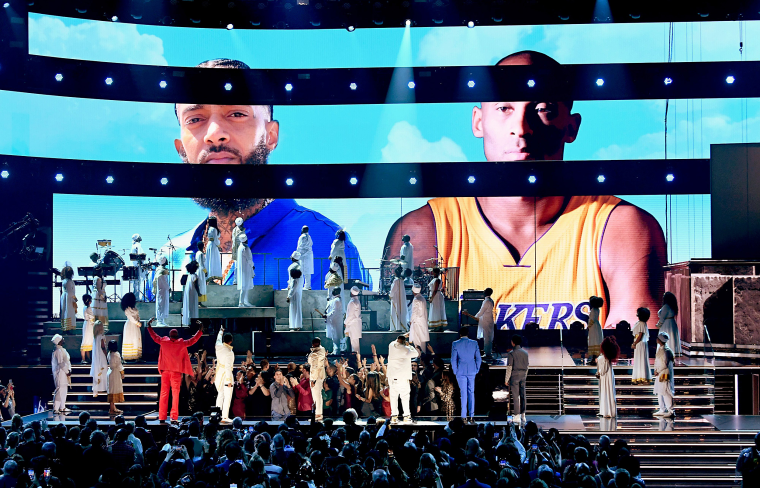 Ozzy Osbourne makes first public appearance following Parkinson's diagnosis
Ozzy Osbourne, 71, made his first public appearance since he announced last week that he had been diagnosed with Parkinson's disease. He and his wife, Sharon, presented the Grammy for best rap/song performance and introduced H.E.R. Osbourne also walked the red carpet with his daughter Kelly.
A call for "the truth"
Although no overt references were made to the turmoil within the Recording Academy's leadership, Keys alluded, in closing, to Grammy Awards chief Deborah Dugan, who was placed on leave 10 days before the ceremony after she alleged gender discrimination, sexual harassment, retaliation and unequal pay.
"We've got a lot to change. We've got a lot to do," Keys said. "Keep speaking the truth."
She ended the show the same way she opened it: "God bless Kobe's family."
CORRECTION (Monday, Jan. 27, 2020, 10:30 a.m. ET): A previous version of this article misstated the number of Grammy awards won by Billie Eilish on Sunday. She won five Grammy awards, not four. It also misstated when Ozzy Osbourne was diagnosed with Parkinson's disease. He was diagnosed in February 2019, not last week.