The Recording Academy president responded to the hashtag #GrammysSoMale — started as a backlash to men sweeping the top Grammy Awards — by saying that women needed to "step up."
"I think it has to begin with women who have the creativity in their hearts and souls — who want to be musicians, who want to be engineers, producers, and want to be part of the industry on the executive level —to step up, because I think they would be welcome," Neil Portnow told journalists backstage following the show.
Portnow added that while he personally had not experienced the barriers that women do, it was up to the industry to make artists feel welcome.
"I don't have personal experience of those kinds of brick walls that you face but I think it's upon us — us as an industry — to make the welcome mat very obvious, breeding opportunities for all people who want to be creative and paying it forward and creating that next generation of artists," Portnow said.
The #GrammysSoMale hashtag took off on Twitter after male artists swept nine of ten top award categories.
Best new artist winner Alessia Cara was the only female artist to win a major category. Many artists, Cara included, came to the Grammys wearing white roses in solidarity with the Times Up initiative and #MeToo movement against sexual harassment, misconduct and inequality.
The awards also drew criticism after a report in Variety that Lorde, the only female artist nominated for album of the year, was also the only artist in that category not approached about performing solo during the show.
Bruno Mars took home the top awards with "24K Magic" winning album of the year and for songs "24K Magic" and "That's What I Like" winning record of the year and song of the year.
One of the night's more emotionally gripping performances was by Kesha, who performed her song "Praying" in a nod to the #MeToo movement.
Kesha wrote "Praying" during lawsuits against her former producer, Dr. Luke (Lukasz Gottwald), whom she has accused of sexual and emotional abuse.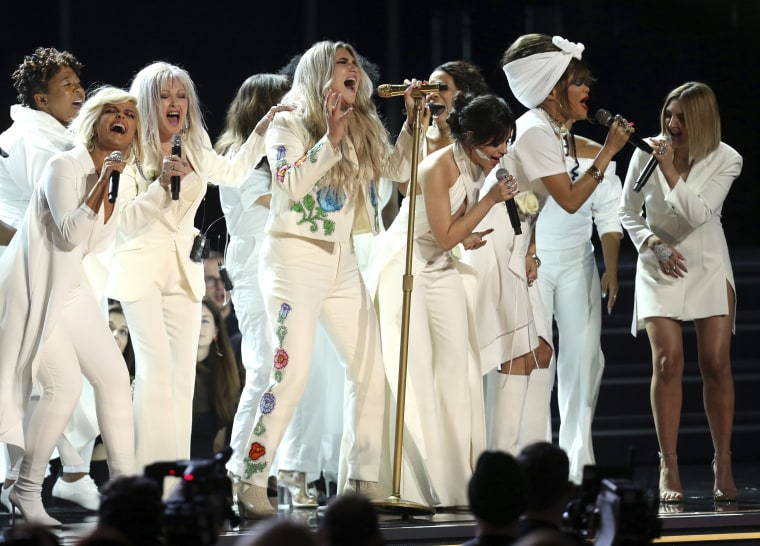 Kesha sued Gottwald, who has denied the allegations, in New York State Supreme Court in 2014. A judge threw out the case two years ago.
The song was nominated for "Best Pop Solo Performance" but lost to Ed Sheeran's "Shape of You" — drawing criticism from her supporters.
During Kesha's performance, the artist was surrounded by other female singers dressed in white as a symbol of "hope, peace, sympathy and resistance," according to Atlantic Records Chairwoman Julie Greenwald.
The women embraced at the end of the performance, with Kesha wiping tears from her face.