Harry Belafonte, the effortlessly graceful singer credited with popularizing calypso in the U.S. in the 1950s who then marched at the forefront of the country's civil rights struggle for half a century, died Tuesday, according to his spokesperson.
He was 96.
Belafonte died of congestive heart failure at his home in New York City, longtime spokesperson Ken Sunshine confirmed.
Belafonte's legacy as an arresting, charismatic singer and actor, which was sealed with the release of the landmark album "Calypso" in 1956, spanned more than six decades.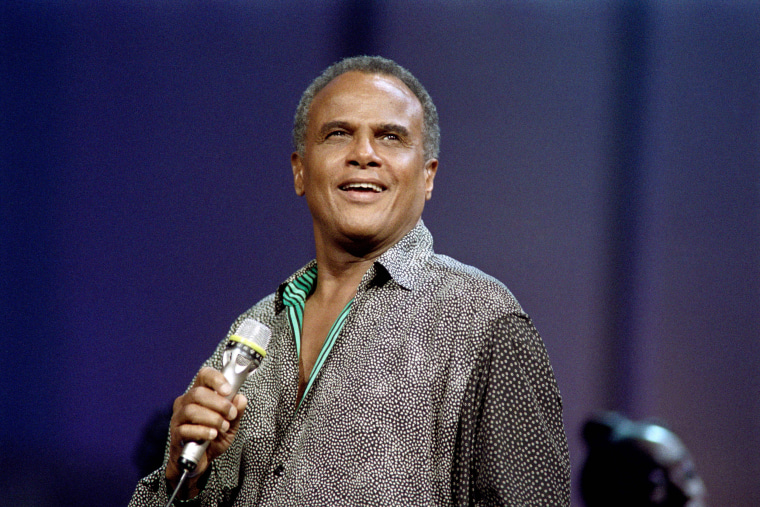 Active almost to the very end
As recently as 2018 he made a bone-chilling appearance in the movie "BlacKkKlansman," portraying an older civil rights leader who recounts the judicial railroading and brutal lynching of Jesse Washington, a Black teenage farmhand, in Waco, Texas, in 1916.
Belafonte, after several years of poor health, had to get his doctor's permission to shoot the scene. The movie's director, Spike Lee, told Deadline.com: "I said, 'Thank you, Jesus.' And I said to the crew: 'When you come to the set tomorrow, I want you to have a suit on, a tie, wear your Sunday best. If you dress lazy, don't come to work, because we have a very special guest.'"
Belafonte was born Harold George Bellanfanti Jr. in the Harlem neighborhood of New York in 1927, the son of Harold George Bellanfanti Sr., a Martinique-born chef, and Melvine Bellanfanti, a Jamaica-born housekeeper. From the ages of 8 to about 13, he lived in Jamaica with his mother and returned to the U.S. to continue high school before he served in the Navy during World War II.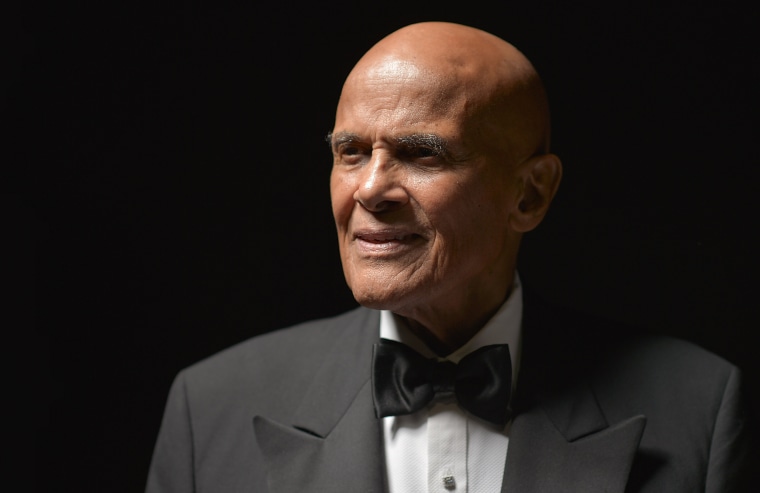 Belafonte attended the Dramatic Workshop of the New School for Social Research on the G.I. Bill in a class that included Marlon Brando, Walter Matthau and Sidney Poitier, who would become a lifelong friend.
On the side, he sang in New York nightclubs, where he found his first success turning his smooth, elegant renditions of pop, jazz and folk classics into an engagement at the Village Vanguard, where he was soon spotted by RCA Victor and signed to a record contract in 1952.
An EGOT winner and a lifetime of awards
Belafonte received most of the major honors the U.S. reserves for its revered artists and performers, among them the Kennedy Center Honors in 1989, the National Medal of Arts in 1994, the Grammy Lifetime Achievement Award in 2000, the BET Humanitarian Award in 2006, the Spingarn Medal from the NAACP in 2013 and the Jean Hersholt Humanitarian Award from the Motion Picture Academy in 2014.
The honorary Oscar meant Belafonte had awards in all four major entertainment competitions — the rare EGOT.
The Black novelist and songwriter William Attaway urged Belafonte to "view folk songs as a body of social knowledge, a collective resource open to all," the University of Massachusetts scholar Judith E. Smith wrote in her 2014 biography, "Becoming Belafonte: Black Artist, Public Radical."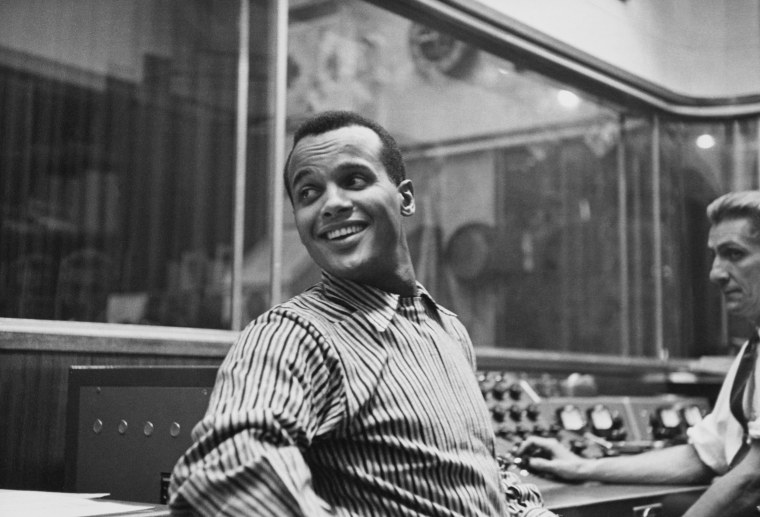 Belafonte thereafter focused on vernacular and folk music, much of it expressions of the Black and Caribbean experience. Within a year, he had a hit single, "Matilda," which would stay in his repertoire for decades. By 1954, he had hit No. 3 on the album charts with "Mark Twain and Other Folk Favorites."
He had also scored on Broadway, winning a Tony for best performance by an actor in a leading role in a musical in 1954 for the revue "John Murray Anderson's Almanac."
Then came 1956, when he ruled the music world with two No. 1 albums, "Belafonte" and "Calypso," a landmark in American popular music that was the first LP record to be certified with sales of 1 million or more.
Best known for 'Day-O'
The album — which included Belafonte's signature number, "Day-O (Banana Boat Song)," with its unforgettable Jamaican dockworker's lament — spent 99 weeks on the charts, 31 of them at No. 1, which remains the fourth-longest run in Billboard chart history.
It also established calypso, an African Caribbean folk blend rooted in Trinidad and Tobago, as an enduring component of the American music scene, earning him the nickname the "King of Calypso."
It paved the way for a wave of folk acts that dotted the charts through the beginning of the British music invasion of the mid-1960s and continues to influence folk and "island music" artists like Jimmy Buffett, Alison Hinds, Buster Poindexter, Mighty Sparrow, the Mighty Vikings and David Rudder.
"Years later, it remains a record of inestimable influence, inspiring many folk singers and groups," the noted music historian and writer Cary Ginell wrote of "Calypso."
Belafonte established himself on television during the 1950s and '60s, receiving an Emmy in 1960 for his performance in the musical special "Tonight With Belafonte," which made him the first Black artist to win an Emmy. He followed it up with another nomination the next year.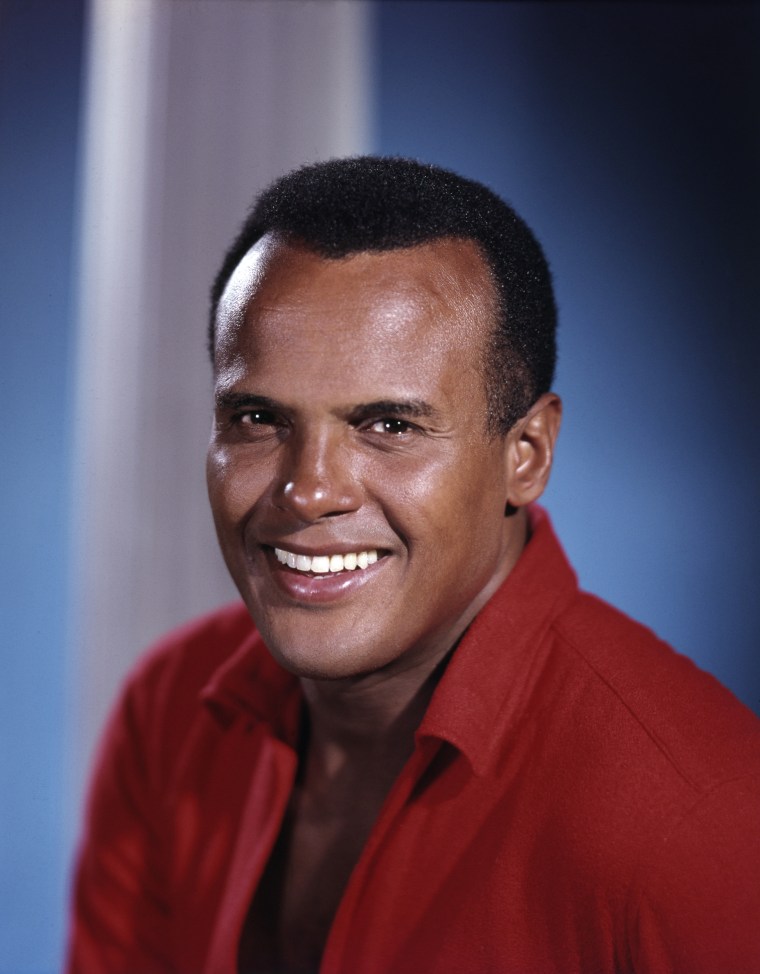 By 1954, Belafonte was in the movies, as well, having won a prized lead role in the film adaptation of "Carmen Jones," the all-Black Broadway musical re-imagining of Georges Bizet's opera "Carmen."
Despite his record sales and his Tony Award for a musical revue, Belafonte wasn't allowed to sing in the movie — his songs were dubbed by the opera singer LeVern Hutcherson.
Seeking to take control of his career, Belafonte mounted his own movie production in 1959, "Odds Against Tomorrow," a gritty film noir written by the blacklisted screenwriter Abe Polonsky and backed by a John Lewis score.
The film, about a Black nightclub entertainer's clashes with a racist white bank robber, was well-reviewed, and it was nominated for a Golden Globe, but it flopped at the box office.
Always a trailblazer
It was one of many boundary-pushing moments throughout Belafonte's life and career — in April 1968, for example, a TV special starring Belafonte and the white pop singer Petula Clark created a national stir because Clark briefly touched his arm during a duet.
Such incidents only empowered Belafonte, whose social consciousness began to emerge during the early 1950s under the guidance of Paul Robeson, the polymath singer, artist and activist he called his mentor.
From 1954 until 1961, Belafonte refused to perform in the Deep South, making him a target of white racist commentators and landing him for a time on Hollywood's notorious blacklist during the McCarthy era.
By the early 1960s, Belafonte had become a force in the Civil Rights Movement. Already a confidant to the Rev. Martin Luther King Jr., he campaigned for Sen. John F. Kennedy during the 1960 presidential campaign, and after Kennedy was elected, he became an intermediary between King and Attorney General Robert Kennedy.
At the forefront of the Civil Rights Movement
It was Belafonte who put up the money in 1963 to bail King out of jail in Alabama, where King most forcefully articulated the civil rights strategy of nonviolence in his "Letter From Birmingham Jail."
Belafonte became associated with King in 1956 at a New York fundraising event for activists working in Montgomery, Alabama. King later said Belafonte was "a key ingredient to the global struggle for freedom and a powerful tactical weapon in the Civil Rights Movement here in America," adding: "We are blessed by his courage and moral integrity."
King and his wife, Coretta Scott King, so trusted Belafonte that after King was assassinated in 1968, Belafonte was appointed as the executor of his estate.
"Whenever we got into trouble or when tragedy struck, Harry has always come to our aid, his generous heart wide open," Coretta Scott King wrote in her 1969 autobiography, "My Life With Martin Luther King, Jr."
Belafonte supported a wide variety of civil rights causes throughout the 1960s — as a main financier of the Student Nonviolent Coordinating Committee, he flew to Mississippi to join the organization's Mississippi Freedom Summer campaign in 1964.
His attentions soon broadened to encompass human rights around the world, especially in Africa.
He received his second Grammy for the 1965 album "An Evening With Belafonte/Makeba," a collection of folk and protest songs that he recorded with the South African singer and activist Miriam Makeba. (Belafonte's first Grammy was awarded for "Swing Dat Hammer," in the ethnic or traditional folk recording category, in 1961.)
It began a long period of advocacy for the oppressed Black majority of South Africa's apartheid government, a time highlighted by his years as a board member of TransAfrica Forum, founded by Randall Robinson in 1977.
In 1985, Belafonte was arrested in a protest outside the South African Embassy in Washington. The same year, he led the effort to bring the African relief music project Band Aid to the U.S. from Britain, resulting in the monumental USA for Africa fundraising concerts and the single "We Are the World," for which he recruited almost all of the leading singers of the day.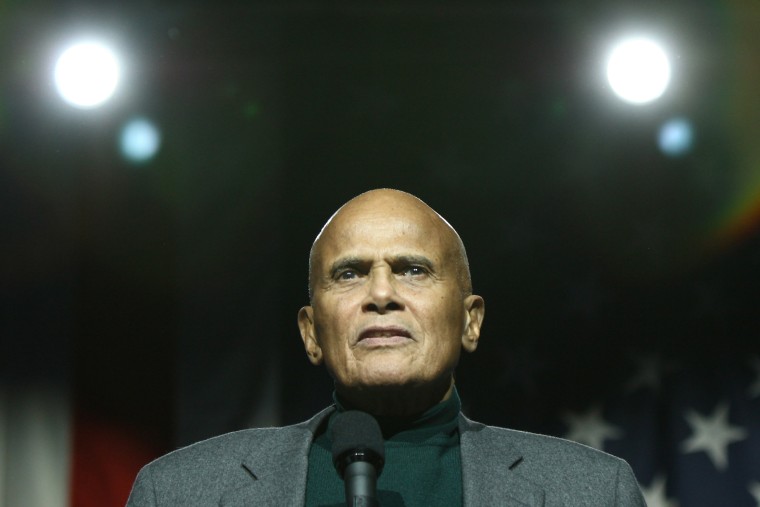 Belafonte sang in the chorus on the record, and during its recording, the assembled superstars — among them Michael Jackson, Stevie Wonder, Ray Charles, Bruce Springsteen, Diana Ross and Bob Dylan — spontaneously broke out into "Day-O" in tribute.
Belafonte accepted that his activism would overshadow his music, but the USA for Africa project reignited interest in his artistry. He signed a new record deal with EMI and, in 1988, released his first album in nearly a decade, a collection of apartheid songs titled "Paradise in Gazankulu."
A concert video of world music shortly followed, and in 1988, the director Tim Burton included a number of Belafonte's songs, such as "Day-O (Banana Boat Song)" and "Jump in the Line," in his soundtrack for the movie "Beetlejuice."
"The Long Road to Freedom: An Anthology of Black Music," a collection of songs recorded over 20 years featuring Belafonte, was released in 2001 and was nominated for a Grammy for best historical album.
Over the years, Belafonte battled prostate cancer and, true to his nature, became a prominent advocate for cancer research.
Protested war in Iraq and called Trump a 'cancer'
In 2007, he announced his retirement, although he continued a strenuous load of appearances for causes he supported well into his later years, especially targeting the administrations of Presidents George W. Bush, whom he considered a warmonger, and Donald Trump, whom he called a "cancer" and likened in 2017 to Hitler.
Survivors include his third wife, Pamela Frank; three daughters, Adrienne Belafonte Biesemeyer and Shari Belafonte and Gina Belafonte, both actors; and a son, the actor and producer David Belafonte; two stepchildren, Sarah Frank and Lindsey Frank; and eight grandchildren.
In a May 1989 interview for the PBS civil rights series "Eyes on the Prize II," archived in the Henry Hampton Collection at Washington University in St. Louis, Belafonte summed up his philosophy:
"I would say that you are really responsible for the world in which you live. If others happen to come along and join you in the spirit of your endeavor and your objectives to make the world a better place, then you're the richer for it."