"I have to apologize."
Those are the words Miss Universe host Steve Harvey was forced to utter — and may regret for years to come — after mistakenly crowning Miss Colombia, Ariadna Gutierrez-Arévalo, as the winner of the 2015 beauty pageant.
She wasn't.
After Gutierrez-Arévalo was crowned and was performing the ritual wave to the audience inside the Planet Hollywood Las Vegas Resort & Casino, Harvey came back on stage to deliver the awkward and devastating news.
"The first runner-up is Colombia," Harvey said.
That's when the real winner, Pia Alonzo Wurztbach of the Philippines, began to look around stunned and wondering what had just happened.
"Miss Universe 2015 is Philippines," Harvey said, ending the suspense.
"Listen, folks. Let me just take control of this," Harvey went on to tell the bewildered audience. "This is exactly what's on the card. I will take responsibility for this. It was my mistake."
Outgoing Miss Universe Paulina Vega, ironically also from Colombia, fulfilled the dubious obligation of removing the crown and placing it on the rightful winner.
The response on the Internet was swift and unkind.
Harvey attempted an apology on Twitter. That did not go well, either, when he misspelled both Colombia and Philippines in the tweet, which has since been deleted.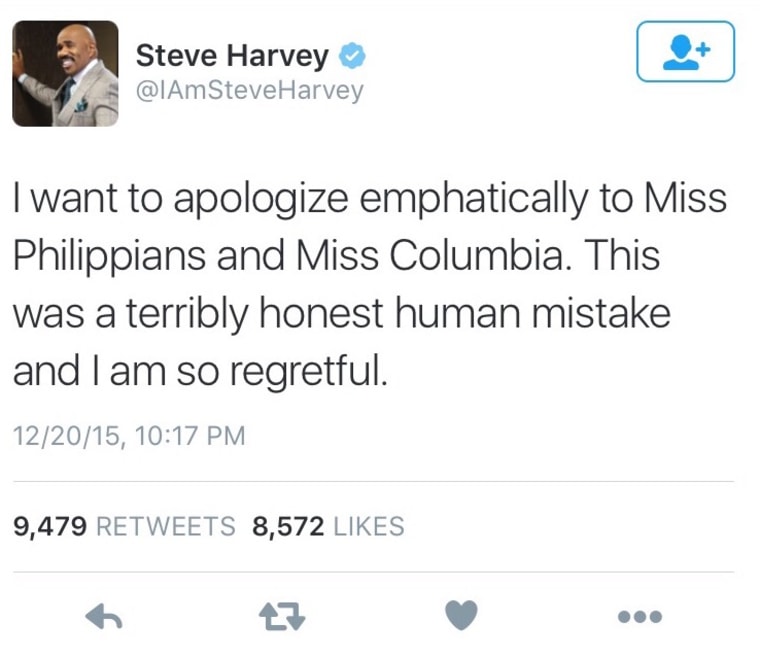 In an official statement, Miss Universe pageant officials apologized to both finalists. "The excitement of live TV was evident tonight on the Miss Universe stage with over 10 million live fan votes tabulated," pageant officials said. "Unfortunately, a live telecast means that human error can come into play. We witnessed that tonight when the wrong winner was initially announced."
Harvey also went on to correct the apology and express his regret.
Backstage after the pageant, the new Miss Universe called the whole affair a "very non-traditional crowning moment."
"It's very, very 2015," Alonzo Wurztbach said.
And Miss Colombia held her head high, with support from fellow contestants.
This story has been updated to correct the name of Miss Colombia as Ariadna Gutierrez-Arévalo.