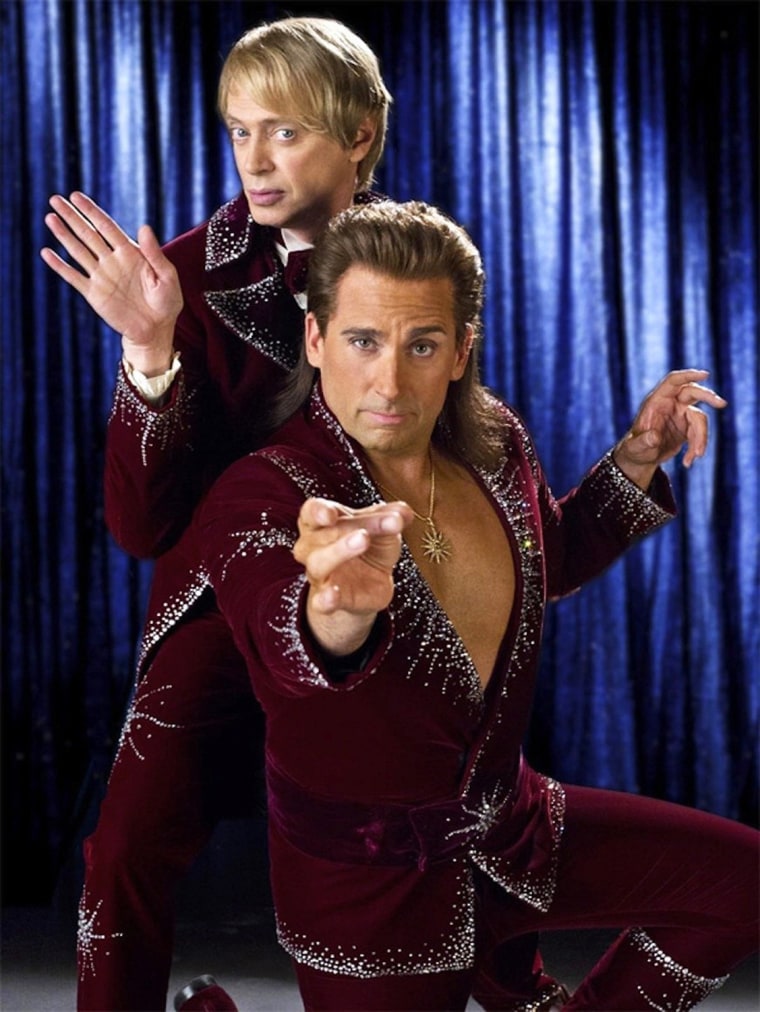 REVIEW: If you're a fan of Steve Carell's portrayal of Michael Scott in "The Office," you'll love him as "The Incredible Burt Wonderstone." It's the same character. In both roles, he plays a handsome guy who's landed a position well over his head, and instead of sitting back and savoring the wondrous position he landed, he gets greedy.
In "The Office," he's running a paper company with absolutely no idea how to manage people or business. In "Burt Wonderstone," he's a nerdy kid grown up into a Siegfried-and-Roy style Vegas magician, partnered with childhood pal Anton Marvelton (Steve Buscemi). And he still has no idea how he got so lucky. Instead of savoring stardom and riches, he's grown cranky, tired of Anton, and of their stale magic show (they still enter to that ancient Steve Miller Band hit, "Abracadabra").
But now there's a new kid in town -- Criss Angel-meets-"Jackass" style street magician Steve Gray (Jim Carrey, looking like a 20-year-old punk Jesus). Gray goes for the gross-out -- sleeping on hot coals, pulling a bloody playing card out of a hole in his cheek. Burt and Anton aren't into that kind of act, but casino boss Doug (James Gandolfini, wonderfully doltish) is attracted to Gray's younger audience. And so just as Burt and Anton's friendship is falling apart, so is their professional life, the magical dreams they've had since childhood vanishing like coins in a magician's hands.
So now the plot is set: Burt must reunite with Anton, struggle back up the Vegas ladder, and make nice with beautiful assistant Jane (Olivia Wilde, in a nice role). Along the way, he touches base with the man (Alan Arkin) whose magic kit set him on this road when he was just a kid.
There were a million ways "Burt Wonderstone" could have messed up its tricks. But mostly it doesn't -- the cast is talented and the plot finds ways to surprise. Anton is treated cruelly by Burt, but it's satisfyingly funny that Anton himself turns out to have his own sense of clueless ego, giving starving Cambodian children magic kits instead of food. And while a more standard plot might have pitted Gray against Anton and Burt in some kind of direct battle-to-the-death, here they perform their final competing acts solo, and the bizarre information Anton picked up on his Cambodian sojourn actually comes in handy.
Burt and Anton are presented as an old-school act who never learned to adjust to the times. The movie's a bit old-school too -- light and mostly funny, not edgy and street, but solidly entertaining. Not full-on magic, but you'll pull more than a few laughs out of this hat.
Related content: