LOS ANGELES — June Foray, the voice of "The Rocky and Bullwinkle Show's" Rocky the Flying Squirrel and his nemesis Natasha Fatale of Boris and Natasha fame in the early 1960s and a key figure in the animation industry, died Thursday. She was 99.
Her close friend Dave Nimitz, confirmed her death on Facebook, writing "With a heavy heart again I want to let you all know that we lost our little June today at 99 years old."
Foray was also the voice behind Looney Tunes' Witch Hazel, Nell from "Dudley Do-Right," Granny in the "Tweety and Sylvester" cartoons and Cindy Lou Who in Chuck Jones' "How the Grinch Stole Christmas," among hundreds of others.
The first lady of voice acting, one of the original members of animation organization ASIFA-Hollywood and founder of the annual Annie Awards, was also instrumental in the creation of the Oscars' animated feature category.
"We are all saddened by the news of June's passing," said ASIFA-Hollywood executive director Frank Gladstone, who noted that she would have celebrated her 100th birthday in September. "Although it didn't come as a shock, it has really taken us back a bit."
Gladstone noted her instrumental role in starting the Annie Awards. "It was part of her legacy and a testament to her enduring love for animation and the animation industry."
Said ASIFA president Jerry Beck: "On behalf of ASIFA-Hollywood, of which June was a founder, we are mourning the passing of animation's best friend. She has touched so many lives: with her voice that of so many classic cartoon character, her efforts to create ASIFA, to maintain the Academy's Oscar for Best Animated Short and her leadership in crafting the category of Best Animated Feature. She was one of a kind. A trailblazer, a great talent and a truly wonderful person. We will never forget her."
Recently elected Academy board member and animation veteran Tom Sito said of Foray: "She was a mainstay of the animation community in Hollywood and the queen of voice talent."
Foray continued to work late in life, reprising her role as Rocky in director Gary Trousdale's short "Rocky and Bullwinkle," released by DreamWorks Animation in 2014. In a 2013 interview with Variety, Foray said: "I'm still going. It keeps you thinking young. My body is old, but I think the same as I did when I was 20 years old."
Foray is credited with coming up with the idea for the Annie Awards, which started out as a dinner honoring the year's best in animation in 1972, and she presided over what has become a gala event in the animation industry every year since. The Annies created a juried award named for Foray in 1995 that honors individuals who have made significant or benevolent contributions to the art and industry of animation, and she was its first recipient.
Foray told Variety that she had been working in the animation business for about 20 years before the group that would eventually become ASIFA-Hollywood casually came to be. "We never did anything. Sometimes we'd have lunch together and call each other on the phone," she said. Foray was a founding member of what was then called ASIFA West Coast in the early 1960s with fellow animation professionals Les Goldman, Bill Littlejohn, Ward Kimball, John Wilson, Carl Bell and Herbert Kasower.
In the early 1970s Foray pitched the idea for an awards show. "I was thinking that there were the Grammys, the Tonys, the Oscars, but nobody recognizes animation," Foray said. So she suggested the board host a dinner, and though other board members said no one would show up to such an event, they rented space in the Sportsmen's Lodge in the San Fernando Valley to honor animation pioneers Max and Dave Fleischer. "And 400 people showed up," boasted Foray.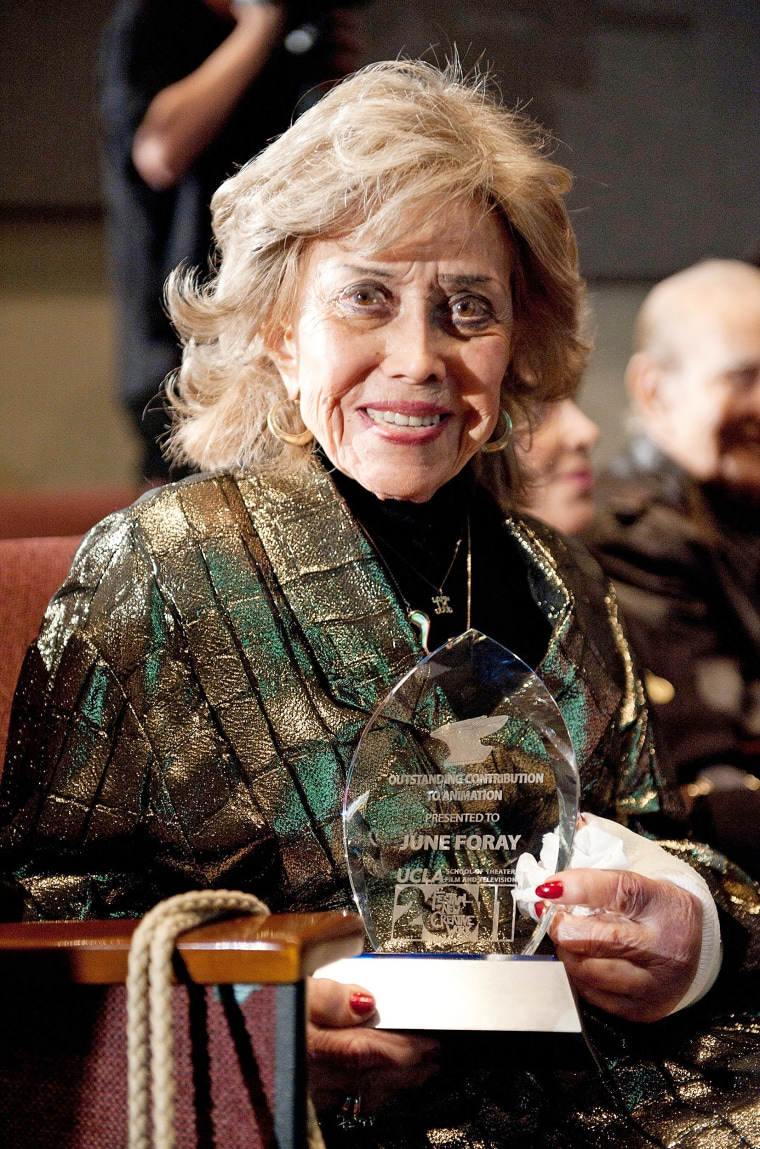 A longtime cheerleader for the animation industry, Foray lobbied for many years to have animated films recognized by the Academy of Motion Picture Arts & Sciences. "I was on the board of governors for 26 years and I tried for 20 years" to convince the Academy to have a category for animated features, she told Variety. Finally the Academy created the category in 2001, and DreamWorks Animation's "Shrek" won the first Oscar for animated feature. Afterward, Foray said, "Jeffrey Katzenberg called me to thank me because he was aware of what I had done."
Though not a superstar in the traditional sense, Foray had an impressive list of fans, as Leonard Maltin relayed in his forward to Foray's 2009 autobiography "Did You Grow Up With Me, Too?" He wrote: "When I was fortunate enough to attend the Oscar nominees' luncheon in 2007, I asked director Martin Scorsese who he was excited to have met that day, among the hundred-or-so contenders and Academy guests. He smiled and said, 'June Foray.'"
Foray was born June Lucille Forer in Springfield, Mass., and she was doing vocal work in local radio dramas by the time she was 12. She continued working in radio after her family moved to Los Angeles after she graduated from high school, following her dream of becoming an actress. She even had her own "Lady Make Believe" radio show that showcased her vocal talents, and she appeared regularly on network shows such as "Lux Radio Theater" and "The Jimmy Durante Show."
She met her future husband, writer and director Hobart Donavan, while working on "Smilin' Ed's Buster Brown Show," then moved on to work with Steve Allen on morning radio show "Smile Time," in which she'd play "everyone and everything. It was there that I perfected my Spanish accent and where my booming Marjorie Main-type voice got a good workout," she recalled in her autobiography.
After "Smile Time," Foray found work with Capitol Records, where she recorded many children's albums and where she first met and worked with Stan Freberg and Daws Butler, with whom she recorded several comedy records, including "Dragnet" parody "St. George and the Dragonet." Later she was a regular cast member of "The Stan Freberg Show" on CBS Radio.
Foray got her start in the animation business when someone from the Walt Disney studio called her to ask if she could do the voice of a cat. "Well, I could do anything," recalled Foray in an interview with Variety. "So he hired me as Lucifer the cat in 'Cinderella,' and then I started to work for Disney." Much of her work for Disney was uncredited, including work as a mermaid and squaw in "Peter Pan." But she starred as the voice of Hazel the Witch in the 1952 Donald Duck short "Trick or Treat," using a voice that would later morph into "Looney Tunes" character Witch Hazel. She would often say that she voiced a long litany of cartoon witches, many of them named Hazel.
About the same time, the 1950s, Foray worked on a series of cartoons by such animation pioneers as Tex Avery and Walter Lantz. For Warner Bros., she became Granny in the "Tweety and Sylvester" cartoons and Alice Crumden in the cartoon parody of "The Honeymooners," "The Honey-Mousers." At Warner Bros. she met Chuck Jones, for whom she worked on several "Looney Tunes" cartoons, starting with "Broom-Stick Bunny" in 1956. She would later star as Cindy Lou Who in Jones' cartoon adaptation of Dr. Seuss' "How the Grinch Stole Christmas."
She also voiced Mother Magoo in the "Mister Magoo" series.
But her greatest fame came with Jay Ward's satirical "Rocky and His Friends," which would later become "The Bullwinkle Show," eventually known collectively as "The Rocky and Bullwinkle Show," which ran from 1959 through 1964. Foray did most of the female voices for the show, including the voice of Russian villain Natasha Fatale, as well as that of Rocket J. Squirrel. She also voiced characters for other Jay Ward cartoons, such as "Dudley Do-Right" (Nell Fenwick), "George of the Jungle" (Jane) and "Tom Slick" (Marigold).
It wasn't only in animation that Foray got to use her myriad vocal talents. She voiced the demonic doll Talky Tina in "The Twilight Zone" episode entitled "Living Doll" in 1963.
Despite her prolific career, she had to wait until 2012 for an Emmy nomination; she went on to win a Daytime Emmy for her performance as Mrs. Cauldron on Cartoon Network's "The Garfield Show."
A documentary about her life, "The One and Only June Foray," was produced in 2013.
Foray was married to Bernard Barondess from 1941 to 1945. She was married to Donavan from 1954 until his death in 1976.