British pop star Ed Sheeran is not liable in a copyright infringement lawsuit that accused him of taking parts of the melody of Marvin Gaye's soul classic "Let's Get It On" in his own hit "Thinking Out Loud," a jury decided Thursday.
The jury reached a unanimous verdict, a requirement in the case, after just under three hours of deliberations.
Sheeran stood up and hugged his lawyers when the verdict was read, with his wife, Cherry Seaborn, and his "Thinking Out Loud" co-writer, Amy Wadge, in tears. 
Jurors said that Sheeran independently created the song, trumping every other decision they had to make in determining whether he had violated copyrights. 
Speaking outside the courthouse, Sheeran said: "I'm obviously very happy with the outcome of the case, and it looks like I'm not having to retire from my day job, after all."
He said that at the same time he felt "frustrated" by the "baseless claims." He praised the jury's decision, noting it will allow songwriters to continue to have artistic freedom.
Sheeran talked about the toll the trial took on him, saying that being in New York for the proceedings caused him to miss his grandmother's funeral in Ireland.
"Like artists everywhere, Amy and I work hard to independently create songs which are often based around real life and personal experience. It's devastating to be accused of stealing someone else's songs when we put so much work into our livelihoods," he said.
"I'm just a guy with a guitar who loves writing music for people to enjoy. I am not and will never allow myself to be a piggy bank for anyone to shake," Sheeran added. 
His attorney Ilene Farkas said: "I'm hopeful that today's ruling gives songwriters more comfort that they can continue to create great music using the basic building blocks that were at issue in this trial with a little less fear of claims against them."
The plaintiffs declined to make a statement outside the courthouse following the verdict. NBC News has reached out to attorneys for comment.
The trial kicked off in a Manhattan federal courtroom April 25 and saw the 32-year-old singer take the stand and pick up his guitar and sing before the jurors.
The case stemmed from a lawsuit filed in 2017 by the heirs of Ed Townsend, Gaye's co-writer. It claimed Sheeran's 2014 hit "Thinking Out Loud" has "striking similarities" and shares "overt common elements" to Gaye's 1973 record "Let's Get It On," which is protected by copyright.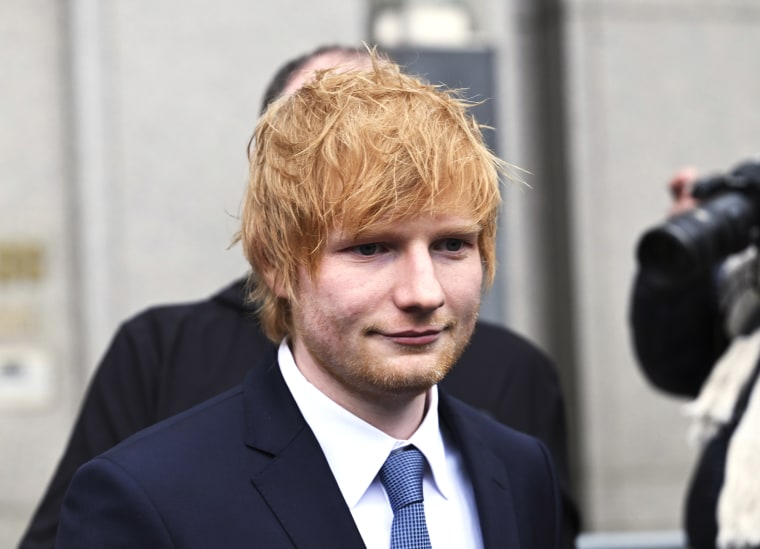 Sheeran said he came up with his song along with Wadge after the death of his grandfather. The song is about finding love at an old age, he told the court. 
In the trial, Sheeran was questioned about a live mashup of the two songs in question recorded in a Zurich concert video clip. Attorney Ben Crump, representing the Townsend heirs, called the clip a "smoking gun" and proof he was violating copyrights.
Sheeran argued he's done mashups with his other songs and said: "If I did what you're accusing me of, I'd be an idiot to stand in front of people."
Townsend's daughter, Kathryn Townsend Griffin, also took the stand and said she had never heard of the British singer before "Thinking Out Loud." She said she didn't want the case to get to the point of trial, "But I have to protect my father's legacy."
The case wasn't the first time Sheeran was entangled in a copyright infringement suit. He won another copyright infringement case last year in the U.S. that centered on his hit "Shape Of You." 
In 2015, Marvin Gaye's estate won a copyright infringement lawsuit against Robin Thicke and Pharrell Williams for the 2013 song "Blurred Lines," which they claimed violated the copyright of Gaye's 1977 song "Got to Give It Up." Gaye's estate was not involved in the current Sheeran suit.