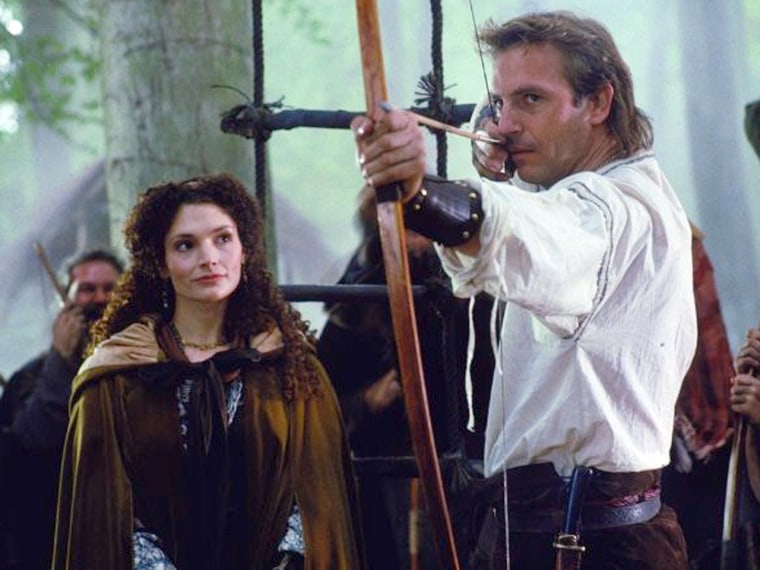 Kevin Costner is saying he hasn't received any profits from his "Robin Hood: Prince of Thieves" film in the past two years and is accusing Morgan Creek Productions of being the prince of thieves by hiding money from him.
A lawsuit filed today in Los Angeles Superior Court by the actor starts out with very harsh words for Morgan Creek, the independent studio that backed the 1991 blockbuster. "Every actor hopes to star in a great movie that makes substantial profits," Costner's lawsuit alleges. "But if you're hoping to earn profits based on the success of your film and you want to be paid on a timely basis, then one company you certainly do not want to do business with is Defendant Morgan Creek Productions."
The film, directed by Kevin Reynolds, grossed about $390 million worldwide and tens of millions more in TV, home video and other sources.
Costner, represented by Marty Singer and Michael Holtz at Lavely & Singer, says that Morgan Creek promised it would share profits with him but "when it came time to report and account ... Morgan Creek was less than forthcoming," with no participation statements rendered in 2010 and 2011 and late statements from 2004 to 2009.
Stephen Baldwin denied new trial against Kevin Costner
Reached for comment, Morgan Creek CEO James Robinson characterized the dispute with Costner as minor and insignificant. "Why is it after 22 years Mr. Costner finds fault with our accounting procedures or for that matter our way of doing business?" Robinson says. "We have paid him over $40 million. I think we've been very nice to him. I wonder how much money he has made from other films where he is participant. We've been very straight with him."
The actor says that the studio has simply stopped sending him accounting statements, and the ones it previously provided "intentionally concealed information and employed inaccurate and improper accounting practices designed to deprive Mr. Costner of his backend participation."
Costner's deal, according to the complaint, entitled him to 12.5 percent of the adjusted gross receipts of the picture in excess of $60 million and 15 percent of the AGR in excess of $100 million. As for home distribution, Costner says he was entitled to amounts received by Morgan Creek less a 25 percent distribution fee or 10 percent of the wholesale price of gross receipts, whichever was greater.
In the lawsuit, Morgan Creek is accused of making financial arrangements to hide money from him.
Kevin Costner in talks to star in Disney's sports drama "McFarland"
Costner's agreement for "Robin Hood" purportedly did not give Morgan Creek the right to make any outright sale of rights to the picture without obtaining the assumption of obligations to Costner. Despite that, in 2006, Morgan Creek is said to have assigned to Robinson's wholly-owned international division (Inverness) the foreign distribution rights to 41 of its film titles including "Robin Hood" for $21 million.
"Defendants breached the implied covenant of good faith and fair dealing by packaging the Picture in the international territories for free, basic and pay television distribution and taking the package fees and allocating them evenly across all pictures in the package, rather than allocating the package fees according to the performances and true value of the pictures in the package."
The claim calls to mind producer Alan Ladd, Jr.'s claims against Warner Bros. for underallocating license fees in large packages sold overseas and to TV outlets. That lawsuit was settled after a jury ruled in Ladd's favor.
Costner's lawsuit also takes exception to other alleged Morgan Creek acts.
The actor's deal also purportedly limited the deduction of certain checking and collection costs to one percent of gross receipts. The lawsuit says that Morgan Creek has violated this by deducting $2 million depite no evidence that costs were actually incurred and despite the fact this was more than two times what Warner Bros. as the distributor charged Morgan Creek.
In addition, Costner says that Morgan Creek has failed to report all revenues received on television sales and failed to disclose the amount of home video gross receipts and instead reported 10 percent of Warner Bros.' gross. The actor's attorneys say that the alleged fraudulent concealment only was discovered after an audit was conducted last autumn.
He's now suing for breach of contract, breach of the implied covenant of good faith and fair dealing, fraud, and unjust enrichment. He's seeking general and punitive damages to be proven at trial.
Responding to the allegations, Robinson points out that "Robin Hood" was a film that came out more than two decades ago and that it isn't unusual in the industry for participant statements for such films to come late. He says that the two sides were in negotiations before the lawsuit was filed and that Costner's reps were taking inconsistent positions with respect to accounting. He adds that Morgan Creek uses a "very fair formula" that was modeled after studios, and says in reference to allegedly underreported income such as television revenues, "If we received it, we reported it."
Morgan Creek has used Patty Glaser as its litigator in the past. Unless resolved, the dispute appears primed to be a fight in court between two A-list Hollywood lawyers.
Related content: