Kevin Spacey, drunk and "unsteady on his feet," lay down on top of Anthony Rapp to "gratify his own sexual desires" at a party in Manhattan in 1986, when Rapp was just 14 and Spacey was 26, a lawyer for Rapp told jurors inside a New York courtroom Thursday.
"What happened to Anthony is something that never should have happened," Rapp's lawyer, Peter Saghir, told jurors, adding that his client felt "frozen" during the alleged encounter in Spacey's bedroom.
Spacey, now 63, denies Rapp's allegation. Rapp, 50, sued Spacey two years ago.
Both actors were seated in the courtroom Thursday. Rapp, wearing a navy suit and a dark patterned tie, appeared solemn. Spacey, wearing a gray suit and a pale blue tie, appeared relaxed. He laughed at the judge's jokes, smiled at prospective jurors and occasionally whispered with his lawyers.
Rapp was visibly emotional during a break before opening arguments began. He could be seen crying and dabbing his eyes with a crumpled tissue.
The jury of six men and six women was sworn in just after 12:30 p.m., kicking off a trial that comes nearly five years after Rapp first publicly detailed his allegations against Spacey. The allegations were among several that brought an abrupt end to Spacey's Oscar-winning career.
Saghir told jurors that Spacey invited Rapp to a party at his small apartment after they met while performing in separate Broadway shows. Rapp did not recognize any of the guests and "felt uncomfortable," so he went into a bedroom to watch television.
Spacey later entered the room, seemingly inebriated and "swaying," Saghir said. Rapp alleges Spacey grabbed his buttocks, lifted him onto a bed and briefly lay down on him before Rapp "wriggled out," according to court documents.
"He was trying to seduce me," Rapp told BuzzFeed News in an article published in October 2017. "I don't know if I would have used that language. But I was aware that he was trying to get with me sexually."
In a tweet the day after the BuzzFeed article was published, Spacey said he did not remember the incident. He wrote in part: "If I did behave then as he describes, I owe him the sincerest apology for what would have been deeply inappropriate drunken behavior."
Jennifer Keller, one of Spacey's lawyers, forcefully rebutted Rapp's claims in her opening arguments. She characterized 14-year-old Rapp as a "troubled young man" who concocted a fictional narrative about his alleged encounter with Spacey.
"Thirty-six years ago ... Mr. Rapp created a story," Keller said, adding that Rapp has been "telling this story for sympathy, for attention and to raise his profile."
Keller portrayed Rapp as "bitter" and filled with "simmering resentment" because he "never became an international star" like Spacey, who won acting Oscars for "The Usual Suspects" and "American Beauty."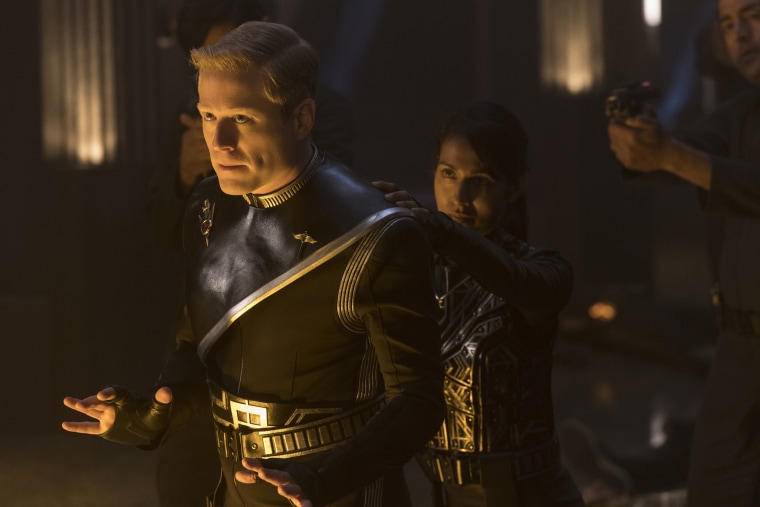 "We're very confident that once you've heard both sides, you'll be convinced this alleged assault never happened," Keller told jurors.
She later tried to undermine Rapp's claims, telling jurors that Spacey's studio apartment in 1986 did not have a bedroom.
She also implied that Rapp may have based his claims partly on plot details from "Precious Sons," a play that gave him his first big role on Broadway.
In that play, Keller said, a character played by Ed Harris drunkenly mistakes his son (Rapp) for his wife, picks him up and then lies on top of him.
Rapp's attorney, meanwhile, described the details of the alleged encounter in visceral terms. Saghir told jurors that Rapp could feel the "full weight" of Spacey's body, essentially trapping the teen on the bed.
What to know about the Kevin Spacey trial
The plaintiff, "Star Trek: Discovery" actor Anthony Rapp, first publicly accused Kevin Spacey of sexual assault in a BuzzFeed News article published in 2017.
Spacey denies Rapp's allegations.
The trial will center on Rapp's claims of battery and intentional infliction of emotional distress. The judge dismissed the sexual assault claim because Rapp brought it too late, according to court documents.
Saghir went on to say the alleged incident caused lasting psychological harm for Rapp, saying in part: "Every time he hears Kevin Spacey's name, he's back in that apartment in 1986."
Rapp was one of the first people to level sexual misconduct allegations against Spacey in the early days of the #MeToo movement.
Spacey's trial is taking place in downtown Manhattan in U.S. District Court for Southern New York. The presiding judge, Lewis A. Kaplan, has overseen high-profile cases involving Guantanamo Bay detainees and New York City mobsters.
Rapp stars in the Paramount+ series "Star Trek: Discovery." He is also known for appearing in the original Broadway production of "Rent" (and a subsequent movie adaptation) and acting in the film "Dazed and Confused."
The trial will center on Rapp's claims of battery and intentional infliction of emotional distress. Kaplan dismissed a sexual assault claim because Rapp brought it too late, according to a court document filed in June.
Rapp is seeking compensatory and punitive damages.
Spacey's legal woes extend beyond the New York trial.
In the United Kingdom, he faces charges of sexually assaulting three men a decade or more ago. He pleaded not guilty in July at a hearing at London's Central Criminal Court.
He is expected to go on trial in the U.K. starting June 6, according to The Associated Press.
Separately, a Los Angeles judge ruled in August that Spacey and his companies must pay the producers behind Netflix's "House of Cards" nearly $31 million because of losses incurred after he was fired for alleged sexual harassment of crew members, according to court documents.
Spacey, who starred on "House of Cards" as the fictional President Frank Underwood, denies the harassment allegations.
CORRECTION (Oct. 6, 2022, 10:45 p.m. ET): A previous version of this article misspelled the last name of Anthony Rapp's attorney. He is Peter Saghir, not Steghir.