Guitarist Lasse Wellander, who toured and recorded with Swedish pop group ABBA over a span of nearly 50 years, died of cancer Friday, according to his family and the band.
"It is with indescribable sadness that we have to announce that our beloved Lasse has fallen asleep," a statement on the musician's Facebook page posted Sunday said.
"Lasse recently fell ill in what turned out to be spread cancer and early on Good Friday he passed away, surrounded by his loved ones." 
The statement went on to praise Wellander for his kindness and humility, calling him "an amazing musician" and beloved "husband, father, brother, uncle and grandfather."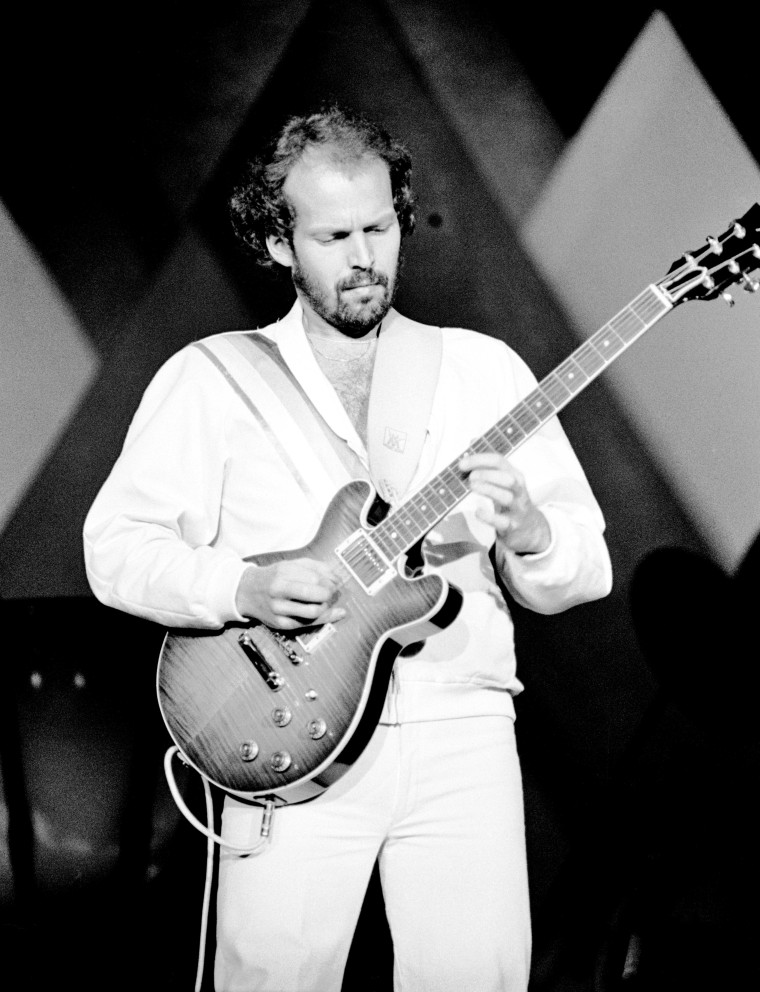 "Kind, safe, caring and loving... and so much more, that cannot be described in words," the statement said. 
"We love and miss you so much," said the post, which was accompanied by a photo of the late musician strumming a guitar.
In a statement to NBC News early Monday, the members of Abba — Benny Andersson,Frida Lyngstad, Agnetha Fältskog, and Björn Ulvaeus — called Wellander "a dear friend, a fun guy and a superb guitarist."
"The importance of his creative input in the recording studio as well as his rock solid guitar work on stage was immense," the band said.
"We mourn his tragic and premature death and remember the kind words, the sense of humour, the smiling face, the musical brilliance of the man who played such an integral role in the ABBA story. He will be deeply missed and never forgotten."
It wasn't clear how old Wellander was when he died, but he was believed to be around 70.
According to ABBA's official website, Wellander began playing guitar in the early 1960s for a few local bands before he met ABBA members Ulvaeus and Andersson. 
The Swedish native joined the group's recording session for songs "Intermezzo No.1" and "Crazy World" from ABBA's self-titled third album, released in 1975.
"Lasse soon became the main guitarist on ABBA's albums, and toured with them in 1975, 1977, 1979 and 1980," the band's website said. He continued to work with Ulvaeus and Andersson after the quartet split in 1982.
Wellander contributed to the soundtracks for 2008's "Mamma Mia! The Movie" and 2018's "Mamma Mia! Here We Go Again" during the band's hiatus. 
He reunited with ABBA for the group's latest collaboration, their ninth studio album "Voyage," which was released in November 2021.
The guitarist also released seven albums on his own, the website said.
"In 2005, he received the Albin Hagström Memorial Award from The Royal Swedish Academy of Music and, in 2018, the Swedish Musicians Union's prestigious special prize Studioräven Award for his work as a session musician," his biography said.
According to his personal website, Wellander was born in 1952 in a small Swedish village called Skrekarhyttan. His family later moved to Nora, Sweden, where his music career began. 
He learned to play bass, keyboard, recorder and accordion. His three final singles, titled "O Come, All Ye Faithful, "Merry-Go-Round" and "Overdrive," were released in 2022.