He was in the room where it happens.
Lin-Manuel Miranda, the impresario behind the hip-hop Broadway smash "Hamilton," said he met with Treasury Secretary Jacob J. Lew this week and was assured a redesigned $10 bill won't leave fans of the Founding Father feeling devalued.
Lew said last year that he wanted to add a woman's image to the $10 note, which currently features Hamilton's likeness.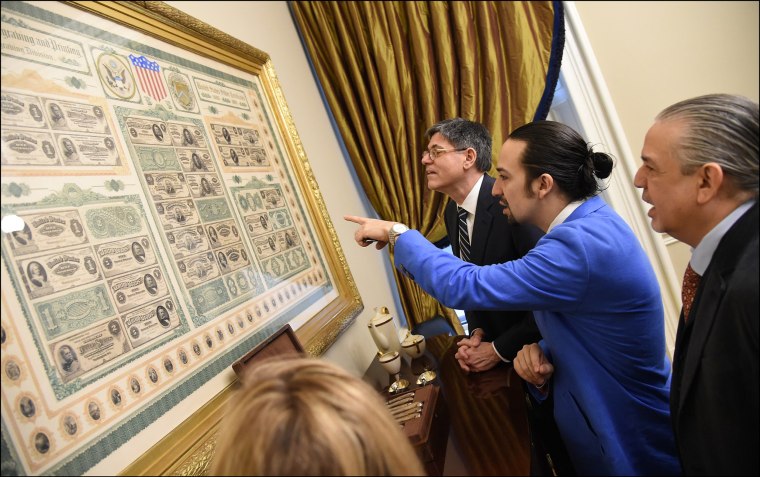 A Treasury spokesperson said in a statement to NBC News that Lew had invited Miranda to the Treasury on Monday for a tour. The actor and Broadway composer was already in Washington, D.C., to meet with members of Congress about taking action on Puerto Rico's debt crisis.
"The Secretary thanked Miranda for the ingenious way in which he has been able to tell Hamilton's story and ignite a renewed interest in one of our nation's founding fathers," the spokesperson said. "Secretary Lew also reiterated his commitment to continue to honor Alexander Hamilton on the 10 dollar bill."
The feds haven't released any intel on how Hamilton, the first treasury secretary in American history, would continue to be commemorated on cash after the planned revamp. The new design is expected to roll out in 2020 to mark, in part, the 100th anniversary of the constitutional amendment that gave women the right to vote.
Related: 'Hamilton' Star Goes 'Viral' With White House Freestyle
The success of "Hamilton" has endeared the real-life figure to musical fans and theatergoers who say they wouldn't otherwise know anything about him.
Twitter users said they're torn between a revamped bill and solely keeping Hamilton's portrait on the $10 note, and others want the Treasury to instead yank President Andrew Jackson off the $20 bill.