Live coverage has on ended on this blog, please click here for the latest.
Amber Heard took the witness stand Wednesday to defend herself in the defamation suit filed by her former husband, fellow actor Johnny Depp, who accused her of falsely alleging he abused her.
Depp is suing Heard for $50 million in damages over a 2018 essay she wrote for The Washington Post, in which she said she had become the "public figure representing domestic abuse." Although the essay never mentions Depp by name, his attorneys said it indirectly refers to allegations she made against him during their 2016 divorce. Heard is countersuing Depp, seeking $100 million in damages.
The high-profile trial, which is being held in Fairfax County, Virginia, is in its fourth week.
Follow along here for live updates.
Heard testimony ends for the day; court adjourned until Thursday
Amber Heard's testimony concluded for the day, and she's expected to take the witness stand again Thursday.
For more than two hours Wednesday afternoon, Heard told jurors about her whirlwind romance with fellow actor Johnny Depp — a volatile relationship that she alleges often turned violent.
In the final moments of testimony, Heard recalled a yacht trip she took with Depp and his two children in July 2013 when, she said, he repeatedly lashed out at her, saying "he could f------ kill me" and that "I was an embarrassment."
'I wanted to want to leave him,' Heard says
Amber Heard said she wanted her relationship with Johnny Depp to end during a period when is alleged to have fluctuated between active addiction and sobriety.
"In June, I wanted to leave him — I didn't want to leave. I wanted to want to leave him. I wanted him to get better," she said, her voice cracking with emotion. "And he expressed to me so many times when he was in that period of getting clean and sober: 'You saved my life. Baby girl, you saved my life.' Everyone else is saying that to me, and I believed it.'"
Heard said that she had hoped to have a life with Depp and that she believed that if she could get him sober, the rest of their lives together could begin.
"I looked at that man — twice my age; I was 25 — looking at this man ... I saw hope and, like, promise. I had so much hope. The whole thing, kids and growing old together. ... If it was just for this one thing he could do, which would save his life: to get clean and sober."
Heard alleges Depp did cavity search after accusing her of stealing his drugs
While on the witness stand, Amber Heard told the court that Johnny Depp accused her of stealing cocaine and conducted a cavity search of her while on a trip in the desert.
Heard said the couple had a fight during a trip with friends in May 2013 where they stayed in trailers in the desert. She and Depp went to their trailer after he was upset that a woman was leaning in and touching Heard, she said.
The woman was feeling the effects of a drug, MDMA, Heard said.
While in the trailer, Heard alleged that Depp began screaming at her and accused her of having an affair. She realized he was "probably really high" because he no longer made sense and Heard said she walked away.
"I went into the bathroom and as I come out, he asked me where it and how long I'd been hiding it," Heard said.
She told the court she told him she didn't know what he was talking about. He patted her down, ripped the front of her dress and her underwear, Heard said.
"He proceeds to do a cavity search," Heard said, her voice sounding strained. "He said he was looking his drugs - his cocaine, his coke. I was wondering how I, somebody who didn't do cocaine and was against it... how could I, why would I hide his drugs? Like he was insinuating I was doing it or something?"
The defense's first witness, clinical psychologist Dawn Hughes, earlier on Wednesday mentioned that Heard had recounted an instance where she was searched for drugs by Depp during her testimony.
Heard explains image of her with bruise on arm
Amber Heard was asked to describe an image shown to the court of her with a bruised arm.
Heard said she sent the photo to her mom after an incident in which, she said, Johnny Depp hit her.
"He grabbed me by the arm and kind of just held me on the floor screaming at me. I don't know how many times he hit me in the face," she said. "I remember being on the floor of my apartment, and I remember thinking, 'How could this happen to me again?'"
Heard says Depp accused her of infidelity
Amber Heard recalled a fight with Johnny Depp in 2013, in which she said he became jealous over a picture her ex-partner had made. Heard said he accused her of infidelity because the picture was hanging in the home.
At one point, Depp became so incensed by the image that he tried to burn it with a Bic lighter but was unsuccessful because he was intoxicated at the time, Heard claimed.
"In these arguments, me walking away is [what he would consider] me leaving him. … It went from that to pulling me in by my arm. I was trying to defuse the situation by telling him I'm not sleeping with that person."
Heard said that as soon as she'd convince Depp she hadn't been unfaithful, he would accuse her of infidelity with another person. She described March 2013 as "almost like a never-ending fight."
Discussing that period, Heard told the court that Depp once backhanded her and said that because he wears "many rings," the slap felt like her "teeth went into" her lip and a little blood spattered onto the wall.
Heard recalls confiding in her mom
Amber Heard said she confided in her mother about her relationship with Johnny Depp starting from their early dating days.
"I couldn't tell any of my friends I was with him for a long time, because he told me everyone would blame me for the split with him and his partner, so I had to sneak around. ... It was very isolating," she said. "I confided with her [her mother] at the very beginning on that sort of thing."
Later, she said, she began opening up about the alleged abuse.
"At first I just wanted someone to talk to about how scary it was," she said. "The rage and the uncontrolled violence."
"I felt safe talking to my mom, because I knew she understood these dynamics and she wouldn't judge me for staying with him, for loving him, even though this was happening."
'I will never forget it:' Heard relives first time she says Depp hit her
Amber Heard recounted the first time she said Johnny Depp had ever hit her as she was on the witness stand, getting emotional as she described him slapping her.
"I will never forget it," Heard said. "It changed my life."
In her testimony, Heard described how Depp's overwhelmingly loving and generous nature shifted in their relationship. She told the court that he began drinking again after some time abstaining from alcohol because of health issues. He wouldn't speak to Heard, and he would return seemingly angry after drinking, she said.
She described the first time she said he hit her as stupid — the two had been talking when she asked about a tattoo of his, she said. Heard said that she didn't know what it said and that he responded that it said "Wino."
"I just laughed, because I thought he was joking. And he slapped me across the face," Heard said. "And I laughed. I laughed, because I didn't know what else to do. I thought, 'This must be a joke.'"
Heard said she believed in hindsight that Depp may have been high on cocaine, because there was a jar on the table, but she didn't see him take anything. She did say she knew he was drinking at the time.
Depp slapped her again, she said, after he told her, "You think you're a funny bitch." The third time he slapped her, Heard said, she fell on the carpet.
"I didn't want to have the man I was in love with, I know you don't come back from that," Heard said. "I'm not dumb. ... I knew it was wrong, and I knew that I had to leave him. And that's what broke my heart, because I didn't want to leave him."
Depp has denied hitting Heard, and he denied hitting her over his tattoo. He testified that Heard had taken issue with his "Wino forever" tattoo, which he modified after he broke up with his former girlfriend Winona Ryder.
Heard on falling in love with Depp: 'He made me feel seen.'
Amber Heard said she fell hard for Johnny Depp in fall 2011 while they were promoting their film, "The Rum Diary."
"I felt like this man knew me and saw me in a way that nobody else had," Heard told jurors. "He made me feel seen, made me feel like a million dollars. That kind of feeling where he just lavished gifts, lavished expressions of love, and how he'd never met a woman like me. I remember he took the foil off of this bottle and put it on my ring finger, and I had only been with him, like, days, maybe it was weeks at the time. It just felt very intense."
At the time, their relationship was not yet public because Depp was separating from Vanessa Paradis, his longtime partner and the mother of his two children, Heard said.
Heard recalls first meeting with Depp
Amber Heard recounted her first meeting with Johnny Depp on the stand.
She described meeting with him for his film "The Rum Diary" in the late 2000s. She said that she thought it might be an audition but that it turned out to be a meeting. Heard said they clicked in a way she hadn't expected.
"We talked about books and music, poetry. We like a lot of the same stuff. Obscure writers and interesting books and pieces of poetry I haven't heard anyone else know or reference or like," she recalled.
She described Depp as "very well read and charismatic." Heard said she may have left his office with a few books he'd lent her.
"I knew who he was. I wasn't a fan of his work. I wasn't familiar with him, but I knew who he was. I knew he was one of the most famous people in the world," she said. "It was weird, because he's twice my age and this famous actor, and here we are getting along about old books and the blues. I thought it was unusual and remarkable. I left there feeling, like, 'wow.'"
Eventually, Heard said, Depp called her and told her: "You're it. You're the dream, kid."
In his testimony, Depp recalled that he and Heard were "perfect partners" when they first met. He also felt wowed by her knowledge of what he called obscure blues music, and he called her "sweet" and "funny."
Heard takes the stand: 'This is horrible for me'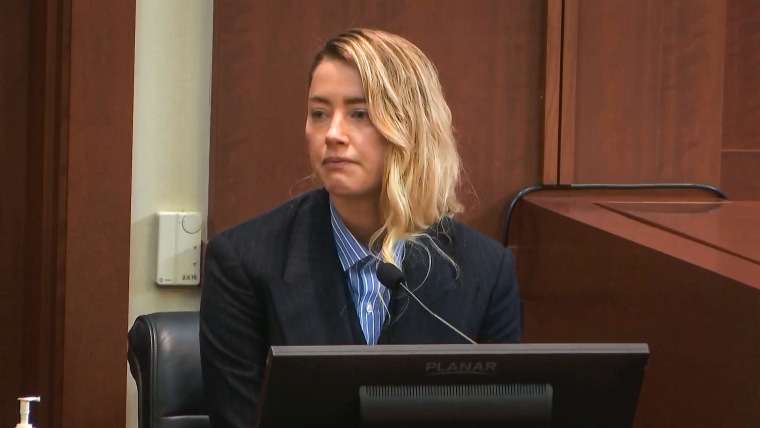 Amber Heard took the stand to begin her witness statement once the court returned from a lunch break Wednesday afternoon.
In her opening statements, Heard said she struggled to find the words for the pain of sitting through the last 3½ weeks of the trial. She called it "the most painful and difficult thing I've ever gone through."
"This is horrible for me to sit here for weeks and relive everything," Heard said. "Hear people that I knew — some well, some not — my ex-husband with whom I shared a life, speak about our lives in the way that they have."
Court about to hear testimony from Amber Heard
Amber Heard is expected to take the witness stand when jurors return from their lunch break at 2 p.m. ET. 
The defense's first witness, clinical psychologist Dawn Hughes, completed her testimony, leading up to Heard's much-anticipated testimony.
Heard expert witness acknowledges Depp experienced physical and verbal trauma
Clinical psychologist Dawn Hughes acknowledged during her testimony that Johnny Depp experienced physical violence and verbal trauma during his relationship with Amber Heard.
"I can testify that he had physical acts of violence perpetrated on him as well as psychological aggressive acts perpetrated upon him," Hughes said while on the stand.
Some of that verbal trauma was displayed on Wednesday, when multiple audio recordings of Depp and Heard were played, showing even more evidence of volatility in the relationship.
"I need to know what we do different if I have a problem. You need to tell me how to tell you different if I'm hurting you ... sometimes you're going to make me mad. I'm a human," Heard can be heard saying.
Depp then replies, "Well, the same thing goes for me then. You're going to have to allow me to get mad."
"Yes, exactly," Heard replies.
The couple then talks about how Heard begins to yell when they fight, which she can be heard saying only happens when their argument reaches "hour 11."
In another audio, Depp can be heard saying he doesn't want to leave Heard, but he doesn't want the toxicity of their relationship to continue.
"I love you and I do not want to leave you ... I just want peace," Depp says in a muffled audio.
Heard expert witness defends PTSD diagnosis
Clinical psychologist Dawn Hughes defended her conclusion that Heard has post-traumatic stress disorder after Depp's legal team attempted to undermine her examinations.
In her testimony, Hughes explained the two clinical tests she administered while examining Heard: the DSM-5 and CAPS-5 testing. The first, from the Diagnostic and Statistical Manual of Mental Disorders, looks at a patients self-reported answers to diagnose a variety of potential disorders.
The second, the Clinician-Administered PTSD Scale, derives from the DSM-5 testing to make an accurate diagnosis.
Hughes testified that she administered both tests over years and attempted to discern what symptoms Heard expressed as a result of her relationship with Depp and which symptoms were from her childhood experience with abuse.
"So there are multiple measures that are consistent across time that she meets the criteria for PTSD," Hughes said.
Hughes spent roughly 29 hours with Heard, not administering treatment but offering a forensic examination based on interviews, prior medical records, and prior examinations by other psychologists.
She contradicted prior testimony made by Shannon Curry, an expert witness for Depp, who diagnosed Heard with borderline personality disorder and histrionic personality disorder. Curry, who spent 12 hours with Heard, told the court she had "exaggerated" symptoms of PTSD.
Hughes testified Wednesday that the results of her tests were "valid and reportable, there were no signs of exaggeration."
Depp's team cross-examines Heard's first witness
Johnny Depp's attorneys began Wednesday with their cross-examination of Amber Heard's first witness, Dawn Hughes, a clinical psychologist.
Hughes told the court Tuesday that she had diagnosed Heard with post-traumatic stress disorder as a result of what she described as intimate partner violence she experienced during her relationship with Depp. 
Psychologist Shannon Curry, an expert witness presented by Depp's legal team, previously rejected the idea that Heard had post-traumatic stress disorder. Curry diagnosed Heard with borderline personality disorder and histrionic personality disorder, which Hughes disagreed with. 
Depp's team pushed Hughes on her descriptions of victims of intimate partner violence Tuesday using primarily she and her pronouns and descriptions of perpetrators as primarily male. They also pushed Hughes on being paid to testify.
Hughes rejected characterizations that she makes her income primarily off testifying in court cases, saying many of her cases never go to trial. She also said that she did in fact work with many male clients of sexual abuse or intimate partner violence.
The Depp-Heard defamation trial: Summary and timeline
Johnny Depp and Amber Heard's relationship began more than a decade ago, and eventually devolved into what appears to have been a toxic marriage.
The couple split in 2016, but have continued to battle in court over an op-ed Heard wrote for The Washington Post in 2018, in which she described surviving domestic violence -- without mentioning Depp by name.
The trial, which is being held in Fairfax County, Virginia, is expected to take weeks. Here's a timeline of Depp and Heard's relationship leading up to the court case.
Heard's attorneys argued for a motion to dismiss Tuesday
Heard's attorneys argued for a motion to dismiss Tuesday on the basis that Depp's attorneys failed to meet their burden of proof, calling it undisputed that Heard was physically and verbally abused. They also argued that Depp's attorneys have questioned the headline for the essay's online version. But the headline was written by The Washington Post, not Heard, according to one of Heard's attorneys. 
Depp's attorneys argued that Heard cosigned the headline as her own when she tweeted the article in December 2018, but his legal team has not submitted the tweet to the court as evidence.
Judge Penney Azcarate said Tuesday that it will be up to the jury to determine whether the weight of the evidence presented by Depp's team has met the burden, dismissing those arguments.
But as for whether or not Heard's tweet constituted an adoption of The Washington Post's headline, Azcarate said she'd continue to take it under advisement.
"There seems to be an agreement that the tweet of Ms Heard is part of the plaintiff's evidence, which is not in evidence at this point," Azcarate said Tuesday. "So I can't rule on that statement whether or not it is just a tweet or if it's some sort of republication ... I don't know because I haven't seen it yet."
WebMd profile of Amber Heard witness flooded with negative reviews
A WebMD profile of a clinical psychologist was flooded with negative comments on Tuesday after she testified as the first defense witness for Amber Heard.
Dr. Dawn Hughes, who was called to the stand by Heard's legal team, testified that she diagnosed Heard with post-traumatic stress disorder as a result of what she described as intimate partner violence experienced during her relationship with Depp.
As Hughes was on the stand, a WebMD physician profile with her name and practice information was hit with a barrage of negative reviews.
WebMD did not immediately respond to a request for comment Tuesday. The reviews appeared to be removed from the website after NBC News reached out to WebMD.
It's unclear if Hughes created the profile herself. She did not immediately respond to NBC News' request for comment regarding the page and its reviews.
In many of the reviews, commenters accused Hughes of being biased against men in cases of domestic abuse, calling her sexist and unprofessional.
"bad energy, vicious and hates men. ... this review was created by a woman," one review read.