Like thousands of other viewers across the country, roommates Thi Q. Lam and Rance Nix quickly became addicted to Netflix's "Love Is Blind," a reality television series in which couples who'd never met each other in person communicated solely in pods and agreed to get married.
But their fascination with the show came at a steep cost. It was day two of their new lives social distancing, and they realized they had binged the series too quickly.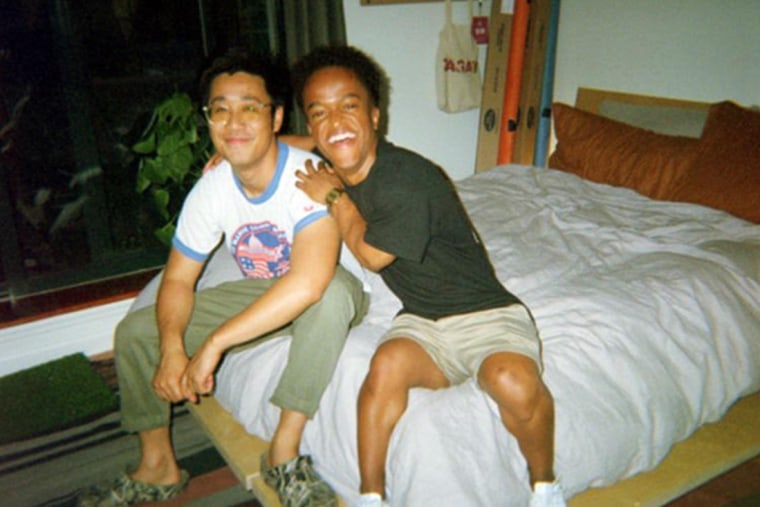 Faced with a daunting amount of time to spend together in their tiny Brooklyn apartment and all out of episodes of the dating show, they found another way to keep themselves occupied: They created an Instagram show based on "Love Is Blind" that would connect people from different areas while they stayed in their homes to prevent the spread of the coronavirus.
Their show, "Love Is Quarantine," has quickly taken off on social media, with many participants and viewers both intrigued by the possibility of staving off boredom and of finding love in an uncertain time that seems antithetical to doing so.
"We're both extroverts, and we had nothing to watch, so the idea just popped into my head," Lam, 27, told NBC News. "Our apartment is kind of like a pod. In New York, apartments are small, anyway."
He and Nix, 28, started a spreadsheet Monday for "Love Is Quarantine," inviting people to sign up. At first, only six men signed up.
"It was just thirsty men who had signed up," Lam said. "We almost didn't go through with it."
Full coverage of the coronavirus outbreak
Shortly thereafter, however, their friends began circulating the sign-up sheet on social media. After the first episode aired Monday, hundreds of people expressed interest in participating, far outpacing the number Lam and Nix, a two-man operation, can set up.
Yet the pair is nonetheless determined to help people find connection and say they are making every effort to do so. "Love Is Quarantine" is LGBTQI-friendly, and they recently set up one of its contestants, Garrett, on five virtual dates. Another contestant, Katie, recently introduced her date, Steve, to her family via FaceTime.
"One thing I really liked about 'Love Is Blind' is that it takes away the physical aspect of dating and allows people to get to know potential partners for their personality," Rance said. "Them getting married without seeing each other is a little dicey, but as a person with achondroplasia, the most common form of dwarfism, I appreciated it, since dating can be kind of difficult. There have been times in the past where people make it clear they're looking for that 6-foot-4 hunk."
The circumstances surrounding "Love Is Quarantine" are markedly different from those of "Love Is Blind" — for one, the participants in "Love Is Blind" can leave their homes and eventually get to know each other during a lavish vacation — but Lam and Nix say they hope to recreate the original show's success in forging genuine connections among people from disparate backgrounds.
"It's an easy conversation starter: What were you doing during quarantine?" Lam said. "Hopefully you were watching 'Love Is Quarantine,' but I really think you're going to see relationships change, because this is a shared experience and something we can all rally around."
Download the NBC News app for full coverage and alerts about the coronavirus outbreak
For now, the pair will continue matching the nearly 700 people who've signed up and sharing their stories via the show. They also plan to begin selling "Love Is Quarantine" merchandise, the proceeds of which will be donated to Feeding America, a nonprofit organization that works to end food insecurity.
When quarantine is over, they hope to host an in-person meetup for all the contestants at a Brooklyn Popeyes.
"I think the show, and being in quarantine in general, is going to make people start appreciating in-person community," Nix said. "Not being able to go anywhere makes you reflect and makes you more grateful for the people in your life."