Before she ever hit the big screen, M3GAN was a social media icon.
The killer android doll is the star of the film "M3GAN," which released nationwide Friday. But her TikTok-esque dance moves, which were prominently featured in the film's trailer, made her a viral sensation months ago.
In the trailer, M3GAN is seen dancing — swinging her arms, twirling, posing against a wall and, inexplicably, doing an aerial cartwheel — to a remixed track of Taylor Swift's "It's Nice to Have a Friend." In the film, the dance is actually set to the disco hit "Walk the Night" by the Skatt Brothers.
The movie was brought to life with the help of actor Amie Donald, who physically embodied the doll, as well as a combination of visual effects, animatronics and puppetry.
Donald, who has a background in dance, helped choreograph the dance, which has since blown up on platforms such as TikTok and Twitter. As of Monday, the hashtag #M3GAN has more than 954.4 million views and #M3GANDANCE has more than 186.5 million views on TikTok.
Many on social media have also declared M3GAN a queer icon. Dancing M3GANs have become commonplace at events where the film is being promoted. Some online are also stitching videos of M3GAN side by side with Jenna Ortega's viral "Wednesday" dance.
"I wanted people to like her and get a kick out of her, but there's no way I could comprehend the reaction that we got," director Gerard Johnstone told NBC News in a recent Zoom interview. "It's unbelievable. It makes my head spin."
The film, written by Akela Cooper and based on a story by James Wan, follows the newly orphaned Cady (played by Violet McGraw) after she goes to live with her roboticist aunt Gemma (played by Allison Williams). Gemma introduces Cady to her newly designed Model 3 Generative Android, aka M3GAN, after Cady has trouble adjusting to her new life with Gemma. M3GAN and Cady become the best of friends until M3GAN becomes so overprotective of Cady, she goes on a murderous rampage.
While the dance is poised to become a fixture on TikTok, an app that was built on the success of teen girls and young women lip syncing and dancing, Johnstone said the choreography in "M3GAN" wasn't created with the intent of becoming the next TikTok sensation.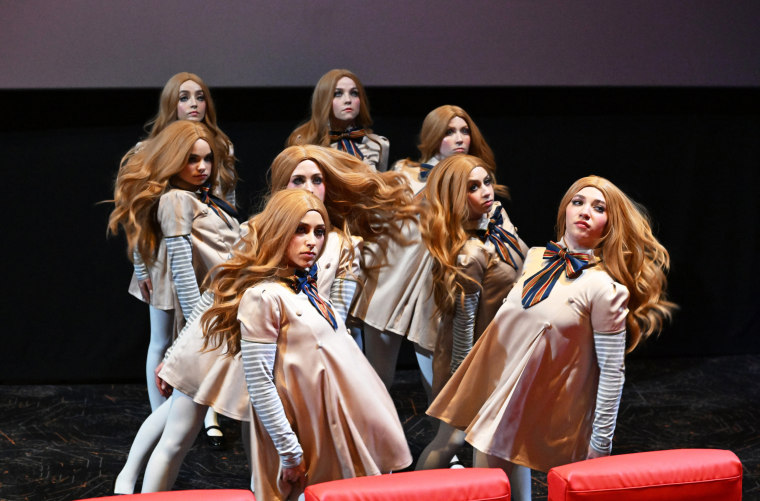 Johnstone, who said that he's in a "self-imposed social media exile," doesn't spend time on platforms like TikTok. But, as a filmmaker, he understands the role that it plays in the social lives of girls and how elements of TikTok, like dance, are bonding experiences for young women. He said he wanted to incorporate that experience in the film's narrative.
"There's a scene early on in the film where M3GAN and Cady are bonding and just dancing is one of the things they do," Johnstone said.
For the dance scene, Donald — who has a background in dance —told the Los Angeles Times that Gerard instructed her to be "creepy but also kind of distracting."
People on the internet have indeed found it to be creepy, distracting and extremely entertaining.
"my entire TL is the gays stanning M3gan," one person tweeted in October.
"'Th3 clouds lift3d for cin3ma's futur3 wh3n I saw M3gan' -Martin Scors3s3," one person tweeted.
Another person, tweeting in reference to a scene in the film where M3GAN sings to Cady, wrote: "M3GAN will singlehandedly send 'Titanium' by Sia skyrocketing to the top of the charts."
Williams said the internet reaction has showcased just how well people understand the character.
"The memes, the copies of the dance, people just understood her in this way that I absolutely loved," Williams told Insider. "And we just thought, 'OK, job done. They get her.' She belongs to them now. This is amazing."
Over the weekend, many people flocked to theaters to see the M3GAN do her dance on the big screen. The film pulled in $30.2 million at the domestic box office. On Rotten Tomatoes, the film has a critics score of 93% with 167 reviews as of Monday. ("M3GAN" is distributed by Universal Pictures. NBC News and Universal Pictures are both owned by NBCUniversal).
Like other viral phenomena before it, M3GAN's social media success was a happy accident — something Johnstone didn't see coming.
"I'm just so thankful that she has been received, and she just has an army of people who are willing to stand beside her," Johnstone said of M3GAN. "That's incredible"
He credits some of the film's early praise to social media buzz.
"So much of a movie's success depends on how you can market it," Johnstone said. "I started out making trailers, making TV trailers, so that was definitely a conscious thing in my mind — what are the bits that could be selected?"
Even with that in mind, Johnstone said he didn't think M3GAN's dance should appear in the trailer.
"I really thought they had given away too much of the dancing," he said. "So it goes to show how much I know."