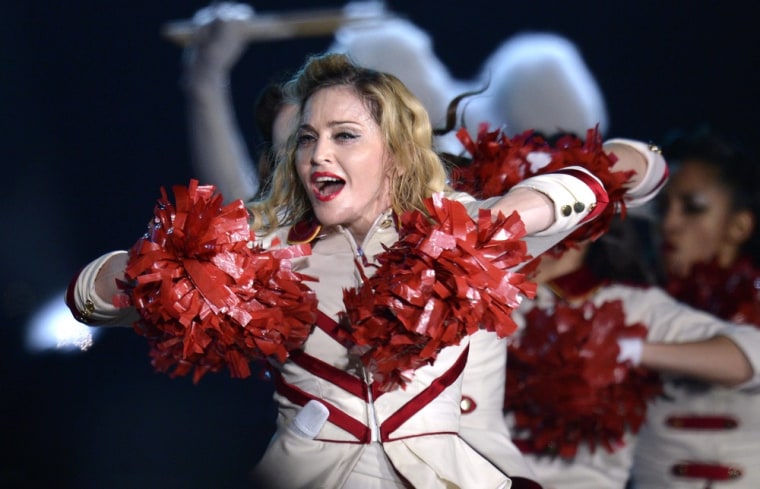 LOS ANGELES — Madonna, who had already voiced her support for the Russian punk band Pussy Riot, on Saturday joined a chorus of celebrities in slamming a jail sentence handed down in Moscow to three women from the group over a protest against President Vladimir Putin. 
"I protest the conviction and sentencing of Pussy Riot to a penal colony for two years for a 40-second performance extolling their political opinions," Madonna said in a statement.
The three women, Nadezhda Tolokonnikova, 22, Maria Alyokhina, 24, and Yekaterina Samutsevich, 30, were convicted in a Russian court of hooliganism motivated by religious hatred for performing a "punk prayer" in Moscow's Christ the Saviour Cathedral in which they called on the Virgin Mary to rid Russia of Putin.
The two-year sentence handed down against the three women on Friday has generated outrage outside of Russia, but within the country polls have shown that few Russians sympathize with them.
Judge Marina Syrova told the Moscow court on Friday, "The girls' actions were sacrilegious, blasphemous and broke the church's rules." She rejected their argument that they had no intention of offending Russian Orthodox believers.
Madonna had previously expressed her support for the band after they were arrested.
In her latest statement, Madonna said the two-year sentence was "too harsh and in fact is inhumane."
"They've spent enough time in jail. I call on all of Russia to let Pussy Riot go free," she said.
On Friday, the European Union's foreign policy chief Catherine Ashton said the sentences given to the women were "disproportionate" to the crime, and European nations and the United States voiced similarly sharp criticism.
So did Canadian rock star Bryan Adams, actor Adrian Grenier and Black Keys drummer Patrick Carney, who vowed to not play a show in Russia over what he described as its move to "imprison innocent musicians for speaking their minds peacefully."
British singers Sting and Paul McCartney have also shown support for the Pussy Riot band. 
More in NBC News Entertainment