The man who was photographed naked underwater as a baby and later ended up on Nirvana's iconic "Nevermind" album cover filed a lawsuit Tuesday alleging he was a victim of child pornography.
The album cover shows Spencer Elden, now 30, in a swimming pool as a then-infant with his penis exposed.
The image used for the cover of Nirvana's sophomore 1991 album includes a digital imposition of a dollar bill on a fishhook that the baby looks like he is trying to grab. The cover was widely considered a rebuke of capitalism.
Nonsexualized nude photos of infants are generally not considered child pornography under law. But Elden's lawyer, Robert Y. Lewis, alleges the inclusion of currency in the shot makes the baby appear "like a sex worker."
Download the NBC News app for breaking news and politics
Kurt Cobain "chose the image depicting Spencer — like a sex worker — grabbing for a dollar bill that is positioned dangling from a fishhook in front of his nude body with his penis explicitly displayed," the suit, filed in the U.S. District Court for the Central District of California, stated.
Elden is asking for at least $150,000 from each of the defendants, who include surviving band members Dave Grohl and Krist Novoselic; Courtney Love, the executor of Cobain's estate; Guy Oseary and Heather Parry, managers of Cobain's estate; photographer Kirk Weddle; art director Robert Fisher; and a number of existing or defunct record companies that released or distributed the album in the last three decades.
Original Nirvana drummer Chad Channing is also named as a defendant, even though he had been replaced by Grohl in 1990, before the album was recorded or the cover photography shot.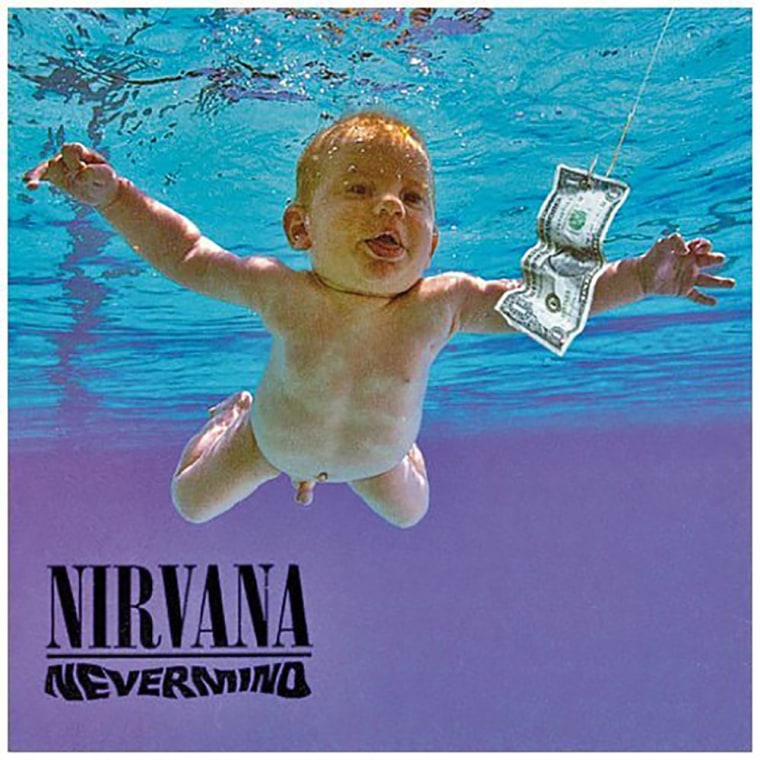 Cobain commissioned the shoot after he had seen a documentary on babies being born underwater and "thought the image would make a cool cover," Fisher told the magazine at the time. "That vision was a bit too graphic, so we went with the swimming baby instead."
Weddle took the pictures in an Olympic-size pool at the Pasadena aquatic center in California.
"Weddle took a series of sexually graphic nude photographs of Spencer," the suit said. "To ensure the album cover would trigger a visceral sexual response from the viewer, Weddle activated Spencer's 'gag reflex' before throwing him underwater in poses highlighting and emphasizing Spencer's exposed genitals."
"Weddle produced these sexually graphic images with the goal of enhancing and increasing the commercial success of Nirvana, L.L.C.'s Nevermind album," the suit said.
The album was selling about 300,000 copies a week when it reached No. 1 on the U.S. Billboard 200 in early 1992. The album, with classics "Smells Like Teen Spirit" and "Come as You Are," has spent at least 335 total weeks on the Billboard 200.
The cover image did receive pushback, at which point Cobain agreed to release the album with a sticker over Elden's genitals that said: "If you're offended by this, you must be a closet pedophile."
"The sticker, however, was never incorporated into the album cover," the lawsuit said.
As a result, Elden "has been and will continue to suffer personal injury" and "permanent harm," including "extreme and permanent emotional distress with physical manifestations, interference with his normal development and educational progress, lifelong loss of income earning capacity, loss of past and future wages, past and future expenses for medical and psychological treatment, loss of enjoyment of life, and other losses," the suit stated.
Neither Elden nor his guardians signed a release authorizing the use of the image, according to the suit. The family was paid $250, Entertainment Weekly reported in 1992.
In 2008, Spencer's father, Rick, recounted the 1991 shoot to NPR. He said his friend Weddle, the photographer, "calls us up and was like, 'Hey Rick, wanna make 200 bucks and throw your kid in the drink?,'" the father recalled. "I was like, 'What's up?' And he's like, 'Well, I'm shooting kids all this week, why don't you meet me at the Rose Bowl [Aquatic Center], throw your kid in the drink?' And we just had a big party at the pool, and no one had any idea what was going on!"
The NPR story went on to say the family didn't think more about it until, three months later, they saw a 9-by-9 blowup of the cover on the Tower Records wall on Sunset Boulevard.
"Two months later," the article said, "Geffen Records sent 1-year-old Spencer Elden a platinum album and a teddy bear."
Elden has repeatedly re-created the pose as a teenager and adult, diving into pools to pose — while wearing swim trunks — on the occasion of the album's 10th, 17th, 20th and 25th anniversaries.
However, in most of the interviews accompanying these photo shoots, he expressed mixed feelings about being famous for the "Nevermind" cover and whether he was exploited by it. Until now, despite his ongoing ambivalence about the photo's legacy, he hadn't described it as pornographic.
In previous interviews, he's also said he tried to get in touch with Grohl and Novoselic, on a friendly basis, but never got a reply.
In 2016, the last time Elden recreated the pose as an adult, he told the New York Post he wanted to take the shot naked.
"I said to the photographer, 'Let's do it naked.' But he thought that would be weird, so I wore my swim shorts," he said.
"The anniversary means something to me. It's strange that I did this for five minutes when I was 4 months old and it became this really iconic image," he said at the time. "It's cool but weird to be part of something so important that I don't even remember."
He added that he prefers The Clash over Nirvana.
CORRECTION (Aug. 25, 2021, 2:15 p.m. ET): A previous version of this article misstated how many babies were cast for the "Nevermind" photoshoot. Entertainment Weekly reported that four babies, not three, were cast in addition to Spencer Elden.