Three awkwardly titled movies about a devastated Earth, three big-name stars. How can a movie fan keep them straight? Here's a quick guide to the apocalyptic avalanche coming soon to a theater near you.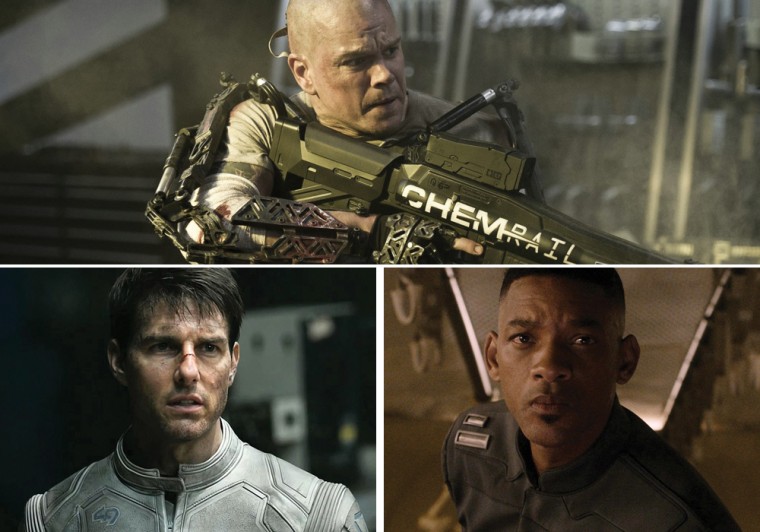 'Elysium'
Star: Matt Damon
Opens: Aug. 9
Plot: The wealthy have left Earth and live on a space habitat called Elysium. Earth itself is now crime-ridden and impoverished, and people there are in desperate need of medical care. Matt Damon, who's beefed up to major hunk levels for the film, is a tough Earth bruiser who has a mission to get to Elysium and save the people of Earth. To do so, he must confront Jodie Foster, Elysium's mayor. The film is directed by Neill Blomkamp and also stars Sharlto Copley from "District 9," which also dealt with issues of wealth, poverty and the social separation they bring.
Extras: Damon gets robotic armor attached to his body to help him invade Elysium. It looks creepy and painful -- a bone saw is somehow involved.
'Oblivion'
Star: Tom Cruise
Opens: April 19
Plot: Earth was attacked by aliens 60 years ago and has been pretty much abandoned. Tom Cruise is Jack Harper, a drone mechanic stationed in a tower floating near Earth and part of the mission that's scavenging final resources from the planet before abandoning it forever. But then a spaceship crashes, and Jack rescues a woman in it and is taken prisoner by a group led by Morgan Freeman. Turns out everything he thought he knew about Earth and the invasion that ravaged it just might be wrong.
Extras: Don't miss the creepy post-apocalypse shots of a half-destroyed Pentagon, leaning Washington Monument, and buried Statue of Liberty.
'After Earth'
Stars: Will and Jaden Smith
Opens: June 7
Plot: Guess what? Earth's trashed again! Society has rebuilt itself on another planet, but when Will and Jaden Smith leave there, they crash-land on Earth. Will's injured, so it's son Jaden (now 14, you remember him from "Karate Kid") who must make a perilous trek through the wasteland to try and save his dad.
Extras: The animals on the planet have evolved into killing machines. It's like if Disney's Jungle Cruise was suddenly doused with The Incredible Hulk's gamma rays or something.
Who's the best hero (or hero team?) Cast your vote below.
Related content: