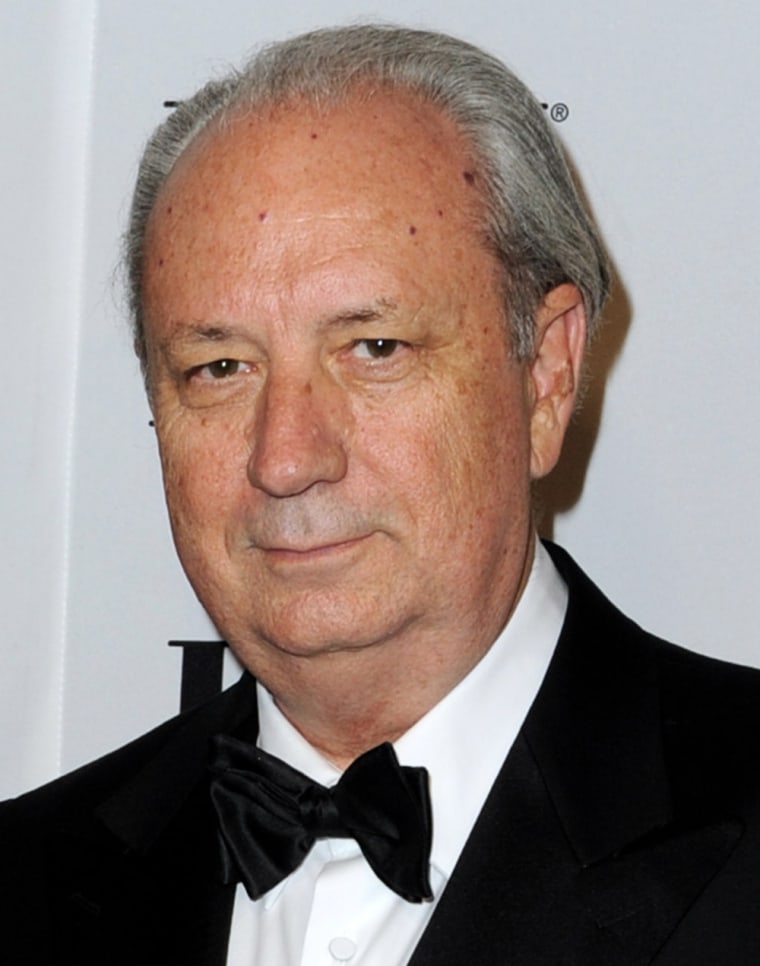 When Davy Jones tragically passed away in February, many Monkees fans presumed it was the end of the group. Even members of the band thought it was probably over. "There is a faint chance we'll continue," Peter Tork told Rolling Stone. "I don't know whether we could structure something without Davy. I had a couple of thoughts, but I don't know if they're workable." 
What he didn't count on at the time was former Monkee Michael Nesmith returning to the fold. With the exception of a short European run of dates in 1997, Nesmith hasn't participated in any of the Monkees many reunion tours since their split in 1971.
As Rolling Stone announced this morning, he's had a change of heart and the three surviving members of the band will hit the road in November. We spoke with Nesmith via e-mail about the reunion tour and his other future plans.
When I spoke with Peter and Micky shortly after Davy died, they said they hadn't really spoken to you since the 1997 European tour. Where and when did you guys first begin communicating?
We reconnected at a private memorial for David the three of us arranged that was held at a private home.
More from Rolling Stone: Surviving Monkees to launch first tour in 15 years
What made you want to return to the band after all these years? Is this something you'd been contemplating for a while?
I never really left. It is a part of my youth that is always active in my thought and part of my overall work as an artist. It stays in a special place, but like things in the past it fades in and out in relevance to activities that are current. Getting together with old friends and acquaintances can be very stimulating and fun and even inspiring to me. We did some good work together and I am always interested in the right time and the right place to reconnect and play.  
Any regrets about not joining them on their tour last year? Were you ever tempted to guest for a song or two last year?
No. It was, as usual, a question of schedules and timing and the focus of our individual work. Had there been an opportunity to join them I would have – but we were out of sync schedule wise. 
How will the show address Davy's absence? Will songs he originally sang be included?
David's presence and his past will be throughout the show. He will be missed in his absence, but very much on our minds and in our heart. We will include some of the songs he sang, and do our best.
More from Rolling Stone: Michael Nesmith remembers Davy Jones
What sort of setlist can fans expect? Are there certain rarities you're hoping to bring back? Has the band been assembled yet?
We are focusing around "Headquarters" – our first real sojourn as a band – but the setlist will include all the Monkees fans expect. There are songs of mine and Peter's that have not been performed that we will play. The three of us will play the "Headquarters" material as we did in the studio – but the shows backing band for the other material will be the same as the last tours – with the exception of the inclusion of my son Christian on guitar. 
Is there any talk of recording new material?
No. 
Are you interested in continuing with the group after this string of dates ends in December?
Continuing is a big word. If you mean receptive to more concert dates, as I say I am always interested – but much will depend on the logic of events.
I've heard you might go on a solo tour and perform material from your RCA albums. Is that the case? If so, when might that happen?
Yes. But more than the RCA albums. There is a lot of material around later work in video that is fun to play as well. I am doing a short four-concert tour in October in the U.K. And I am looking at a longer solo tour in the States in the spring of '13. 
More from Rolling Stone: Davy Jones' greatest musical moments
I also heard you want to write a book. What are the plans for that?
I am in that process. This will be my third book – the first two are novels and this will be a type of nonfiction. I use "type" as an equivocator since there is some fiction in it. It is more amarcord than autobiography, more a study of events past in my life and times and how they fit together than a recollection. Vidal made the distinction in his book "Palimpsest" between the memoir and the autobiography – and that's a good definition for this new book – a kind of memoir – and "Tropic of Cancer" is another good way to look at the mixture of true stories and fictionally enhanced but real events. (Not to presume to compare myself with Miller or Vidal.)  No publisher yet.
Fans haven't heard much from you in a very long time. Now there's all these projects seemingly at once. What's the impetus for all this?
I feel this is the start of the ending for me here – or more precisely, as Churchill had it – the end of the beginning. Now is the time. 
More in NBCNews.com entertainment: