An adopted son of Woody Allen and Mia Farrow has published a searing blog post in which he defends his father against sexual assault allegations and claims his mother was physically abusive.
Moses Farrow's 4,650-word post, published on Wednesday, details the "fatal dysfunction" inside his childhood home — but blames it on his mother, not Allen.
"Given the incredibly inaccurate and misleading attacks on my father, Woody Allen, I feel that I can no longer stay silent as he continues to be condemned for a crime he did not commit," Farrow wrote in the blog post, which he titled "A son speaks out."
The post comes after an open letter from 2014 in which Allen's adopted daughter Dylan Farrow, the younger sister of Moses, alleged that the filmmaker had sexually assaulted her when she was seven. Allen has repeatedly denied the allegations and says Dylan was likely "coached" by Mia to make the claims.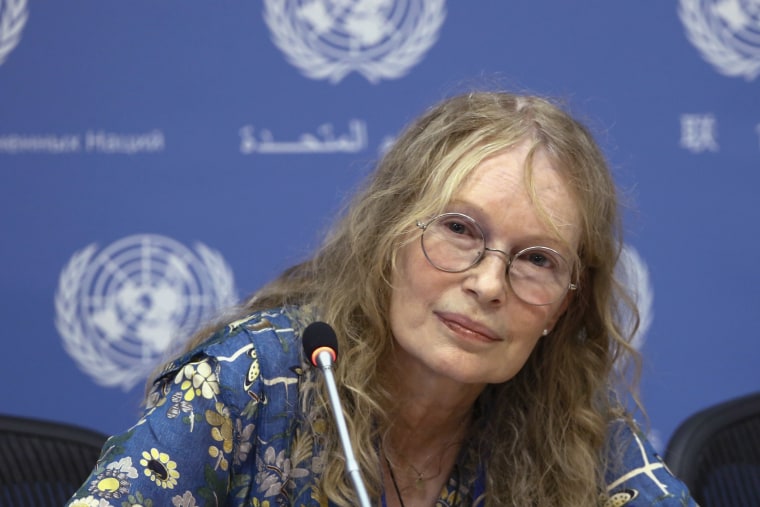 Allen and Mia Farrow dated for 12 years before breaking up in 1992, when Mia Farrow learned that Allen had an intimate relationship with her oldest adopted daughter, 21-year-old Soon-Yi Previn, whom he later married.
Moses Farrow's post denies the sexual abuse of Dylan Farrow ever happened and goes into detail about the day it allegedly occurred, when, he wrote, Mia was out shopping with a friend, Casey Pascal. Allen was in the family's Connecticut country home with the kids and Pascal's kids, plus two nannies and a French tutor. Farrow was 14 at the time and wrote that had been instructed by his mother not to let Allen out of his sight following the revelation of the romantic relationship with Soon-Yi.
Farrow recalled a fun afternoon of watching the movie "Who Framed Roger Rabbit?" with his siblings, their friends, and Allen. When his mother returned, "there were no complaints by the nannies, and nothing odd about Dylan's behavior. In fact, Woody and Mia went out to dinner that night," he wrote.
The next morning, a phone call from Pascal alleging that her nanny had seen Allen with his head in Dylan's lap changed "our lives forever," Farrow wrote.
He cast doubt on the call in his blog post: "Really? With all of us in there? And if she had witnessed that, why wouldn't she have said something immediately to our nanny Kristi?"
At the time, however, Moses Farrow wrote a letter condemning Allen which he read to the media — something he now claims he did to earn his mother's approval.
"That public denouncement of my father remains the biggest regret of my life," Farrow wrote.
Connecticut police investigated the child molestation charges against Allen. He was never charged.
What led Farrow to turn on his father, he explained, was the fear and abuse promulgated by his mother during her messy custody battle with Allen: "It pains me to recall instances in which I witnessed siblings, some blind or physically disabled, dragged down a flight of stairs to be thrown into a bedroom or a closet, then having the door locked from the outside," he wrote.
He also recalled Mia Farrow allegedly slapping his face so hard, his glasses fell off; spanking him and making him take off his clothes once as a punishment when he cut the belt loops out of a new pair of jeans; and her hitting him "uncontrollably all over my body."
"I was defeated, deflated, beaten and beaten down. Mia had stripped me of my voice and my sense of self. It was clear that if I stepped even slightly outside her carefully crafted reality, she would not tolerate it. It was an upbringing that made me, paradoxically, both fiercely loyal and obedient to her, as well as deeply afraid," he wrote.
Mia Farrow did not respond to requests for comment. Her verified Twitter account has tweeted several times on Wednesday and Thursday. but none of the posts referenced the accusations by her son.
Dylan Farrow denied her mother was abusive and called her brother a "troubled person" in a statement on Twitter.
"This is an attempt to deflect from a credible allegation made by an adult woman, by trying to impugn my mother who has only ever been supportive of me and my siblings," she said.
"My brother is dead to me," Dylan added. "This is such a betrayal to me and my whole family. My memories are the truth and they are mine and I will live with that for the rest of my life."
And Ronan Farrow, Dylan and Moses' brother, called the blog post another effort in "the repeated campaign to discredit my sister, often by attacking our mother."
"My mother did an extraordinary job raising us, and none of my siblings with whom I've spoken ever witnessed anything but love and care from a single mom who went through hell to keep her kids safe," he said.
"My sister's allegation is backed by a significant body of credible evidence, including physical evidence and eyewitnesses to abuse," he added. "I believe my sister."