President Barack Obama has been labeled one of America's funnier presidents ... but a comedian?
Well, Jerry Seinfeld says Obama "has gotten off just enough funny lines" to justify an appearance on the season opener of his popular web series, "Comedians in Cars Getting Coffee."
For the episode published online Wednesday night, Seinfeld gave the nod to a silver blue 1963 Covrvette Stingray. "I thought the coolest car, American made, for the coolest guy ever to hold this office," Seinfeld told Obama.
The rendezvous began with Seinfeld creeping around in the bushes outside the Oval Office, then knocking on the window to get the president's attention.
"You ready?" Seinfeld asks casually.
"I got some stuff to do," Obama says, feigning annoyance, as Seinfeld plops down on an Oval Office couch and starts munching apples.
"Are these washed?" Seinfeld asks.
The drive — possibly for security reasons or maybe just Obama's schedule — was limited to the White House driveway. The comedian usually takes his guests for a ride around before the coffee stop.
The president showed Seinfeld around his own ride, the presidential limousine. "I could call a nuclear submarine right here," Obama said, gesturing to a console in the car. "I bet you don't have that in your car."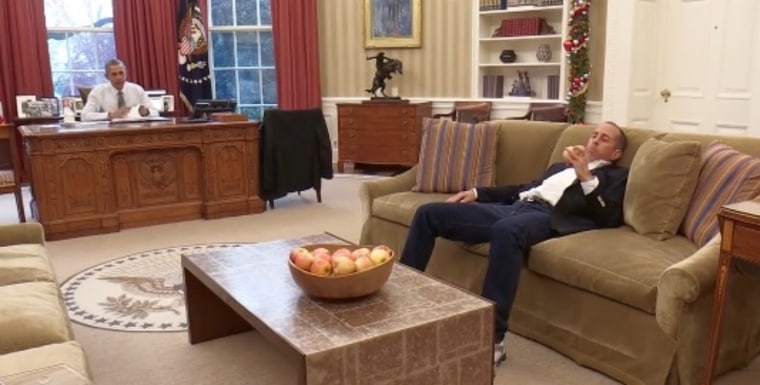 Seinfeld stuck mainly to questioning Obama about the minutiae of being president, his morning routine — shave first, then exercise — how to sleep in a busy house, and his underwear preferences.
"If I slid open your underwear drawer, one brand, or a number of brands?" Seinfeld asked Obama.
"You gotta go with one brand," the president said.
As the two walked into the White House to get the proverbial coffee, Obama told Jerry that Teddy Roosevelt was his favorite president, or at least "the guy who would be the most fun to hang out with. He just does crazy stuff."
Mid-sentence, an aide handed Obama a coffee. "Just a 'lil, 'lil gin I take mid-day," Obama joked.
"That gives you a lil zip," Seinfeld said.
During coffee in the White House kitchen, Obama owned up to thinking "a sizable percentage" of world leaders are crazy and said that politics is most like the sport of football.
"Did I tell you I played golf with Larry David?" Obama said at one point during the coffee klatch, referencing the co-creator and writer of "Seinfeld" the TV show.
"No, because you and I don't talk that much," Seinfeld fired back.
Before coffee was finished, Obama made a pitch for his signature health care initiative, the Affordable Care Act. "Usually the only reason I do these things, is because I'm promoting health care," Obama quipped.
That prompted Seinfeld to turn to the camera and say, "Please try Obamacare today."
The epidsode ended with Obama taking the wheel of the '63 Stingray, to which a bumpersticker had been affixed that read, "My other car is a 5 ton, bulletproof limousine."
"I'm appreciably cooler than I was two minutes ago," Obama said.
Obama drove the car up to the White House gate, where he asked the security guard, "Hey Darryl, can you open this up?"
"I'm sorry, sir. I can't allow that," the guard said.
"I knew that wouldn't work," Obama said.
"You didn't sell it," Seinfeld replied.