Children of the 1980s, you remember "Pretty in Pink." Molly Ringwald's bizarre home-sewn prom dress. "His name is Blane? That's a major appliance, that's not a name!"  "What's this? We don't have a candy machine in the boys' room!" "WHAT ABOUT PROM, BLANE?"
The 1986 John Hughes classic came out 27 years ago Thursday, meaning that had Andie Walsh (Molly Ringwald) actually stayed together with either rich pretty boy Blane McDonnagh (Andrew McCarthy) or (our preference) quirky best friend Duckie Dale (Jon Cryer), they might even have kids of their own by now. Possibly adult kids. Maybe even a grandkid.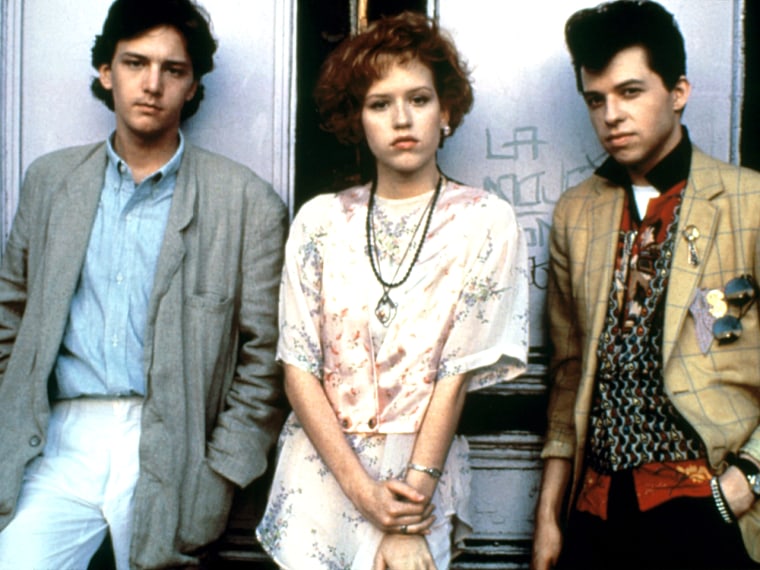 Some say "Pretty in Pink" pales next to some of Hughes' other work, such as "Sixteen Candles" or "The Breakfast Club," but there's no doubt it's made its mark on pop culture. Years ago, Jon Cryer told TODAY.com that he's played Alan Harper on "Two and a Half Men" for years, but when he walks down the street, fans who recognize him never yell "Alan!" They always yell, "Duckie!"
In 2012, Jimmy Fallon asked Cryer if the beloved character couldn't be resurrected for a "Duckie Holiday Speclal." Cryer wasn't so sure, pointing out the innate uncoolness of his alter ago. "People forget that Duckie wore lederhosen!" he admonished.
And when McCarthy's memoir came out last fall, TODAY anchor Savannah Guthrie asked him if he felt it was true that Duckie was better for Andie than his own character of Blane. "That is an outrageous theory," McCarthy joked.
It's famously known that "Pretty in Pink" was supposed to end with Andie leaving Blane and ending up back with Duckie, her faithful, fashionable friend. But that ending was reportedly rejected by a test audience (someone find these people and interrogate them about what they were thinking), so Andie got the "happy" ending with richie Blane.
And perhaps that's as it should be. As much as we support Duckie's eternal faithfulness and fire, a 2012 TODAY.com poll showed that a slight majority of readers chose Blane over Duckie anyway. So let's pretend they're content, whoever and wherever they are. And happy anniversary.
Duckie or Blane? Take our new poll, and tell us what you think on Facebook.
Related content: