Want to see "Red Dawn" this weekend? Be sure to don your acid-washed jeans, Forenza sweater, Mary Lou Retton-inspired haircut, and jelly shoes. "Red Dawn" first came out in 1984, when Ronald Reagan was president, gas cost around $1 a gallon, and the film's star-spangled vision of a war against Soviet invaders made a lot more sense.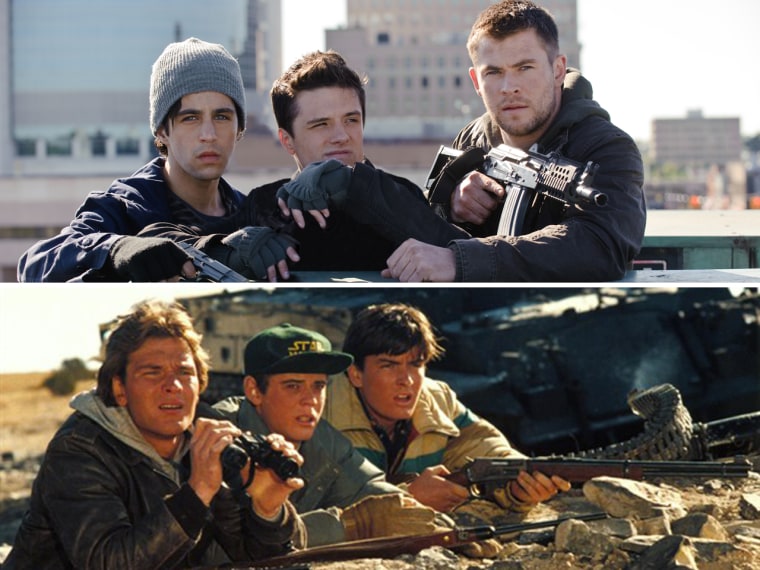 In the new version, 1980s heartthrobs Patrick Swayze, C. Thomas Howell and Charlie Sheen have been replaced by Chris Hemsworth, Josh Hutcherson and Connor Cruise. The role of Russia is being played by North Korea. Neither film version was intended to win Oscars, but the original developed a bit of a cult status, thanks in part to its handsome Brat Packy cast and weirdly memorable catchphrases. ("WOLVERINES!")
Now times have changed, and the new "Red Dawn" feels as clunky as a pay phone in a smartphone world.
"There's nothing to take away from this new version that ever feels like it's commenting on the here and now," Sara Michelle Fetters, critic and editor-in-chief for MovieFreak.com, told NBC News. "It just feels like another corporate byproduct, a movie made by people with no artistic credibility sitting in a room saying to one another, "Yeah, 'Red Dawn,' that totally kicked butt when I was a kid.' "
The Russkie -- er, North Korean-fighting teens of "Red Dawn" aren't alone in their nostalgic world. "Total Recall," "Footloose" and "Arthur" are among cult classics that have been recently remade for a 21st century audience, with "Dirty Dancing," "Robocop" and "The Evil Dead" among those awaiting their turn in the remake mill.
Few of the remade films have scored high with critics. The new version of "Red Dawn" currently earns only a 23 percent positive critical rating on Rotten Tomatoes.com, with many critics pulling no punches when it comes to the unneeded remake.
"Remaking an old film is rarely a good idea, but sometimes the idea is so spectacularly bad that the reasoning behind it defies all comprehension," critic Charlie McCollum wrote in the San Jose Mercury News. "About the only positive thing you can say about 'Red Dawn' is that it is finally coming along on the perfect holiday: Thanksgiving, otherwise known as Turkey Day."
Movies are often undeniable products of their time, said Fetters, noting that the original "Red Dawn," while "silly and over the top," carried with it some sense of historical significance in a Russia-wary country.  
"That's the problem with so many of these 1970s and '80s remakes," said Fetters. "The context and the reasoning behind them has been stripped away. Nobody greenlighting them now cares what the original filmmakers were trying to say, they only care that the concepts were cool, the villains were bad-ass and the heroes were larger than life."
Remakes may earn money, but they can also actively anger those who loved the originals.
"It bothers me to think of Gen X classics like 'Red Dawn' being remade," said Jennifer James, an Oklahoma writer who runs JenX67, a weblog about all things Generation X. "Nobody wants their coming-of-age films messed with."
But James admits that "Red Dawn" doesn't hold a cherished place in her personal pantheon of movie classics. 
"In my opinion, there are just some movies that can't be rebooted," she said. "Like 'The Breakfast Club' and 'Ferris Bueller's Day Off.'"
And James points out that Hollywood's obsession with remakes is robbing a new generation of their own stories.
"Do not remake 'The Breakfast Club,'" she said of John Hughes' classic 1985 film. "It would be an utter distortion of a cultural touchstone that belongs to one generation -- Generation X. A touchstone can't be remade or inherited. It can't be retrofitted to another generation. To inject current trends into old stories is to rob Gen Y and Gen Z of their own unique coming of age tales."
What classic movies should never be remade? Tell us on Facebook.
Related content:
Gael Fashingbauer Cooper is the movies editor for NBCNews.com and the co-author of "Whatever Happened to Pudding Pops? The Lost Toys, Tastes and Trends of the '70s and '80s."