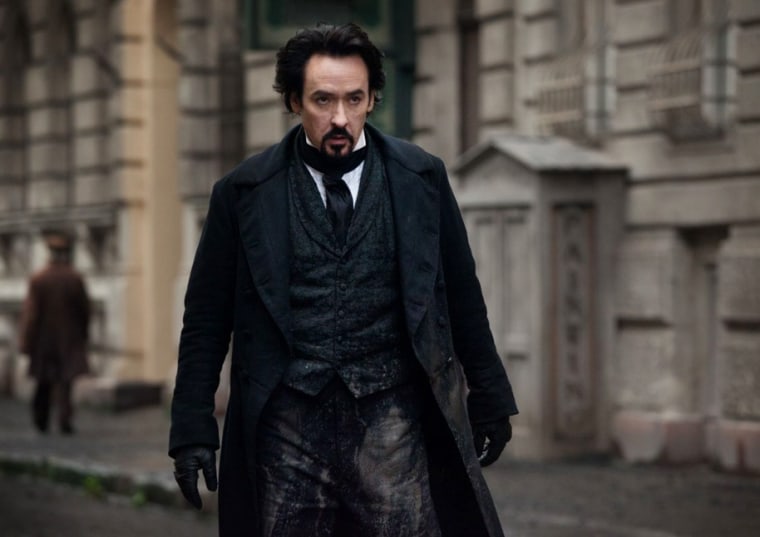 REVIEW: The raven had it right in Edgar Allan Poe's most famous poem.
"Nevermore" is precisely what filmgoers will be vowing after sitting through "The Raven," a trumped-up bit of gothic malarkey that proposes to show what the melancholy author was up to during his last few days.
Poe, for anyone who was sleeping through ninth grade English class, was a poet and short story writer who died in 1849 at age 40 after being found delirious on a street in Baltimore. The cause of death is unknown, though it has been attributed to alcoholism, cerebral hemorrhage, cholera and various other causes.
"The Raven" concocts another explanation. This period thriller uses the life and work of Poe (John Cusack) to construct a plot in which a copycat killer is trying to get Poe's attention by murdering victims in grisly ways that match up with the author's stories. One victim, for example, dies after a swinging pendulum slices him in half.
Soon, the mysterious killer has kidnapped Poe's fiancée (Alice Eve) and buried her alive in a wooden box beneath the floorboards. He then taunts Poe with additional murders that serve as clues as to his fiancée's whereabouts.
This sort of literary speculation and reframing can be amusing. Remember "Agatha" (1979) or, more recently, "Finding Neverland" (2004) and "Becoming Jane" (2007)?
The problem is that "The Raven," with its constant swirl of fog and period costumes, isn't much fun or even scary. As directed by James McTeigue ("V for Vendetta") and co-written by Ben Livingston and Hannah Shakespeare, the movie is excessively busy, muddled and full of verbose and vituperative speeches by Poe, the better to show, apparently, that he was a wordsmith.
Cusack attacks the role with vigor but not a lot of subtlety or depth. His Poe is a tippler, a sentimentalist and a great believer that his talent is under-appreciated. It doesn't help that Cusack is saddled with having to deliver heaping shovelfuls of background information on Poe, clumsily dropping into conversation such biographical nuggets as that his mother was an actress, that he attended and was kicked out of West Point, and that his beloved wife died of tuberculosis (the movie fails to point out that she was both a cousin and only 13 when the then 27-year-old writer wed her).
The film was shot in Hungary and Serbia, with old world Europe subbing for the cobble-stoned streets of 19th-century Baltimore. The supporting cast is stuffed with capable Brits, including Brendan Gleeson, Luke Evans and - this is of special note for fans of "Downton Abbey" - Brendan Coyle, who plays Mr. Bates on the Emmy-winning period drama.
Despite its essential crumminess, "The Raven" does serve a purpose. High-school English teachers trying desperately to get adolescents to crack the pages of Poe's work can use it as a starting point to induce students into believing that the 19th-century author may have had a jump or two on Stephen King when it came to depicting the macabre.
More in msnbc Entertainment: