Before the shootings at a midnight showing of "The Dark Knight Rises" in Aurora, Colo., the future looked bright for Warner Bros.' $250 million summer blockbuster.
Midnight showings of "Dark Knight Rises" had been sold out at many theaters for weeks, and scalpers were trying to sell tickets on eBay for more than $100. Reviews were overwhelmingly positive, with an 86% positive critical rating and a 94% fresh rating from audiences on Rotten Tomatoes.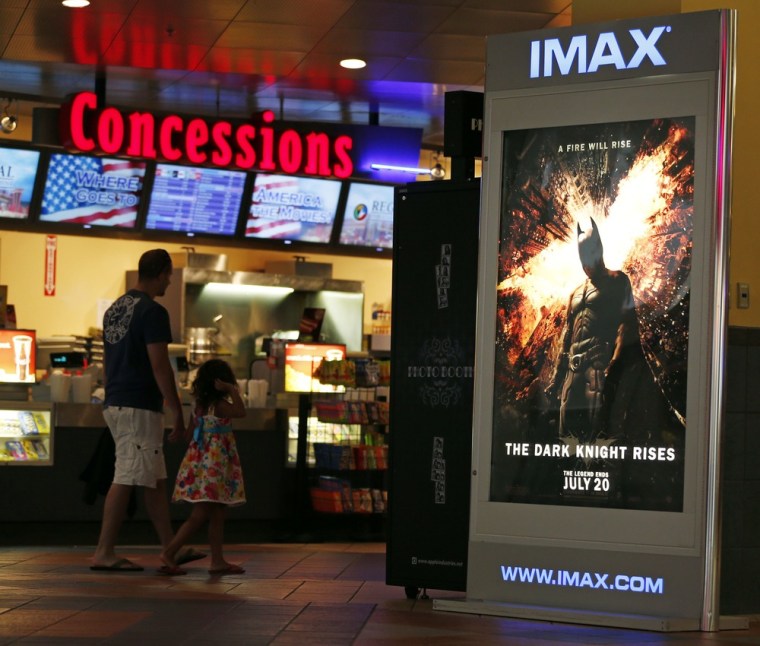 The film started big, pulling in $30.6 million at U.S. and Canadian box offices in midnight screenings -- the second-highest midnight opening in history, Reuters reported.
But soon the good news turned to horror. After the shootings, the New York Police Department announced that it would provide increased coverage at New York theaters showing the film. Warner Brothers quickly canceled the film's planned red-carpet premiere in Paris and later canceled appearances by the cast and filmmakers in Mexico and Japan, the Associated Press reported.
However, Warner Brothers told NBC News that it would not cancel any additional screenings of "The Dark Knight Rises" or pull it from any movie theaters. The L.A. Times reported that some broadcast and cable channels were pulling television ads for the movie.
Warner Brothers confirmed to NBC News that it had pulled the trailer for its upcoming film, "Gangster Squad," from "Dark Knight Rises" showings. In that trailer, four men shoot at a theater audience from behind a movie screen while a film plays.
Crisis-management experts who spoke to NBC News agree that Warner Brothers' early actions have been solid. The studio issued a statement saying it was "deeply saddened to learn about this shocking incident" and extended sympathies to families and victims.
"There is no playbook" for studios affected by such a tragedy, crisis communications expert Eric Dezenhall told NBC News. Dezenhall is the CEO of Dezenhall Resources and the author of "Damage Control: Why Everything You Know About Crisis Management is Wrong."
He warned that the studio would need to be careful about "anything that looks like there are festivities," noting that canceling the Paris premiere was probably a smart decision. "But that doesn't necessarily mean that every movie theater in the country has to stop playing it," Dezenhall said.
And early reports would seem to indicate that moviegoers are continuing to buy tickets for the long-awaited film. The Hollywood Reporter estimates the film will gross between $80 and $90 million on Friday and end the weekend around $180 million, behind only "The Avengers" as far as weekend box office records. Tickets to "The Avengers" cost more than "Dark Knight Rises" tickets due to a 3-D surcharge.
"At the end of the day, this is going to be the finality of a very successful franchise for Warner Brothers," Amir Malin told NBC News. Malin was the CEO of Artisan Entertainment and is an adjunct professor at NYU's Stern School of Business, teaching a course in film finance, marketing and distribution. "Yes, it will be tainted by the disaster of early this morning. Unfortunately, there tends to be short-term and mid-term awareness and long-term memory loss, and I think the tragedy of this morning will probably go down as a footnote to the overall success of the film."
While individual theater chains are grappling with whether or not to implement increased security measures, experts note that the shooting could have happened at a sports stadium, concert hall, or any other location where the public gathers.
"This could have been at any event in any venue, and it could have been in any locale," Malin says. "(The shooter) decided the venue was going to be the opening of 'Batman,' (but) this could have been anything."
Yet others point out that due to the effect Hollywood films have on the youth of the nation, the film industry would do well to examine the influence of its movie content.
"We're not doing 'Casablanca' any longer, we're doing very different kinds of films and very different kinds of music," said Robert Dilenschneider, founder of The Dilenschneider Group, a strategic communications company. "There has to be in a sense some inward looking on the part of the people who produce the film, but also on the part of people who produce other films."
Dilenschneider told NBC News he'd like to see the Hollywood studios use their big-name celebrities to speak out against the circumstances that led to the shooting.
"This is a major effort that has to be joined by George Clooney and Denzel Washington and all the other top people in terms of how they feel about this and what they're going to do about it," he said. "This is the time for those men and women to speak out, to say we're going to draw the line, this isn't going to happen any more."
Related content: