Pop star Taylor Swift set the internet ablaze on Sunday after she penned a blog post accusing her former label and one of the music industry's biggest managers of stripping her of rights to her own music.
The 10-time Grammy winner posted her grievances on Tumblr in response to the announcement that Big Machine Records, her former label, was acquired by a holding group led by talent manager Scooter Braun.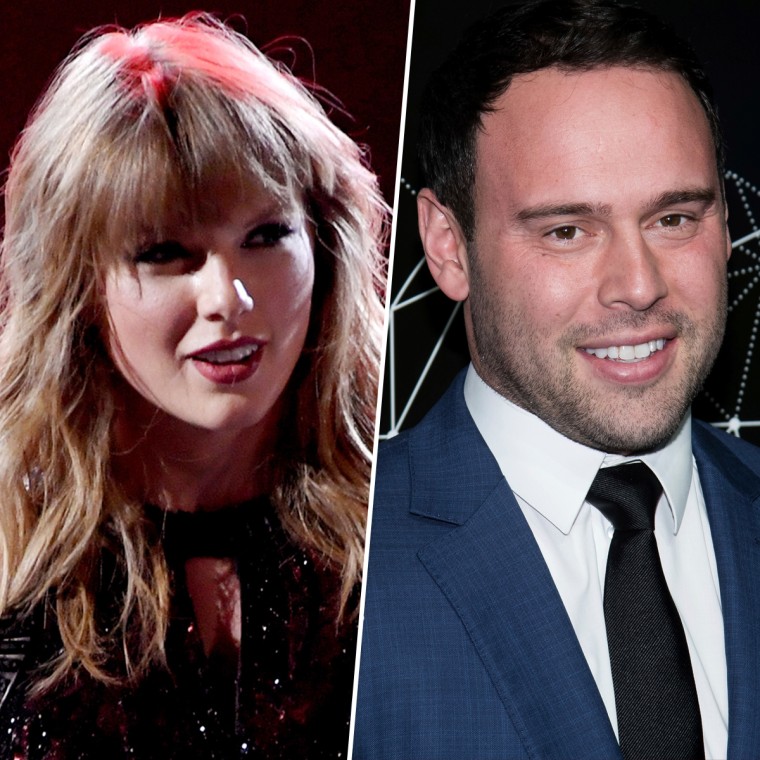 Swift claimed in her post that she spent years attempting to gain ownership of the master recordings of her first six studio albums, including multi-platinum mega-hits "1989" and "Red." She says she eventually chose to leave the label rather than sign on to a new contract because she assumed Big Machine CEO Scott Borchetta would sell the company regardless.
"When I left my masters in Scott's hands, I made peace with the fact that eventually he would sell them," Swift wrote. "Never in my worst nightmares did I imagine the buyer would be Scooter."
She claimed Borchetta knew that she had spent years on the end of "manipulative bullying" from Braun, who represents major acts such as Justin Bieber, Ariana Grande and Demi Lovato.
The internet was raging with conflicting statements, petitions, and celebrities taking sides. Here's a breakdown of the many layers to the story.
Taylor Swift and Big Machine Records
Swift has been with Big Machine Records since the start of her career in 2006 when she released her self-titled album. The independent music label was relatively new at the time, but has since grown to represent artists such as Rascal Flatts, Reba McEntire and Sugarland.
Big Machine Records and Swift parted ways last year when it was announced in November she had signed with Universal Music Group.
But it was Big Machine, not Swift, that owned the rights to all of the studio albums she has recorded to date.
The way Swift told it in her post Sunday, she was only offered the rights to her masters if she signed a new contract with Big Machine and earned her old albums back one at a time, "one for every new one I turned in."
She wrote that she walked away from the label rather than agree to those terms, and resigned herself to losing the rights to the masters. But it was who exactly she would lose the rights to that left her "sad and grossed out."
"Any time Scott Borchetta has heard the words 'Scooter Braun' escape my lips, it was when I was either crying or trying not to," Swift said. "He knew what he was doing; they both did. Controlling a woman who didn't want to be associated with them. In perpetuity. That means forever."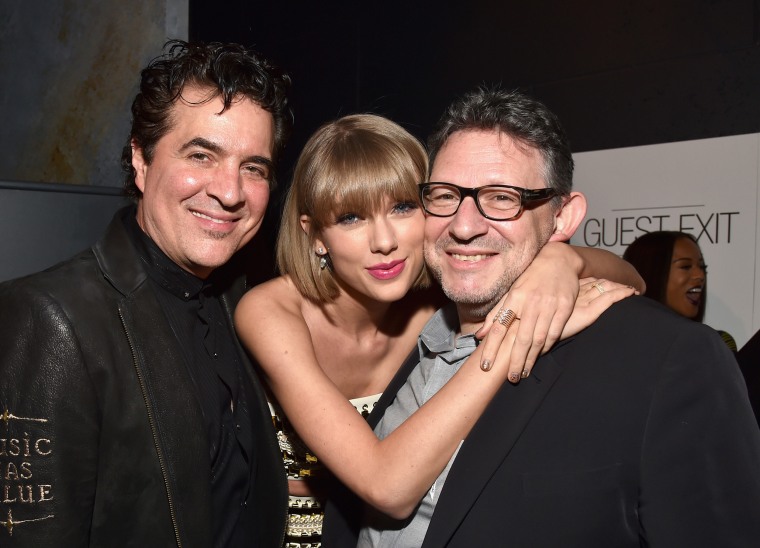 Swift also alleged that she found out about the sale when it was announced in the news, but Borchetta denied that claim in a statement posted on Sunday to the label's website.
Borchetta also disputed Swift's portrayal of the proposed contract for her back catalog and posted a screenshot of the proposed deal, which would have been for seven years.
"As you will read, 100% of all Taylor Swift assets were to be transferred to her immediately upon signing the new agreement," Borchetta said. "We were working together on a new type of deal for our new streaming world that was not necessarily tied to 'albums' but more of a length of time."
Borchetta also denied ever having known Swift felt bullied by Braun, his new partner and close friend.
"Scooter was never anything but positive about Taylor," Borchetta said Sunday.
Braun's alleged bullying
And that brings us to the allegations that Braun has spent years bullying Swift.
Swift claimed in her post Sunday that she experienced "incessant, manipulative bullying" by Braun through the actions of his past and current clients.
Braun previously represented Kanye West, who has had a contentious relationship with Swift ever since he infamously interrupted her MTV Video Music Awards acceptance speech in 2009.
In 2016, West released the track "Famous," which includes the line, "I feel like me and Taylor might still have sex / Why? I made that bitch famous."
West claimed he got permission from Swift to use the lyrics, but her representatives denied she ever approved the line, "I made that bitch famous."
In 2016, Kim Kardashian West posted recordings of Kanye West speaking on the phone with Swift about the song, claiming it was proof she in fact gave permission for the lyrics. Swift on Sunday called it "illegally recorded."
The music video for "Famous" included a fake version of Swift⁠ — along with several other celebrity mock ups ⁠— naked in bed with West. Swift called the video in her Sunday Tumblr post "revenge porn" from Braun's "client, Kanye West."
During this time, Justin Bieber posted an Instagram showing him having a FaceTime call with Kanye West and two other people, along with the caption "Taylor what up." One of those people on the FaceTime call is Scooter Braun.
Swift reposted this image on her Tumblr announcement Sunday, circling Braun's face in red and writing, "This is Scooter Braun, bullying me on social media when I was at my lowest point. He's about to own all the music I've ever made."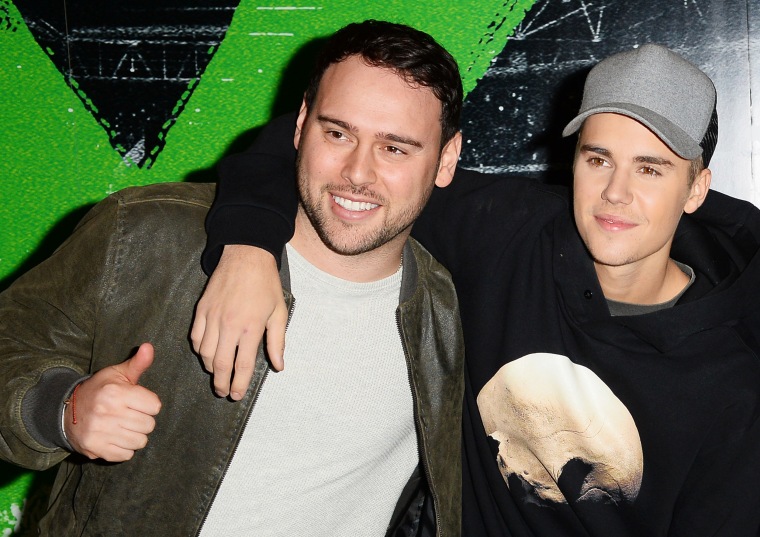 "Now Scooter has stripped me of my life's work, that I wasn't given an opportunity to buy," Swift said. "Essentially, my musical legacy is about to lie in the hands of someone who tried to dismantle it."
Braun has not made a public statement and has not responded to requests for comment from NBC News. The manager's wife, Yael Cohen Braun, posted a statement to her Instagram to deny that her husband plotted with his clients.
"My husband is anything but a bully, he's spent his life standing up for people and causes he believes in," she said. "Beyond that, it's easy to see that the point of putting this out was to get to bully him."
Bieber on Sunday released a statement in which he denied Braun was involved with his 2016 Instagram that Swift referenced in her Tumblr post.
The Wests declined to comment in a request from NBC News.
Celebrities take sides
Swift's post created a split among some of the industry's biggest names as they began to publicly take sides in the dispute.
Bieber's post Sunday seemingly began as an apology for what he called a "hurtful instagram post," but then quickly began to hit back at Swift in defense of his long-time manager.
"What were you trying to accomplish by posting that blog? seems to me like it was to get sympathy u also knew that in posting that your fans would go and bully scooter," Bieber wrote. "Anyway, One thing i know is both scooter and i love you."
Demi Lovato, who signed with Braun earlier this year, posted a statement to her Instagram stories defending her manager.
"I have dealt with bad people in this industry and Scooter is not one of them," Lovato wrote. "He's a good man. Personally I'm grateful he came into my life when he did."
Singer-songwriter Halsey also weighed in on the debate and called Swift one of her biggest inspirations in a note to Twitter Sunday.
The "Without Me" singer said that Swift "deserves to own the painstaking labor of her heart."
"And it turns my guts that no matter how much power or success a woman has in this life, you are still susceptible to someone coming along and making you feel powerless out of spite."
Todrick Hall, one of Swift's close friends and a former client of Braun's, issued a series of tweets disparaging Braun on Sunday.
Hall said in one tweet that he normally would stay silent on the matter, for fear of being threatened by Braun, but that nothing could be worse than the time spent as Braun's client.
"I am saddened by this news, but not shocked. He is an evil person who's only concern is his wealth and feeding his disgusting ego," Hall said. "I believe he is homophobic & I know from his own mouth that he is not a Swift fan."
Swift's fans, or "Swifties" as they often call themselves, have attempted to keep track of which celebrities have unfollowed Braun on social media, but the effort is hard to verify because not all follows are displayed on accounts.
Fans ask Swift to re-record her work
Swifties unsurprisingly took immediately to social media in an effort to defend the pop star. Fans began the hashtag #WeStandWithTaylor to offer words of support after Tumblr post went live.
"I grew up listening to Taylor's music. It's part of my life and it helped me a lot," one fan tweeted. "Her music speaks a lot and it's hers. It's her story. Owning her music is owning her story, how she is from the past and how it shaped her to be who she is today."
A petition by fans circulated online urging Swift to re-record her albums in an effort to devalue the original masters and loosen Braun's control over her work. It received more than 140,000 signatures by Monday afternoon.
"Will you let the work of a self-made woman, which is worth of 12 years, get discredited, manipulated and twisted for personal gains or will you sign this petition and get new vocals from Swift, and her long work repaid?" the petition asked.
Re-recording old albums is not entirely unprecedented. Pop singer Jojo wrote a personal essay for Billboard in January about her decision to re-record her first two albums after her former record label, which owned the master licensing rights to the music, removed the songs from streaming services.
The 28-year-old singer said that her decision was driven by fans on social media who asked why her years-old works weren't available.
"My lawyer said we'd reached the end of the statute of limitations on my re-record clause, so I was within my rights to 'cover' my old songs," she said. "It seemed like I was going to have absolutely no chance of seeing eye-to-eye with my former label and getting to an agreement, so my only option was going to be to get into the studio."
Swift has yet to make another statement on the matter since Sunday and gave no indication in the Tumblr post on if she would consider re-recording her six albums owned by Big Machine Records.