DENVER — In a contentious hour of testimony, Taylor Swift described how a former Denver disc jockey allegedly grabbed "on to [her] ass cheek" during a 2013 meet-and-greet.
Swift is being sued by former DJ David Mueller, 55, who is seeking damages after he was fired from radio station KYGO following Swift's allegations that he groped her bare buttocks during the photo op.
The singer is countersuing, saying she was sexually assaulted and is seeking a symbolic $1. Her attorney has said the suit is intended to show that people "can always say no."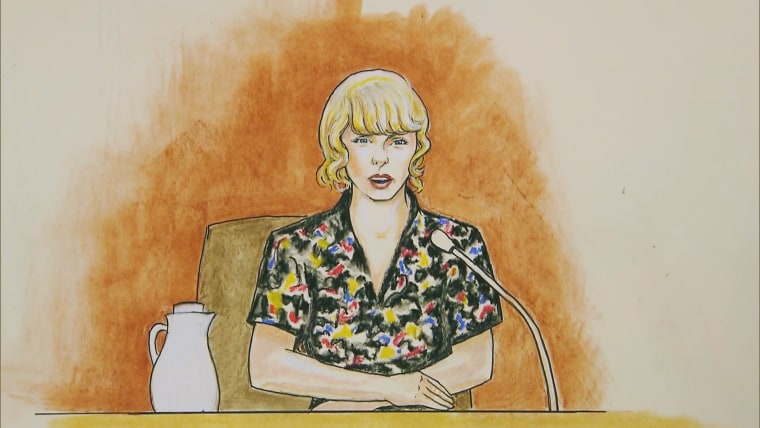 Swift, 27, one of the world's most popular performers, spoke forcefully as she described the incident with Mueller, calling it "horrible" and "shocking."
Related: Why Did Taylor Swift Sue Over Sexual Assault Case?
"It was a definite grab ... a very long grab," she said. "I know it was long enough for me to be completely sure it was intentional."
"He stayed latched onto my bare ass cheek as I lurched away from him visible uncomfortably," she said, later adding, "I felt him grab onto my ass cheek underneath my skirt."
Swift, who said she could have picked Mueller "out of a line of 1000," was adamant that the contact was beneath her skirt, and not over it.
During one particularly tense exchange, Swift told Mueller's attorney, Gabriel McFarland, she refused to accept any blame for what happened.
"I'm not going to allow you or your client make me feel in any way that this is my fault," Swift said. "Here we are years later, and I'm being blamed for the unfortunate events of his life that are the product of his decisions — not mine."
She told the court, "It happened to me. I have a 3-D recreation of what happened in my brain. He had a handful of my ass. It happened to me."
McFarland tried to cause doubt by asking about Swift's bodyguard, who claims to have witnessed the alleged grabbing. McFarland asked Swift why the bodyguard, Greg Dent, didn't do something if he actually saw the incident.
While admitting that Dent didn't intervene, she said, "What Mr. Mueller did was very intentional and the location was very intentional and it happened very quickly. I was not going to blame Mr. Dent for something Mr. Mueller did."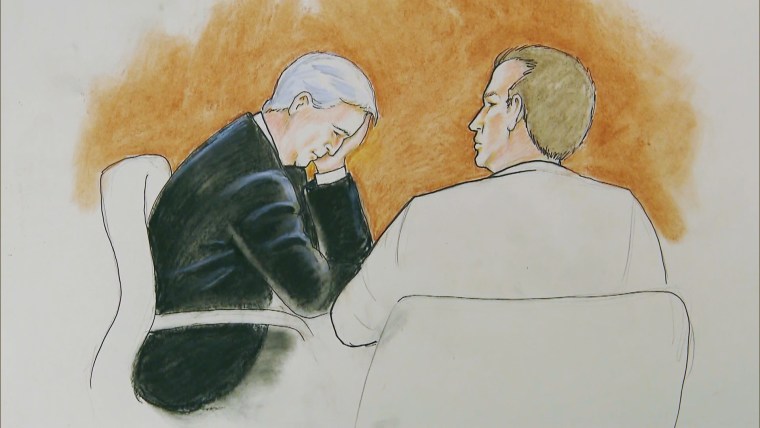 Swift also said it was impossible for anyone to see Mueller's hand beneath her skirt because they were posing for the photo with their backs to a wall.
"The only person who would have a direct eye line is someone laying underneath my skirt and we didn't have anyone positioned there," she said.
Swift told Mueller and his girlfriend, who was with him at the time, "thank you for coming," in a monotone voice, she testified. About 15 minutes after the alleged incident, Swift said she told her photographer, Stephanie Simbeck, about the alleged groping.
Swift said she didn't stop the meet-and-greets after Mueller left because she didn't want to disappoint a few dozen people who'd been waiting in line.
She said couldn't have said anything about what happened without others already in the photo area overhearing. She testified that "this was something I did not want known."
Swift told McFarland that she's had prior meet-and-greets that were awkward, but said it's clear when something happens by accident. She claimed that Mueller did not touch her by accident.
Before she left the stand, McFarland asked Swift if she watched any police- or legal-based shows. She quipped that she named her cat Olivia Benson, after a character on "Law and Order: Special Victims Unit."
On Wednesday, Swift's mother Andrea told a jury that her daughter was visibly upset after the alleged incident.
"I knew what happened, I heard it from her. I heard it from my daughter's mouth. He sexually assaulted her, right there, that guy," Andrea Swift said in court, pointing at Mueller. Andrea Swift was not present when the photo was taken, but spoke to her daughter afterwards.
Andrea Swift testified that her daughter's team did not call police because she did not want her daughter to have to relive the experience. No criminal charges were ever filed in the case.
The dueling suits are being heard in a civil trial.
Mueller testified on Wednesday that he wants to clear his name, and said he has been unable to get a job in radio since he was fired.
On Tuesday, Mueller said that he may have made innocent physical contact with Swift, perhaps brushing her arm or torso, but denied any inappropriate behavior. Asked whether he grabbed Swift's backside, Mueller replied, "No, I did not."
While under cross examination on Tuesday, Mueller conceded that various supervisors with KYGO and its parent firm had discussed the possibility of letting him go even before the encounter with Swift.
Earlier in the day, Mueller acknowledged that a photo of him with his hand behind Swift is "weird and awkward."
Vicky Collins reported from Denver, Kalhan Rosenblatt reported from New York.