A Denver jury sided with pop star Taylor Swift on Monday, finding that a local radio personality sexually assaulted her four years ago.
The jury, which awarded Swift a symbolic $1 in the civil trial, rejected the the disc jockey's claim that Taylor's mother and a member of her management team improperly interfered with his job and helped get him fired.
It took the eight-member jury roughly four hours to reach the decision.
In a statement, Swift thanked her lawyers "for fighting for me and anyone who feels silenced by sexual assault" and said she was planning donations that will help other victims defend themselves in court.
"I acknowledge the privilege that I benefit from in life, in society and in my ability to shoulder the enormous cost of defending myself in a trial like this," she said. "My hope is to help those whose voices should also be heard."
The trial began after David Mueller, 55, filed a lawsuit claiming Swift, 27, had him wrongfully fired. He'd asked for $3 million.
Swift countersued, arguing that Mueller groped her during a June 2, 2013 concert at the Pepsi Center in Denver. She asked for only $1.
Related: Here's Why Taylor Swift Chose to Sue for $1 in Sex Assault Case
U.S. District Judge William Martinez dismissed Mueller's suit against Swift on Friday — though he allowed the former DJ's claim that Swift's mother and a member of her management team interfered with his $150,000 a year contract at KYGO-FM to go forward.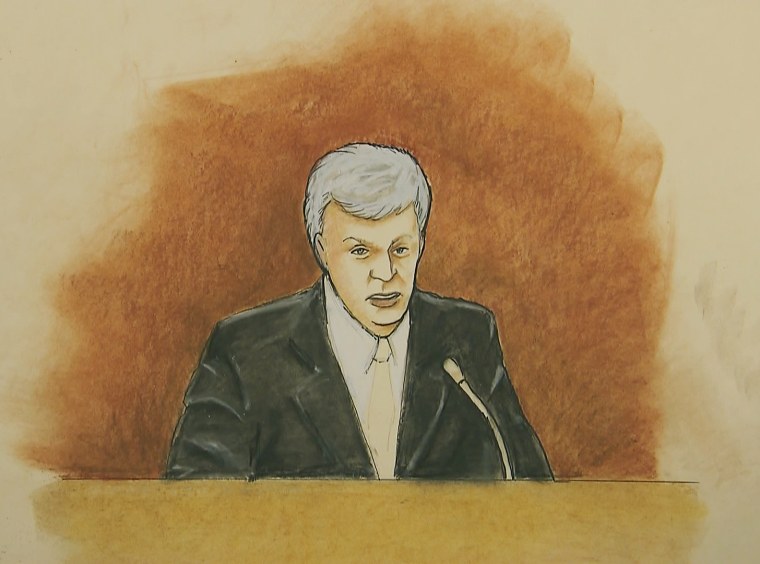 Martinez previously dismissed Mueller's defamation-of-character claim against Swift because he waited too long to file it.
During closing arguments on Monday, Mueller's lawyer, Gabriel McFarland, told the jury his client would have never compromised his "dream job" to reach under the skirt of one of "the planet's biggest superstars."
Mueller, he added, is a "guy who by all accounts has been respectful of women and treated them appropriately."
As McFarland spoke, Swift wept, Reuters reported.
Related: Taylor Swift's Former Bodyguard Says He Saw DJ Reach Under Singer's Skirt
Doug Baldridge, Swift's lawyer, countered that eight witnesses saw the assault, and that Mueller lost his job because "he grabbed her butt and got caught. Now he's victimizing her again to save his butt."