There've been a lot of reports this week about store employees whose Thanksgivings are being cut short so they can work Thanksgiving night. Where's the love for the movie theater employees, though, who will sacrifice turkey-nap time so they can pop the corn, rip the tickets and tell you to "enjoy the show" once more and with feeling? (Except for "John Carter." No one can enjoy that turkey.)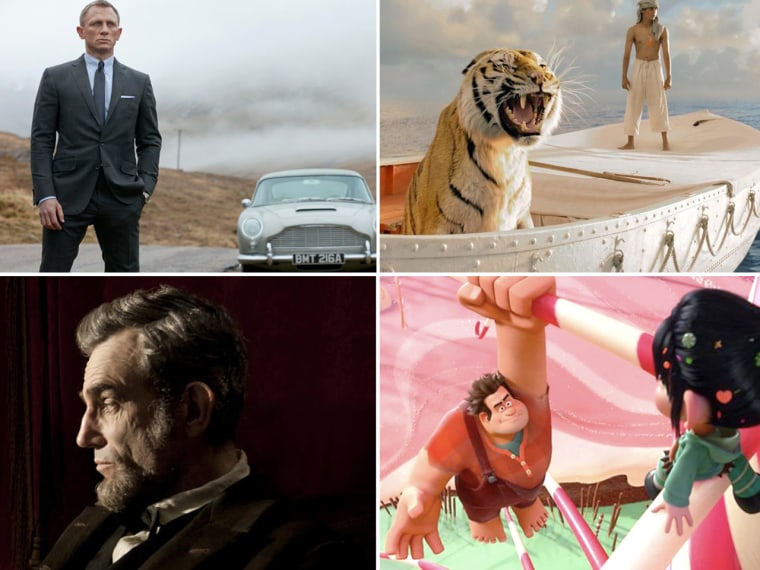 For some, turkey-trotting over to the cinema on Thanksgiving is an American tradition as great as Grandma's pumpkin pie recipe. But you want to make that theater time count. Here's our movie editor's guide to what to see, and with whom.
TOP PICK
'Skyfall'
For a while, it looks as if super-spy James Bond might have been shaken, stirred and stuck on a shelf. Thanks to MGM's bankruptcy woes, "Skyfall" was trapped in limbo tighter than a Bond girl's cocktail dress. But "Skyfall" finally hit theaters this month, and if you haven't seen it,  you need to. Exotic locations (Turkey, Macau!), thrilling action sequences (includng one on a train!), spy versus spy intrigue, Bond family history, gadgets and more. Former Bond Sir Roger Moore himself told NBC News.com that after he saw the film, he emailed Bond producer Barbara Broccoli and told her she'd saved the franchise for another 50 years.
Review: 'Skyfall' is a spectacular way for Bond to turn 50 
TAKE THE KIDS
Older kids (5 and over): 'Wreck-It Ralph'
Parents whose 1980s memories are sharp enough that they still can mentally move Pac-Man through that maze will love "Wreck-It Ralph," but kids will enjoy it too. Bad-guy Ralph escapes his game in a quest to be a hero. Parents of tiny tots should know there's a foray into a first-person shooter game -- filled with creepy cy-bugs -- which might overwhelm the littlest ones.
REVIEW: Visually dazzling 'Wreck-It Ralph' scores high 
Younger kids: 'Rise of the Guardians'
Sure, Santa, the Easter Bunny, the Sandman and the Tooth Fairy fight evil together. Why not? In this enchanting new 3-D film, they enlist young Jack Frost to help them battle Pitch, a giver of bad dreams. Like "Wreck-It Ralph," this one's also PG, as Pitch and his swirling black nightmare horses might deliver a bad dream themselves. But my preschooler was enchanted more than disturbed.
REVIEW: 'Rise of the Guardians' is a charming holiday tale 
FOR HISTORY BUFFS
If you like modern history: 'Argo'
Those 1970s mustaches! The dial phones! It's the late 1970s all right, and the wonderful "Argo" thrusts you right back there as the Iranian Hostage Crisis grips the nation. But instead of focusing on the 52 hostages who were held for 444 days, the film hones in on a lesser-known event, the rescue of six embassy employees using a fascinating cover story claiming they were Canadians scouting locations for a science-fiction movie. The outstanding cast (Ben Affleck, John Goodman, Bryan Cranston, Alan Arkin) appeals to all generations.
REVIEW: 'Argo' offers tight political thriller with unexpected humor 
If you prefer the older stuff: 'Lincoln'
You should know going in: Steven Spielberg's "Lincoln" is not a battle film. But you never feel it lacks for action, as the president and his men work every conceivable angle to lobby enough congressmen to vote to abolish slavery.  Daniel Day-Lewis gives us perhaps the most accurate portrayal possible of the great man himself, mixing leadership with his own patented blend of homespun storytelling. (Don't miss the anecdote about George Washington's picture in a British bathroom.) You'll see Day-Lewis' name come Oscar time.
REVIEW: 'Lincoln' makes backroom politics fascinating 
FOR BOOK LOVERS:
If you prefer modern fiction: 'Life of Pi'
Book clubbers, you remember reading this. Yann Martel's 2001 bestseller-turned-movie tells the fantastical tale of Pi Patel, an Indian boy who finds himself at sea in a lifeboat with some very hungry zoo animals, including a Bengal tiger named Richard Parker. If you're the kind of moviegoer who needs everything to feel realistic and explainable, this is perhaps not the film for you. But if you're willing to suspend belief, director Ang Lee has spun a wonderful 3-D fable that doesn't require you to read the book.
REVIEW: 'Life of Pi' a gorgeous rendering of best-selling novel
If you love romantic classics: 'Anna Karenina'
Maybe you read it in a college literature course, or maybe you just know the title in case it's ever a question on "Jeopardy!." There's a reason Leo Tolstoy's "Anna Karenina" has been made into a movie a dozen times -- its tale of a 19th century Russian wife and the way she stumbles into doom when she has an affair is riveting. In this version, Keira Knightley spellbinds as Anna, and director Joe Wright's imaginative, stylish take gives an old story a new twist.
REVIEW: 'Anna Karenina' is a bold adaptation of classic novel 
FOR RETRO NUTS:
Stuck in the 1980s: 'Red Dawn'
We're not convinced anyone was really begging for a remake of the 1984 Russian invasion drama "Red Dawn," but here it is. This time, the Russians aren't the enemy, it's the North Koreans, who were hastily painted in when filmmakers decided not to risk offending their first choice, the Chinese. But if you're well into the eggnog, grab those pals who knew you back when you wore leg warmers and shoulder pads, and relive those cheesy old lines you screamed back in the day. WOLVERINES! AVENGE ME!
REVIEW: 'Red Dawn' remake makes silly premise even dumber 
Longing for the 1960s: 'Hitchcock'
No, you can't take the carving knife to your pompous Uncle Henry at Thanksgiving dinner. But you can take him, and any film buffs at your table, to watch that knife famously used in the "Psycho" shower scene in the new biopic "Hitchcock." Anthony Hopkins plays the legendary director as he battles to get the 1960 film made, with Helen Mirren as Alma, his wife and muse. You may have to hunt around for this film, as it's more likely to be found in arthouse theaters than megamall cineplexes.
REVIEW: 'Hitchcock' takes absorbing look at famed director 
Gael Fashingbauer Cooper is the movies editor for NBCNews.com and the co-author of "Whatever Happened to Pudding Pops? The Lost Toys, Tastes and Trends of the '70s and '80s."
Related content:
More in movies: