The white tiger who injured entertainer Roy Horn — one half of the "Siegfried and Roy" Las Vegas act — during a live performance in 2003, has died.
According to Siegfried and Roy's Facebook page, Mantecore died Wednesday. The big cat was 17 years old.
The male tiger bit Horn on the neck during a performance at the MGM Mirage in 2003. Crew members separated the entertainer from the animal, rushing Horn to the hospital.
Horn sustained severe blood loss but eventually made a full recovery and famously forgave the animal.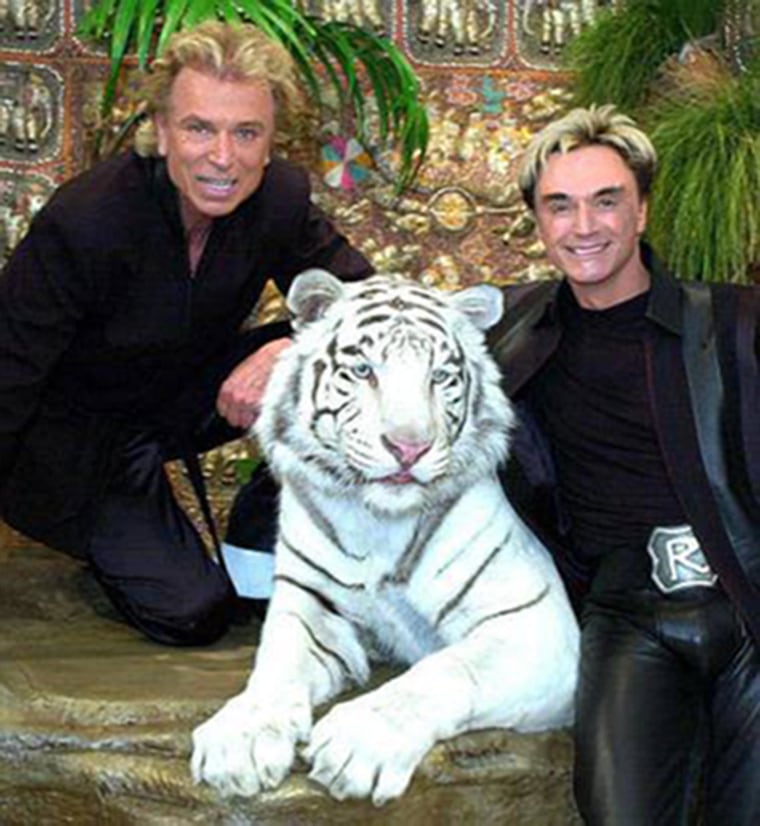 Below is the full statement from the Siegfried and Roy's Facebook page:
"Dear Friends, Fans and Adopted Family,It is with great sorrow that I am writing you this note today that on March 19, 2014 in the early afternoon our beloved 17 year old White Tiger Friend and Brother, "Mantecore" left us and is now with his siblings in White Tiger heaven. My lifesaver, "Mantecore", who was the one responsible for pulling me to safety where the Paramedics could help me after my high blood pressure made me dizzy on stage. He is greatly missed, however, I have my memories and I know that now he is playing with his brother and sister.I remember that when someone passed away my Mother always said, "They never really leave us they just go ahead". For me, without "Mantecore" the Secret Garden feels empty; however, there are still 11 more White Tigers and 2 White Lions to remind us of our Ark of Noah – not to forget our 2 Black and 6 Spotted Leopards! Spring is in the air, so things could change as we have at least 2 females who are of age for breeding giving me hope for a New Generation.I am sorry I had to deliver this sad news – now we need time to heal….I feel like a part of me is gone. As you all in reality know the story, "Mantecore" was one of a litter of three cubs born to a first time Mother. She was able to care for the first two babies, but by the time "Mantecore" arrived, she was so exhausted she wasn't paying any attention to him. Without thinking twice I went into her space and got slowly closer; his umbilical cord was still attached, so I pinched it off with my fingernail and scooped him and placed him near her, and then she started to lick him. With a big sigh of relief I left the den, only to be called back later because he wasn't looking so well. I went back to find him pretty lifeless, with a cold nose and blue lips. I gave him mouth-to-mouth resuscitation and put him inside my shirt and held him tight. I told my staff to warm some towels in the microwave. With this little bundle of black and white stripes I made my way back to the Jungle Palace where we have a full nursery. My Mom took over his feeding every three hours and slowly but surely he recovered. My mouth-to-mouth resuscitation brought him back – I saved his life and then he saved mine, so we were even. His contribution to the avalanche of awareness of Conservation and Preservation as well as countless appearances in our Show, Television and Movies makes him unforgettable.The flags at Little Bavaria are flying at half-mast – thank you everybody for listening – do not feel sad, I have wonderful memories.Farewell my dear friend…..know that your image is forever burned into my heart."