LOS ANGELES — Canadian rapper Tory Lanez was sentenced to 10 years in prison after he was found guilty of shooting hip-hop superstar Megan Thee Stallion in the foot after the pair left a Los Angeles party in 2020.
The hearing began Monday and wrapped up Tuesday, ending a high-profile case in which Megan, 28, was subjected to what prosecutors called "repeated and grotesque attacks." It cast a spotlight on the scrutiny Black women face when they report abuse.
Lanez, whose real name is Daystar Peterson, shot Megan, the three-time Grammy winner whose legal name is Megan Pete, after a party at the Hollywood Hills home of reality star and makeup mogul Kylie Jenner on July 12, 2020.
A jury convicted Lanez, 31, who pleaded not guilty, of three felony charges in December: assault with a semi-automatic firearm, carrying a loaded, unregistered firearm in a vehicle and discharging a firearm with gross negligence.
Wearing an orange jumpsuit, Lanez addressed the court before the judge handed down his sentence. He apologized for his actions and said he took full responsibility for the 2020 shooting.
"If I could change it, I would, but I can't," he said. "Everything I did that night, I take full responsibility," he added. "I truly am just trying to be a better person."
Lanez looked surprised but remained quiet after the sentence was announced. The mother of his son burst into tears as she was led out of the courtroom.
Matthew Barhoma, a member of Lanez's legal team, said appeals for both the sentence and the conviction are planned. The team will also file for bail when it appeals the sentence. 
In handing down his sentence, Los Angeles Superior Court Judge David Herriford said it was "difficult to reconcile" the doting father and committed philanthropist many described with the person who fired a gun five times at Megan.
"Sometimes good people do bad things," Herriford said. "Actions have consequences, and there are no winners in this case."
Deputy District Attorney Alex Bott said Lanez called Megan a liar, intimidated her and harassed her.
"Not only did the defendant do the heinous act of shooting her; he then subjected her to 2 ½ years of hell," Bott said after the sentencing.
Lanez also faced possible deportation back to Canada.
"We're nowhere near that yet," Jose Baez, one of his attorneys, said about whether Lanez will face deportation.
In seeking a shorter sentence, his lawyers argued for probation and said he should be released from jail to a residential substance abuse program. They claimed Lanez has alcohol abuse disorder, anxiety and post-traumatic stress from the unexpected death of his mother when he was 11 years old.
Prosecutors said they were "skeptical" of the claims, which were not presented throughout the trail.
"This case has nothing to do with mental illness," said Bott, the prosecutor. "He shot Megan because she bruised his ego."
Lawyers for the defense countered that there is a clear thread between Lanez's trauma and heavy alcohol use and his violent actions in 2020.
"Someone has to be severely off to shoot someone because of a bruised ego," Baez said.
Herriford, the judge, said he was "disinclined" to allow those factors to influence his decision.
Lawyers for Lanez played a lengthy video showing his charity work and family life, which Bott said looked more like an award for "man of the year" than "a misogynist and coward" convicted of shooting an innocent woman.
"Tory Lanez is not the victim in this story," Bott told the court.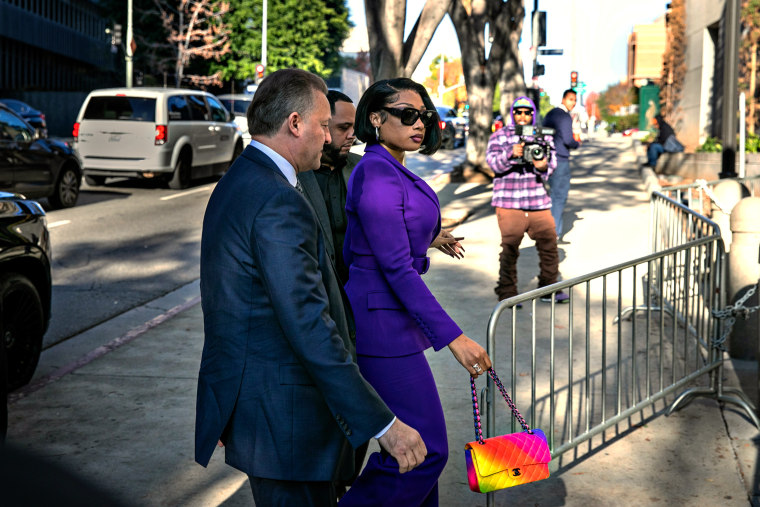 Megan testified that Lanez shouted for her to "dance" and fired a gun toward her feet when she walked away from an SUV the pair were in with two other people. She told the court that she initially told police she had cut her feet on glass when she was asked why she was bleeding. Doctors at the hospital later found bullet fragments in her foot that required surgery.
In an interview on "CBS Mornings" in April before the trial, she told Gayle King that she initially lied to police because she feared getting into a more dangerous situation. 
"You think I'm about to tell the police that we ... us Black people got a gun in the car?" she said. "You want me to tell the law that we got a gun in the car so they can shoot all of us up?"
Megan, who named Lanez as the shooter in an Instagram Live video and addressed the incident in her song "Shots Fired," also testified about the physical pain she still endures.
"I couldn't walk for a while," she said. "I still have nerve damage. I can't really feel the side of my left foot. The back of my feet are always sore, but I just push through it."
She told the court that Lanez offered her $1 million to keep quiet about the shooting.
Lanez, who dedicated an entire album to rebutting her version of events, did not testify at trial. His lawyers said Megan's testimony that Lanez asked her not to go to police because he was on parole was false and argued that DNA evidence prosecutors used to identify him as the likely shooter fell short of industry standards.
His legal team also called the trial a "case about jealousy," telling the jurors that Megan and her former friend Kelsey Nicole Harris, who was also in the car at the time of the incident, had gotten into an argument about Lanez and other men. 
Los Angeles County District Attorney George Gascón said Megan's celebrity has put a spotlight on the issue of violence against women.
"There are many people in our community that endure acts of violence every day from people close to them and feel reluctant to come forward when this happens," Gascón said. "I hope that Ms. Pete's bravery gives hope to those that feels helpless."
Alicia Victoria Lozano and Phil Helsel reported from Los Angeles, Minyvonne Burke reported from Pittsburgh and Marlene Lenthang reported from New York.