The coronavirus pandemic has brought cities around the world to virtual standstills and forced millions to hunker down at home for the foreseeable future. If you're looking to get your mind off the alarming headlines (or simply pass the time), queue up some of the movies and bingeworthy television shows on this list. We'll plan to publish another streaming guide next month — and if you have any recommendations, please drop us a line.
Netflix
"Babies"
The mysteries and marvels of human infancy take center stage in this science-driven, but soothing, six-part docuseries, which premiered Feb. 21. The series features more than a dozen babies, but the real highlights are the scientists and the professors on hand to provide expert commentary.
"The Good Place"
TV impresario Michael Schur ("Parks and Recreation") took viewers on a cheeky metaphysical trip in this acclaimed sitcom about the afterlife. The show's candy-colored production design, loose-limbed slapstick and slyly cerebral banter make for comforting viewing in these uncertain times. (Three of the four seasons are available to stream on Netflix.)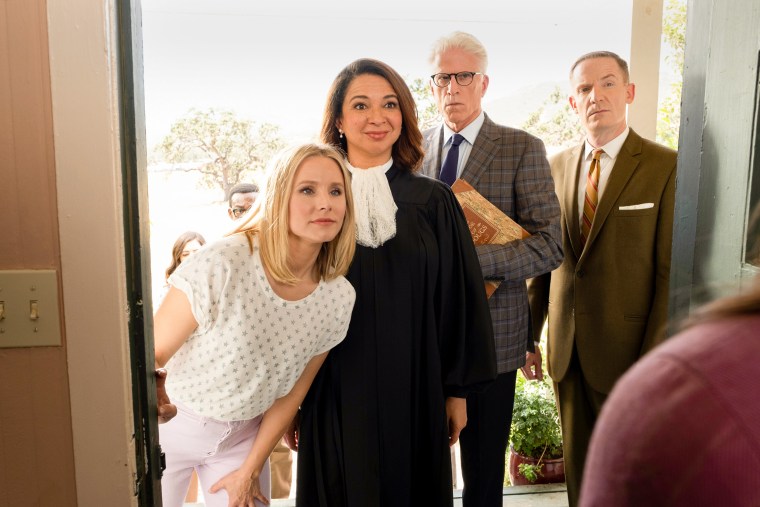 "Okja"
If you're looking to dig deeper into the gleefully twisted work of "Parasite" director Bong Joon-ho, "Okja" is a fine place to start. The genre-smashing, continent-spanning epic centers on a young Korean girl who tries to protect a genetically modified superpig. It must be seen to be believed.
"Outbreak"
Steven Soderbergh's "Contagion" might be burning up the iTunes rental charts these days, but this 1995 medical thriller about the rapid spread of an Ebola-style virus works as eerily topical viewing, too. (It landed on Netflix on Feb. 29.) Dustin Hoffman, Rene Russo and Morgan Freeman head up the cast.
"Schitt's Creek"
Netflix helped turn this giddily absurd Canadian sitcom into a sleeper hit. The series, co-starring comedy vets Eugene Levy and Catherine O'Hara as millionaires who lose it all and end up in a dead-end town, skewers the super-rich with a light and loving touch.
Amazon Prime Video
"The Americans"
FX's critically admired series expertly mixed geopolitical thrills and marital tensions into a bitter cocktail of a TV drama. The show, starring Keri Russell and Matthew Rhys as Soviet spies posing as an American couple in the 1980s, took on fresh resonance for some viewers amid the former special counsel Robert Mueller's Russia investigation.
"The Farewell"
Awkwafina won a Golden Globe for her vulnerable lead performance in rising filmmaker Lulu Wang's tender comic drama. The film revolves around a Chinese American clan that tries to keep the family matriarch from learning about her cancer diagnosis.
"Fleabag"
The multihyphenate artist Phoebe Waller-Bridge emerged as one of the key voices of her generation with this mordant and sharp-tongued tragicomedy. Waller-Bridge, who created and wrote the two season series, stars as a self-destructive young woman trying to find her footing in London.
"Stop Making Sense"
The late filmmaker Jonathan Demme trained his lens on the art-rock group The Talking Heads in this seminal, exhilarating concert documentary. If former frontman David Byrne's recent stints on Broadway and "Saturday Night Live" piqued your interest in his earlier work, Demme's doc is essential viewing.
"Sunset Boulevard"
Billy Wilder's trenchant, cynical film noir about the price of Hollywood stardom is justly considered one of the great films of the 1950s. It boasts an unforgettable lead performance by Gloria Swanson as Norma Desmond, a demented (fictional) ex-actress desperate to recapture her former glory.
HBO Go
"Bridesmaids"
Paul Feig's barrier-breaking comedy is one of the most eminently rewatchable movies of the 2010s, an extravaganza of raunchy one-liners and scatalogical hijinks, anchored by Kristen Wiig in a career-best performance that nicely balances pathos and sheer silliness.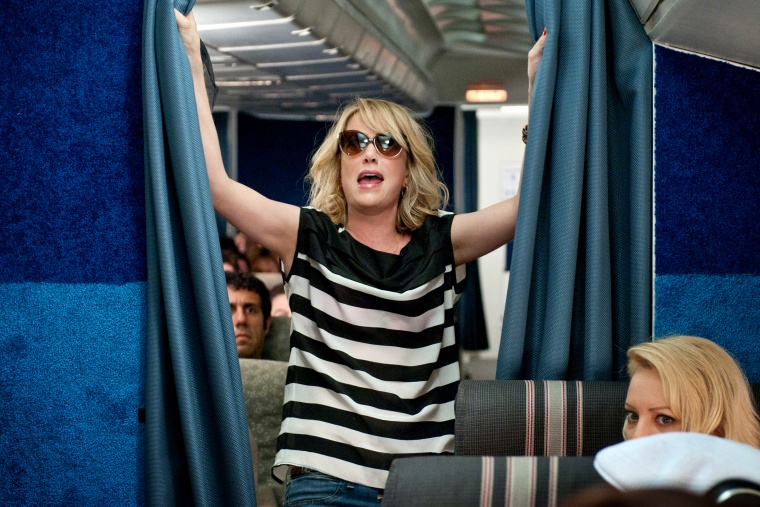 "Casino Royale"
You may have to wait until November for the 25th installment in the James Bond film series — but in the meantime, reivist this propulsively entertaining 2006 franchise reboot, which dropped on HBO on Feb. 1. Daniel Craig, in his first outing as 007, pulls off virtually every action set piece with seemingly effortless panache.
"Succession"
It's as good a time as any to catch up on one of the most addictive shows on television, a foul-mouthed and black-hearted drama — or is it a satirical comedy? — about a family of power-hungry media barons loosely based on Rupert Murdoch's clan. The second season is especially gripping.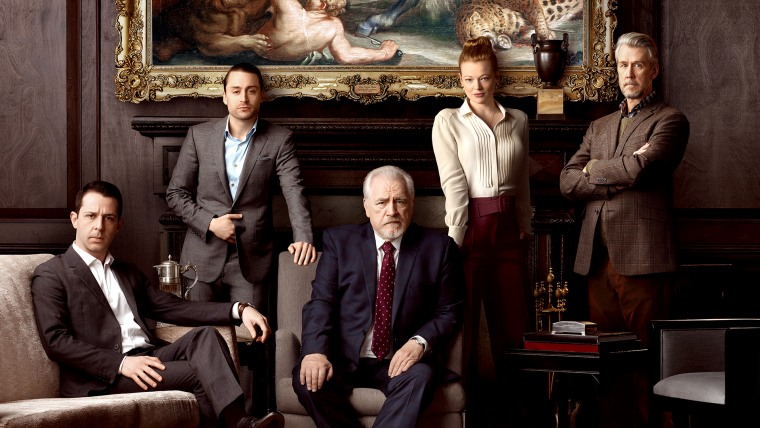 "Watchmen"
Damon Lindelof's ambitious "remix" of the graphic novel by Alan Moore and Dave Gibbons used the cherished source material as a springboard. The nine-episode series is a maze-like and mind-bending exploration of racial trauma, police violence, national hubris and the sins of the past.
"Won't You Be My Neighbor?"
The heightened anxieties around the coronavirus and the presidential election have lots of Americans on edge. The antidote might very well be this sweet, soulful documentary portrait of Fred Rogers and his classic children's television show.
Disney+
"The Mandalorian"
Baby Yoda — or, more precisely, an endless stream of memes featuring Baby Yoda — seemed to dominate the cultural conversation in the fall. If you missed out, try a few episodes of this Western-inspired "Star Wars" spinoff about a masked bounty hunter and his doe-eyed little buddy.
"The Muppet Movie"
It may be dated and overstuffed with period-specific celebrity cameos (Dom DeLuise! Telly Savalas!), but the original feature film starring the Muppets is still worth a nostalgic rewatch — if only for a killer soundtrack that includes "Rain Connection" and "Movin' Right Along."
"Ratatouille"
Pixar is responsible for some of the most beloved animated films of the recent era, but this 2007 comedy about a tiny rat with a flair for haute cuisine might be the studio's most thematically accomplished: a thoughtful, affectionate look at professional identity and artistic creation.
"The Simpsons"
What else is there to say that hasn't already been said about this towering pop cultural landmark? The first nine seasons are virtually impeccable achievements in social satire. "Marge vs. the Monorail" is comedic brilliance distilled into 22 minutes — and like every episode, it rewards countless rewatches.
"Who Framed Roger Rabbit?"
Robert Zemeckis' box-office smash remains a technological marvel. It's also a richly entertaining mashup, blending the smoky film noir of Hollywood's golden age with the madcap antics of Saturday morning cartoons.
Hulu
"A Quiet Place"
The coronavirus pandemic forced Paramount to delay the release of "A Quiet Place Part II," which means horror fans have more time to revisit the first chapter in the saga. John Krasinki, who co-wrote and directed the original film, stars alongside his wife, Emily Blunt, in this chilling alien invasion yarn.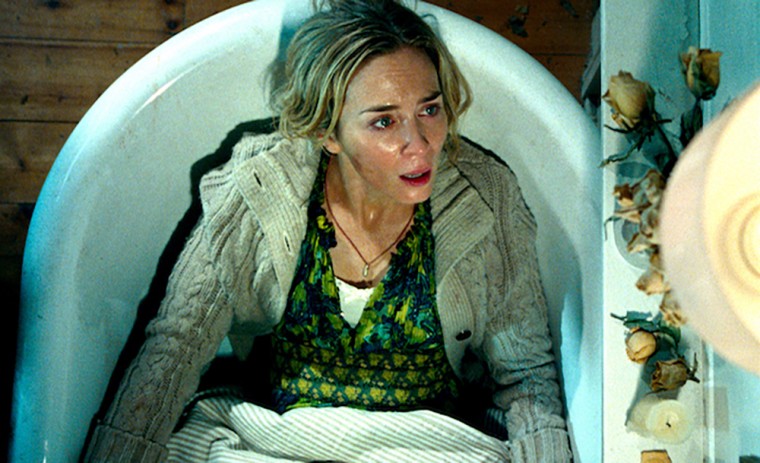 "Good Will Hunting"
Robin Williams won a supporting actor Oscar for his soul-baring turn in this Boston-set melodrama about a genius janitor (Matt Damon, who co-wrote the screenplay with Ben Affleck) who brightens his future by confronting his past. It landed on Hulu on Feb. 29, just in time for a quarantine cry-watch.
"Minding the Gap"
What began as a documentary about three friends and their passion for skateboarding eventually evolved into this observant, unflinching exploration of modern masculinity, domestic abuse, systemic racism and the economic decay of small-town America. Here's our interview with the director, Bing Liu:
"PEN15"
Maya Erskine and Anna Konkle co-created and star in this cringeworthy but frequently hilarious comedy about the horrors of puberty and adolescence. Erskine and Konkle, who are both in their early 30s, play themselves as 13-year-old girls trying to navigate the year 2000.
"When Harry Met Sally..."
Rob Reiner's timeless and supremely quotable romantic comedy is the cinematic equivalent of a warm blanket or cozy sweater — hygge cinema for an age of anxiety. It's a featherweight and breezy escape from reality.