After competing in a few triathlons, Erika Hall started running regularly 10 years ago, even going so far as trekking trails in a couple of marathons.
"Running keeps me sane," Hall told NBC News. "If I have to write something or if I'm worried about something, I go for a run and it automatically boosts my mental health and helps me think more clearly."
Yet as news of the coronavirus outbreak worsened and more stringent measures were undertaken to ensure social distancing took hold in areas around the United States, including in her home city of San Francisco, Hall stopped running altogether out of concern that she wouldn't be able to remain adequately distant from fellow joggers and pedestrians.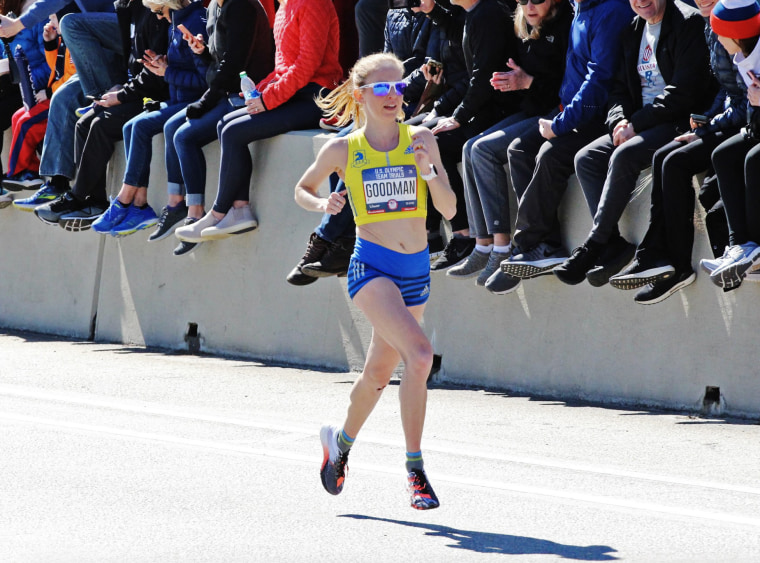 She spent three weeks cooped up inside her house "feeling horrible" about not running before pulling on her "most fluorescent" jacket and sneakers and venturing outside to work out.
"It was like a weird video game where you get points by avoiding people and avoiding infection," Hall said. "Every time I saw another person on the street I'd make a left."
As officials shut down non-essential businesses and urge people to stay inside in order to curtail the spread of the novel coronavirus, running and walking outdoors have become a natural reprieve. While taking in fresh air and sunlight undoubtedly boosts mental health, doing so can be counterintuitive to mitigating infection rates when trails and parks become congested with occupants. In addressing these concerns, authorities around the world have shut down some outdoor areas; in Paris, they went so far as to institute an outdoor exercise curfew, effectively banning running and other outdoor sports from 10 a.m. to 7 p.m.
Dr. Trevor Williams, a Utah-based podiatrist who's been helming a clinic called The Run Doctor for the past five years, said runners should "keep running because the benefits of running outweigh the risk."
"When you run, you learn really quickly to focus on what's in front of you so that you can get to your destination," Williams said. "You can only control the next ten steps, so focus on that and anything beyond that, you just have to let it go, let the rest just happen, because you can't control it."
While Williams' words about running may be a fitting metaphor given the public is racked with uncertainty and anxiety mid-pandemic, questions remain as to how runners can run safely during the coronavirus outbreak. Should they wear a mask or run in the streets? How can they ensure that switching up their running paths does not invite physical injury?
The first piece of "common-sense" advice Aidan Walsh gives his clients is to look for more remote paths to jog. While the Centers for Disease Control and Prevention has advised people to stay at least six feet apart during the outbreak, Walsh, founder of Racefaster, a running coaching company in New Jersey, suggests that runners try to keep a 20-foot distance from others as their heavy breathing may put others in harm's way.
"Stay away from trails and parks," Walsh said. "Don't get hung up on your time or compare how you're running now with how you were running before, either. What matters most is the effort you're putting into it."
For some runners, like Kaitlin Goodman and Rick Markert, avoiding pedestrians and joggers is easier than it may be for others. Goodman, a member of the Boston Athletic Association running club who planned to compete in the United States Olympic Track and Field trials in June before its postponement, is based in Providence, Rhode Island, where empty trails are easier to come by, while Markert is based in Westchester, New York, with less-congested roads than where he previously lived in New York City, which has become an epicenter for the coronavirus.
"It's just me and the deer and the rabbits for the most part," Goodman said. "The only other person I'll sometimes run with is my husband. Even with six feet apart, I'm not training with my teammates. People should not be running in groups."
For those who aren't so fortunate as to live near remote paths, Williams and Walsh propose getting creative. Because Walsh's company has a store in the now-closed Garden State Mall, he advises his clients to run around the building. He said that if people have a treadmill in their homes, it may be time to stop looking at it as a "dreadmill" and start vieiwing it as an effective way of running. He also recommends that people alternate their running training with other exercises, like weight lifting. Runners could also get outside as early as possible in the day to avoid others.
As for whether or not to wear masks, they say doing so is not necessary if a person is able to find a clear running path. Still, they suggest people wear a mask or buff — a thick running headwear accessory generally worn for warmth — around their neck that they can easily pull up as a preventative measure should they come across other runners.
In terms of other gear runners may want to consider during this time, Walsh recommends new sneakers as shoes typically work best for the first 400-500 miles. Given that runners may now be pounding on concrete — an added stress on shoes — and are likely running more as an escape, he warns against wearing down shoes as doing so can cause injuries.
"There's no one who's not being mentally affected by the coronavirus," Walsh said. "So I encourage people to run if they can because we're so fortunate that we're still able to and we have it a lot better than most."
As daily changes are made in response to the coronavirus, some, like Goodman — who is also the founder of Safe on the Road, an organization promoting pedestrian and cyclist safety — are advocating for city officials to open streets for pedestrians.
"A lot of runners who live in cities are going to be forced into the road, and while there are less cars out, we need to make sure that they're safe," Goodman said. "We don't need runners taking hospital beds from COVID-19 patients because there aren't enough safe spaces to run and they got hit by a car."
On a similar note, Williams cautions runners not to over-do their training, as they risk depleting their bodies.
"Now is not the time to push your body to the limit," Williams said. "Running will create a stress-response, which in normal times is good for your health and longevity, but is a dangerous game to play now and could affect your body's ability to handle infection."
With these considerations in mind, running is once again part of Hall's regular routine. She says it's the only thing that gets her to take a temporary break from distressing news and that she hopes both runners and pedestrians will remain cognizant of their surroundings so that everyone can enjoy the outdoors.
"Be cool and be careful, so they don't have to keep shutting down parks," Hall said. "Let's give each other a lot of space, watch out for each other and be grateful that we can go outside when so many can't."