ANAHEIM, Calif. — When a workplace affair rocked their group and broke the internet, The Try Guys went from four members to three.
Now, the beloved YouTubers have entered their "tri-guy" era — and their fans are still enthusiastically following them along.
In their first VidCon appearance since they cut ties with founding member Ned Fulmer in October, Try Guys co-creators Zach Kornfeld and Keith Habersberger were met with overwhelming support at the annual conference for digital creators, fans, executives and online brands. (Co-creator Eugene Lee Yang was not in attendance.)
The group rose to popularity on YouTube for its vlog-style review videos in which they would try things like sampling entire menus at popular food chains, or try out a machine that simulates the pain of giving birth. Their success has launched books, a Food Network TV series, merchandise and media ventures.
But in September, amid internet speculation, Fulmer said in a statement posted to his verified Twitter account that he "lost focus and had a consensual workplace relationship." Fulmer's workplace affair ignited a reckoning over the trustworthiness of "wife guys" and thrust the group into the forefront of mainstream attention.
Months later, fans both old and new said they're ready to move on from that viral saga.
"I think after all that happened, to see them recover and grow past that has been pretty inspiring," said Chad Sahilan, who has been a viewer of Try Guys videos for nearly five years.
He said the volume of attention around the cheating incident felt "blown out of proportion," and that he was impressed with the remaining three members' "graceful" handling of the ensuing publicity crisis.
Sahilan was among the hundreds who showed up to see Kornfeld and Habersberger, who appeared on a panel and taped a live podcast onstage while at the conference.
Having followed The Try Guys since their BuzzFeed days, Ryan Montoya said she was ecstatic to see Kornfeld and podcast producer Miles Bonsignore, whom by now she views as essentially a fourth Try Guy, live for the first time.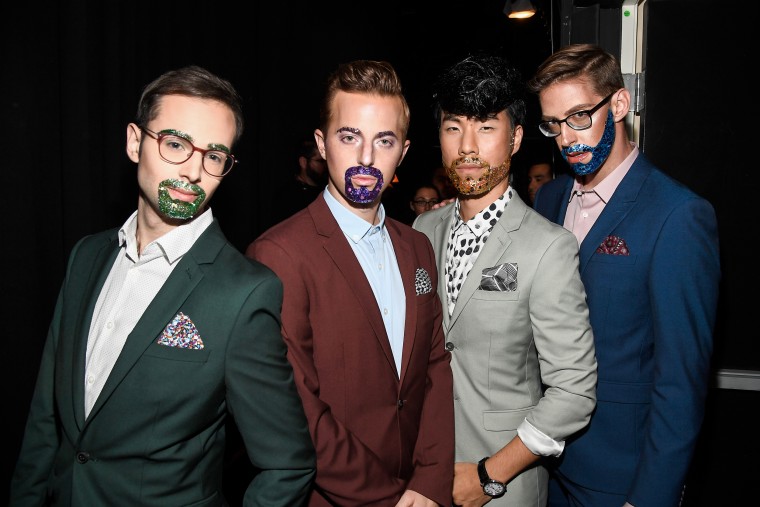 Montoya said she's sensed a vibe shift since the group moved on from Fulmer's scandal last year. Its content seems more carefree, she said, and the members appear almost happier.
"I think they're doing better for themselves. They're actually doing videos that I think they're enjoying themselves more often," she said. "I mean, they're doing literally vlogs in the car. It's amazing."
In an interview with NBC News at VidCon, Kornfeld and Habersberger said the sudden virality last year seems to have rejuvenated some older fans' — those who had first tuned in when BuzzFeed dominated YouTube during the mid-2010s —  interest in their content, enabling The Try Guys to refresh their perspectives on what they aim to do as creators.
"The fans were incredibly supportive and really wonderful. They still are," Habersberger said. "Some are very sweet and actually bring it up when they meet us, and they say, 'I'm just so happy that you're still around and doing stuff.'"
I'd much rather have a small group of people who really ride or die for what we're doing than go viral.
-Try Guys co-creator Zach Kornfeld
Over the past year and into the near future, Habersberger and Kornfeld said The Try Guys are focusing on cultivating projects they are passionate about rather than chasing big numbers. That, they said, means passing on opportunities they know would get easy views but that don't align with the content they actually want to produce.
"We're allowing the brand to evolve, and that means a lot of things: the content to evolve, our cast to evolve," Kornfeld said. "We are giving ourselves the freedom and permission to experiment and do wild things, things that maybe are not responsible from an algorithmic perspective."
But for some newer fans, including VidCon attendee Amber Marley, the flurry of attention around the Fulmer scandal was what put The Try Guys on her radar in the first place. Marley said she had vaguely known of the group beforehand but didn't truly discover its content until she watched its explanation video, which drew so much internet commentary that it was spoofed on "SNL."
From then on, Marley said, she began exploring the group's other videos. She said she found herself consistently entertained by The Try Guys' willingness to put themselves in uncomfortable situations just for the experience.
"It's really cool that they try all different kinds of things even if it puts them in a little predicament of like, 'I don't think I'm gonna like this,'" Marley said. "I think if you have an option to try something that you haven't tried, and it's not too crazy, you should definitely give it a shot."
Experiencing the support from fans at a real-life event such as VidCon, Kornfeld said reminded him how "mind-bogglingly meaningful" it is that millions of viewers resonate with what The Try Guys do. He said that as the group continues to move forward as a brand, it looks to cultivate a stronger relationship with its existing fanbase.
"I'd much rather have a small group of people who really ride or die for what we're doing than go viral," Kornfeld said. "We're done going viral. I don't need that anymore."