LOS ANGELES — Steven Hill, a versatile character actor in theater, films and television who achieved his greatest success late in life as grumpy District Attorney Adam Schiff on TV's long-running "Law & Order," died Tuesday. He was 94.
He died Tuesday morning at Mount Sinai Hospital in New York, his wife, Rachel, said. The cause of death was not immediately available, but his wife said he suffered from several ailments.
Hill, who also starred for a season in the 1960s series "Mission Impossible," was remembered warmly by "Law & Order" producer Dick Wolf.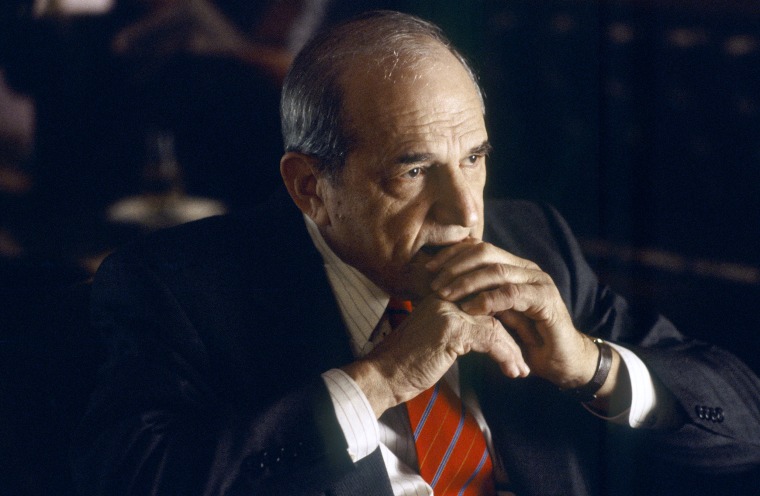 "Steven was not only one of the truly great actors of his generation, he was one of the most intelligent people I have ever met. He is also the only actor I've known who consistently tried to cut his own lines," Wolf said in a statement.
Hill, whose more than two dozen films included "Billy Bathgate," ''White Palace" and "Yentl," recalled in 1999 how his presence as "Law & Order's" grouchy legal stickler developed gradually during his 10 years with the show.
"It was like a very pleasant back-and-forth kind of thing," he said. "I'd come up with these ideas, give suggestions on (Schiff's) kind of thinking, and the writers used that as a kind of springboard."
He also studied up on the law to make his character more believable.
"I believe the audience needs to feel you understand what the heck you're talking about and they can tell if you don't," he said.
After he left the show in 2000, Hill remained visible on TV for a time as the no-nonsense pitchman in commercials for TD Waterhouse Investor Services.
Hill had honed his craft in the years immediately after World War II, taking classes at the Actors Studio in New York with Marlon Brando and Montgomery Clift.
He made his Broadway debut in 1946 with "A Flag Is Born" and was in the original casts of "Mister Roberts" and "The Country Girl."
When the TV networks began broadcasting live drama programs during television's Golden Age, Hill made the transition to the small screen seamlessly, appearing on "Studio One," ''The Ford Theatre Hour," ''Lux Video Theatre," ''Goodyear Television Playhouse" and "The Philco Television Playhouse."
Later, he appeared on shows including "thirtysomething," ''The Fugitive," ''Rawhide," ''Ben Casey," ''Dr. Kildare," ''The Untouchables" and "Route 66."
When "Mission Impossible" debuted in 1966, he landed a starring role, as undercover team leader Daniel Briggs. But he left after one season when the show's shooting schedule interfered with his observation of the Jewish Sabbath. He was replaced by Peter Graves.
An Orthodox Jew, Hill abandoned acting for a time in the late 1960s to study religion. He said later he believed the sabbatical improved his acting ability.
He had made his movie debut in 1950 in "A Lady Without Passport" with Hedy Lamarr. Other notable films over the years included "Teachers," ''Brighton Beach Memoirs" and "Legal Eagles." He also portrayed the father of Christine Lahti in "Running on Empty," of Meryl Streep in "Heartburn" and Jill Clayburgh in "It's My Turn."
Born Solomon Krakovsky to Russian immigrant parents in Seattle, Hill said his interest in acting was ignited at age 6, when he landed the lead in a production of "The Pied Piper of Hamelin."
He married Selma Stern in 1951 and the couple had four children before divorcing in 1964. He married his second wife, Rachel, in 1967, and they had five children together, according to the New York Times.