Comedian and filmmaker Adam Sandler returned to to the stage that launched his career, NBC's Studio 8H, to host "Saturday Night Live" after parting ways with the show nearly 25 years ago.
Although Sandler has become a hit-movie maker both as a star and producer with his Happy Madison Productions, he said during his opening monologue that people often ask him why he ever left "SNL," and he sang a song to answer the question.
"I was fired," he sang.
Comedian Chris Rock joined and answered the same question the same way: "I was fired."
Current cast member Pete Davidson, who's seen more headlines for his love life and mental health than for his performance on the show, tried to join in, but Sandler informed him he has not, in fact, been fired.
"I wasn't ... how's that even possible?" Davidson said.
"I don't know," Sandler said. "Be patient, 'cause it's coming soon."
Sandler wrapped up the segment explaining why he was back.
"NBC said that I was done," he sang. "Then I made over four billion at the box office, so you could say I won."
"SNL" avoided playing off the headlines for its cold open, but news segment "Weekend Update" offered a comedic summary of political events, including a visit from presidential candidate Sen. Elizabeth Warren, played by Kate McKinnon.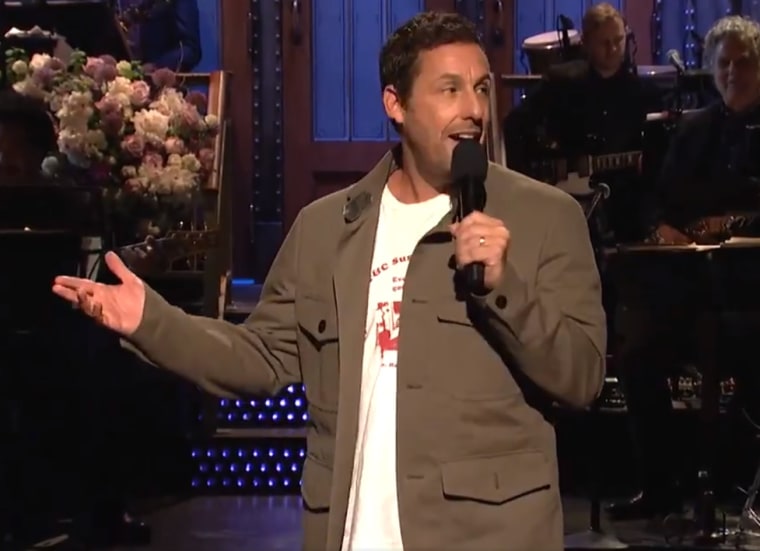 She called the Democratic field of candidates a "friggin' clown car" and criticized her colleagues in Congress for so far failing to move forward with impeachment of President Donald Trump.
"It's like the Titanic is sinking and we are politely waiting in line for the bathroom," she said.
Sandler, who started as a writer on "SNL" in 1990 and left as a cast member in 1995, brought his character Opera Man to "Weekend Update." He had some lines for Attorney General William Barr, who did not show up Thursday for a day of testimony before the House Judiciary Committee.
"Where did Barr go?" Sandler sang. "He did not show. Check every single Wendy's."
Pop star Shawn Mendes was the night's musical guest. Former cast member Kristen Wiig also stopped by to perform in a few sketches.
At the end of the show, Sandler sang an ode to comedian Chris Farley, a fellow "SNL" cast member who died in 1997 of an accidental drug overdose.
"On Saturday night my man would always deliver," Sandler sang, strumming a guitar. "Whether he was the Bumblebee Girl or livin' in a van down by the river."
"Give it up for the great Chris Farley."