Live from New York, it's Alec Baldwin making his debut as "Saturday Night Live's" newest Donald Trump impersonator.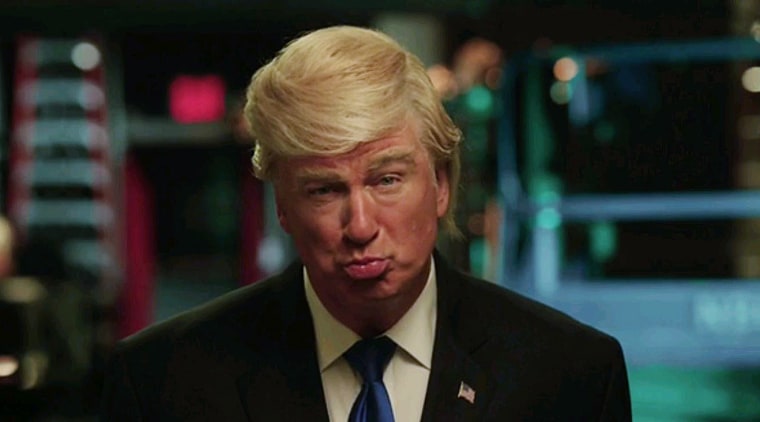 The show opened its 42nd season on Saturday with Baldwin stepping in to play Trump in a casting coup reminiscent of the success they found in Larry David's popular cameos as Bernie Sanders last season.
The "30 Rock" star was impeccably made up to look like Trump as he took the stage during the premiere's cold open to help mock the first presidential debate, going toe-to-toe with recent Emmy-winner Kate McKinnon reprising her much-lauded Hillary Clinton impression.
It was clear Baldwin did his homework in his excellent mimicry of Trump's speech and body language in the sketch. He appeared comfortable on the fast-paced live show — and he should have been, having hosted "SNL" a record 16 times.
The cold open poked fun at Clinton's recent bout with pneumonia with McKinnon walking in coughing and holding a cane, which she quickly ditches to go into a Willy Wonka-esque somersault.
Baldwin's take on Trump was a fairly standard bloviating bully who is in over his head in this race, while McKinnon portrayed Clinton as overeager and trying way too hard to be relatable.
"I won the debate! I stayed calm!" Baldwin's Trump yells before blaming Clinton and Obama for breaking his microphone and making sniffling sounds.
"What do you think about that?" Michael Che, playing debate moderator Lester Holt, asks Clinton.
"I think I'm gonna be president," a beaming Clinton responds as Trump continues to self-implode next to her.
RELATED: How 'Saturday Night Live' Has Shaped American Politics
The show made clear that it agreed with polls that Clinton won last week's debate.
McKinnon as Clinton eventually breaks out into tears.
"I'm sorry, Lester," she says. "This is going so well. It's going exactly as I've always dreamed."
The sketch ends with the duo embracing and calling out in unison the first "Live from New York it's Saturday night!" of the season.
The choice to go with Baldwin over a current cast member was the idea of former show star and head writer Tina Fey, "SNL" creator Lorne Michaels told The Hollywood Reporter.
"I just thought he'd be brilliant doing it and I thought he and Kate [McKinnon] would be a match," Michaels said.
RELATED: Meet the 3 new 'SNL' cast members
The show seemed to have some trouble filling the role since Trump first threw his hat in the 2016 ring.
Recently ousted cast member Taran Killam tried his hand at it before former long-time cast member-turned-announcer Darrell Hammond took over in a handful of appearances. Hammond had played the New York real estate tycoon several times int he mid-2000s. Trump himself also appeared on the show last season in a controversial stint as host in November.
Saturday's premiere was hosted by "Suicide Squad" actress Margot Robbie with rapper The Weeknd as musical guest.