ABC's sitcom "black-ish" reached a milestone Tuesday night when it aired its 100th episode and dedicated the half-hour show to Prince.
The episode kicked off with Jack (Miles Brown) walking in on his family listening to "Let's Go Crazy" and asks who is that lady — yes lady — singing.
Shocked that Jack and his twin sister Diane (Marsai Martin) didn't know who Prince is, the older Johnson family members launch into a recreation of some of Prince's most famous and memorable moments.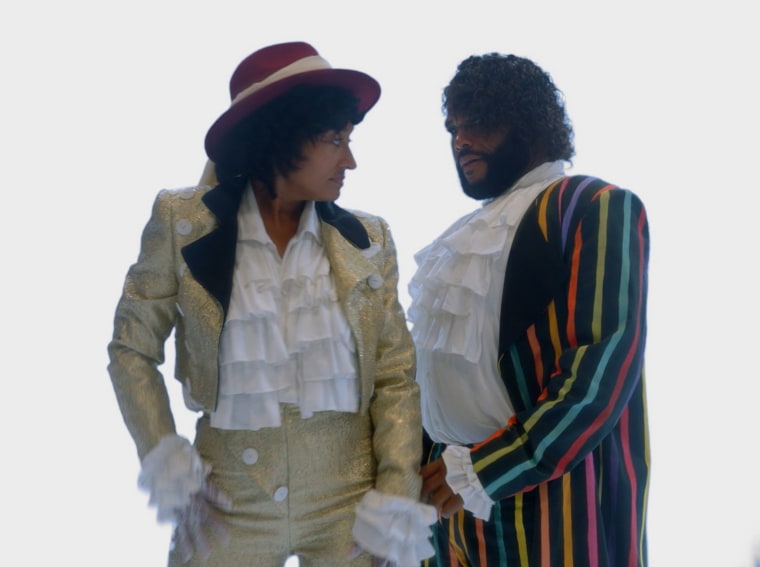 Over the course of the show, Dre (Anthony Anderson) and his family dress up in iconic Prince costumes paying tribute to songs like "Kiss," "Signs of the Times" and "Purple Rain."
Now that the show, which was forced to shelve a football kneeling episode and has drawn criticism from President Donald Trump, aired its 100th episode it joins a list of other TV sitcoms with predominantly black casts like "The Fresh Prince of Bel-Air," "Sister, Sister," "Family Matters," "The Jamie Foxx Show" and "A Different World" to reach that landmark.
The achievement also typically means that a TV show is ready for syndication, which could lead to bigger audiences and a more lucrative deal.
The idea for a Prince-centered episode came about over the summer when "black-ish" creator Kenya Barris was at a restaurant with some friends and a diner said he didn't recognize the Prince song that was playing over the speaker, showrunner Kenny Smith told Vulture.
Barris gave the diner a list of Prince songs to listen to and by the end had converted the person into a fan.
When Barris shared the story with the show's writers, the idea was born for the family to teach the younger Johnson kids about how iconic "The Purple One" was and the legacy he left behind.
"We spent an afternoon around the writers' table talking about which Prince songs we all loved," Smith said. "We started off with the ones that we had to have, the iconic ones like 'Purple Rain' and 'When Doves Cry.' And then we went through the more obscure ones people loved."
Prince, whose real name was Prince Rogers Nelson, was found unresponsive at his Paisley Park estate in Chanhassen, Minnesota, on April 21, 2016. His cause of death was the result of an accidental overdose of fentanyl, officials said.