NEW YORK — Jon Stewart says goodbye on Thursday, after 16 years on Comedy Central's "The Daily Show" that established him as America's foremost satirist of politicians and the media.
Stewart, 52, announced last winter that he was getting restless and it was time to move on. Trevor Noah replaces him as host next month.
Armed with a razor-sharp wit and research team adept at finding video evidence of hypocrisy or unintentional comedy among the nation's establishment, Stewart turned a sleepy basic-cable entertainment show into a powerful cultural platform.
Though guests for Thursday's show weren't announced, Bruce Springsteen, who has appeared on "The Daily Show" multiple times, and members of The E Street Band were seen entering the studio before the taping for the final show began.
He turned the spotlight on himself during his penultimate show Wednesday, noting how institutions he had supposedly eviscerated were stronger than ever.
"The world is demonstrably worse than when I started," Stewart wailed. "Have I caused this?"
Related: Jon Stewart's Final 'Daily Show': A Look at Some Key Stats
His only solace was that his beloved New York Mets were in first place on the day of his last show.
Fellow comic Louis C.K., his guest Wednesday, noted that Stewart was able to keep his show fresh and funny for a long time, keeping up with the world's changes. "It really is one of the great comedy accomplishments of all time," he said.
A line of people hoping to get in to the taping gathered outside of the Comedy Central studio on Manhattan's far West Side. First in line was Chad Lance, a 27-year-old musician from Philadelphia who said he arrived at 2:30 a.m., who said he couldn't wait to see what happened.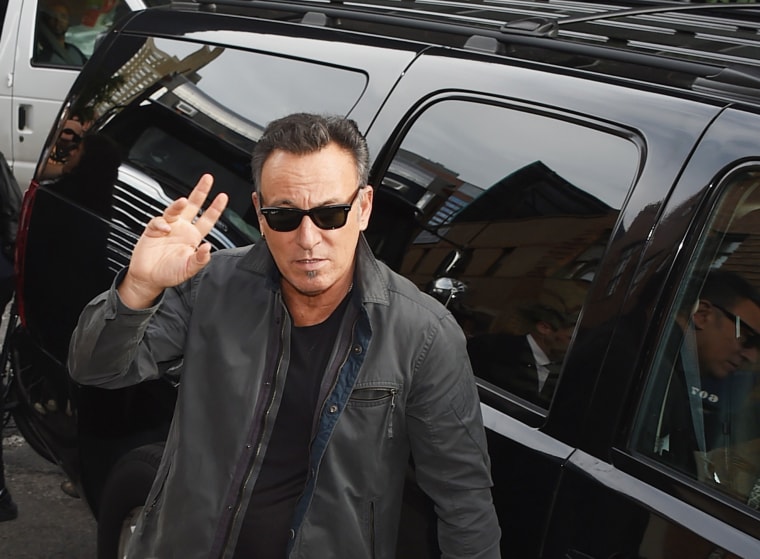 "No one knows who's going to come, no one knows what's going to happen," he said. "I think this is going to be one of the most exciting TV tapings ever."
Twenty-one-year-old Jessica Vitovitch was anxiously waiting to see if she'd get a seat.
"I think Stewart has contributed so much to the political consciousness, especially ... my generation," she said. "For this to be his finale, it's a huge cultural moment."
Stewart's fans will be forced to navigate the first presidential election since 1996 without his commentary, a loss that felt particularly acute with the first Republican candidates' debate taking place less than three hours after the taping of his final show. "The Daily Show" airs at 11 p.m. EDT.
It's the third major farewell for a late-night television personality in eight months. Stewart's Comedy Central colleague, Stephen Colbert, ended "The Colbert Report" in December. David Letterman signed off from CBS in May, to be replaced this fall by Colbert.
Related: Jon Stewart's Last 'Daily Show': A Look Back at Six Serious Moments
Comedy Central put out the word that Stewart's final show will run longer than the typical half hour, so people recording it on their DVRs won't be unpleasantly surprised.
Fox News Channel chairman Roger Ailes, whose network remained intact despite Stewart's "pulverizing" blows, said that Stewart was a brilliant comedian and nice guy who has a bitter view of the world.
"He's been after us for years," Ailes told The Hollywood Reporter. "Occasionally we pay attention. We think he's funny. We never took it seriously and he never made a dent in us."
With thousands of words in tributes being written on his behalf the past few weeks, Stewart hasn't granted exit interviews. He showed up for a podcast done by his show's executive producers, spending most of the half hour talking about the menus for catered meals at the office — including a lengthy discussion of whether egg sandwiches were better on English muffins or Kaiser rolls.
"We worked awfully hard and not every show has been up to snuff," Stewart said Wednesday. "But we've given it our all every single time."