LOS ANGELES — Charlotte Rae, who brought wisdom and wackiness in equal measure to the role of Mrs. Garrett, the housemother to a group of private school girls on the highly rated TV sitcom "The Facts of Life," died Sunday at 92, her son, Larry Strauss, told NBC News.
Strauss said Rae died peacefully at her home in the Los Angeles area, surrounded by family, at 4:30 p.m. (7:30 p.m. ET).
No cause of death was given. Rae revealed in April 2017 that she had bone cancer.
"I don't know how old you are, but when we were younger, we used to call it dying of old age," Strauss said Sunday night.
Kim Fields, a breakout star as one of the private school girls mentored by Rae's character, said on Twitter that "my heart is heavy yet."
Edna Garrett began as a character on another sitcom, "Diff'rent Strokes." For a season and a half beginning in 1978, she was the housekeeper for a wealthy white man who adopts two African-American boys from Harlem, played by Gary Coleman and Todd Bridges.
"My heart is full of pain," Bridges tweeted Sunday night.
Mrs. Garrett, often called "Mrs. G," became so popular that in August 1979, she got her own series, becoming housemother to the girls in a dormitory at the fictional Eastland School. Among the actors playing her wards were Fields, Dana Plato, Nancy McKeon and Lisa Whelchel, all of whom became stars.
To give the popular student characters more air time, producers of the show, which was a surprise hit for NBC, struck upon the idea of making Mrs. Garrett the school dietitian and having the girls, through a series of misadventures, compelled to live with her out of the dormitory. Several other characters, including a student played by Molly Ringwald, were dropped from the cast.
As the girls approached graduation age, producers found another way to keep them together and to keep the show — by then NBC's top-rated prime time comedy — on the air: Mrs. G. opened her own food shop, taking with her four of her most popular co-stars, her motherly but relatable guidance — and a curious susceptibility to falling into serious-topic "Very Special Episodes."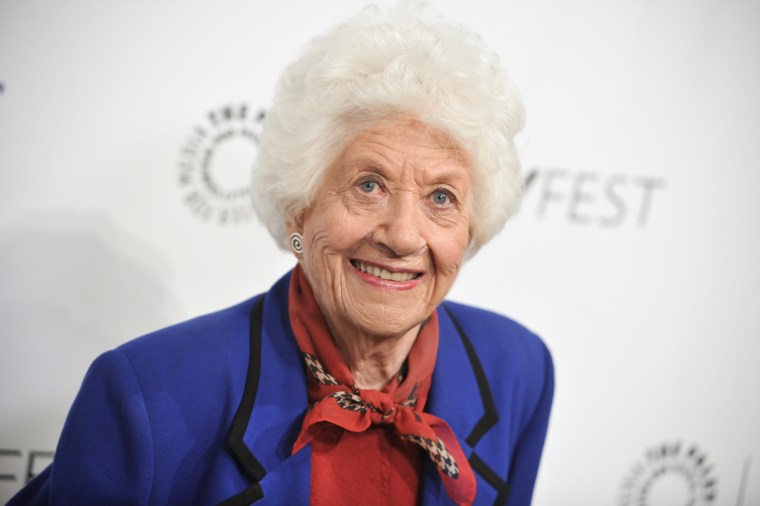 A representative episode would often have Mrs. Garrett yelping on the phone a line like "Harper's where? Blair's what? Thanksgiving's WHEN?" By the end of the episode, Mrs. G. would have fixed most problems.
Rae was nominated for an Emmy as lead actress in a comedy in 1982, to go with her Emmy nomination for best single performance by a supporting actress in the 1975 TV movie "Queen of the Stardust Ballroom." She was nominated for two Tony awards for her Broadway roles in "Pickwick," in 1966, and "Morning, Noon and Night," in 1969.
She was born Charlotte Rae Lubotsky in Milwaukee and began appearing on TV during the 1950s, on shows like "Car 54, Where Are You?" But her fame didn't fully blossom until the 1970s, when she became Mrs. Garrett on "Diff'rent Strokes."
In her 2015 autobiography, "The Facts of My Life," Rae disclosed that she had fought alcoholism and had been sober for 44 years.
Mindy Cohn, an original "Facts of Life" cast member, recalled Rae on Sunday night as an "incredible force of a woman."
"She was my champion, a teacher, a proud example of the tenacity and perseverance needed to live as a creative, along with your talent and gifts," Cohn wrote on Instagram. "I love you Char. I will continue to make you proud."