NEW YORK - Jimmy Fallon took the reins of the long-running "The Tonight Show" on Monday, bringing NBC's late-night talk show flagship back to Manhattan after an absence of more than 40 years.
He was welcomed on set by a host of top stars, including Robert De Niro, Mike Tyson and Lady Gaga.
Tina Fey, Tracy Morgan, Mariah Carey, Lindsay Lohan, Joan Rivers, former New York mayor Rudolph Giuliani, Sarah Jessica Parker, Joe Namath and Stephen Colbert also made surprise appearances on Fallon's "Tonight Show" debut.
The slew of unannounced walk-ons followed Fallon's remark that someone owed him $100 after betting he would never host "The Tonight Show," at which point De Niro and others strode on stage one after another, each plunking bills onto his desk until finally Colbert showered him with a bucket of pennies.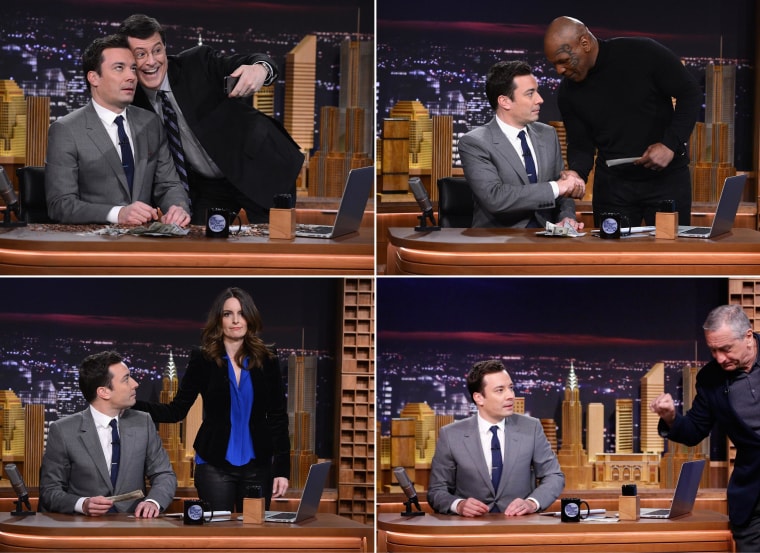 Actor Will Smith and U2 were the Brooklyn-born Fallon's first official, previously announced guests as the former "Saturday Night Live" comic launched the show's widely anticipated return to Manhattan's Rockefeller Center.
"I'm Jimmy Fallon and I'll be your host -- for now," Fallon told the audience in the new multi-million dollar studio where such beloved "Tonight" veterans Johnny Carson and Jack Paar once presided.
Fallon also paid tribute to the show's previous hosts by name, including the long-serving Jay Leno.
The "Tonight Show" first aired on NBC in 1954 from New York with host Steve Allen. Paar hosted the show from 1957 until Carson took over in 1962, and reigned for 30 years, before departing in 1992. Carson moved the show to southern California in 1972.
In its final Burbank days, the "Tonight Show" drew about 3.9 million viewers per episode.
First Lady Michelle Obama is among the guests scheduled for this week, along with Bradley Cooper and Justin Timberlake. Jerry Seinfeld, Kristen Wiig and Lady Gaga will appear on Tuesday.
- Reuters