There appears to be a growing consensus among some of the leading voices in American late-night comedy that Donald Trump just isn't funny anymore.
Although the GOP presidential nominee has been a boon to ratings as a guest and has provided endless fodder for late-night comics, viewers who tune into the likes of Seth Meyers, Samantha Bee and John Oliver are more likely to see the polarizing real estate mogul getting condemned instead of politely mocked.
This is a break with tradition. Typically, late-night comics pride themselves on being equal-opportunity offenders who take shots at anyone in power, regardless of their political persuasion. Democratic nominee Hillary Clinton has certainly received her fair share of ridicule, but this election cycle has evolved differently. With Trump's racially charged rhetoric about Muslims and Mexicans, coupled with his controversial statements about the U.S. military and his critics, several popular comedians are more overtly taking sides and imploring their viewers to vote against him.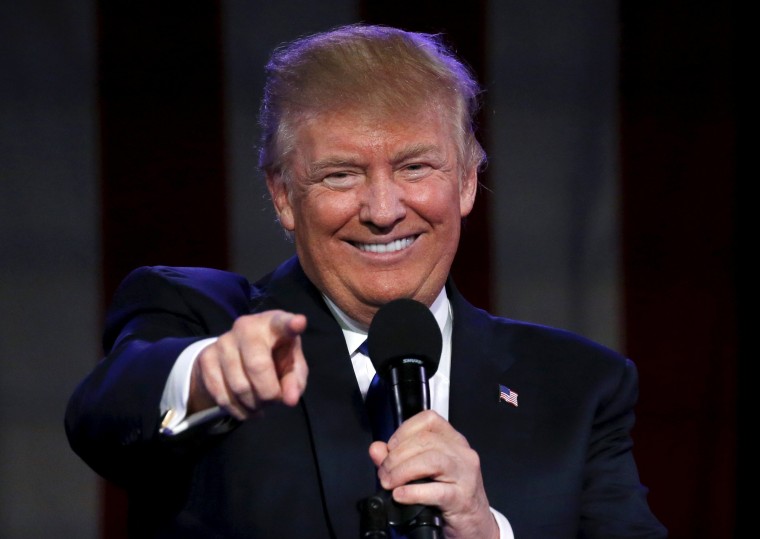 "Comics are being blunt because they're terrified," stand-up comic Elise Valderrama told NBC News on Wednesday. "I think it's because Donald Trump is the part of us we hate the most. That part that's completely narcissistic and sociopathic almost. There's a part of us that is very thin-skinned, wants to get attention and can't take a joke.
"Now he's got serious momentum and the possibility for serious power. Comics recognize that because we have experience with this kind of person in our lives and it's easy for us to see through it," she added.
Samantha Bee, whose TBS show has differentiated itself from the late-night pack in no small part thanks to her righteous indignation, has been unabashedly pro-Clinton throughout the 2016 campaign, taking both "Bernie bros" and Trump supporters to task. On her most recent episode, which aired Monday, Bee ripped into Trump's critique of the Khan family, whose son was killed in Iraq in 2004.
Following their appearance at the Democratic National Convention, where Khizr Khan questioned Trump's familiarity with the Constitution, the GOP nominee implied that Khan's wife, who stood silently by his side, was denied the right to speak, perhaps because of her Muslim faith.
"She was too choked up from seeing her son's picture," Bee said, in reference to a column the Gold Star mother later wrote explaining her behavior. "Why are you allowed to have anything to say?"
John Oliver, who once dedicated an entire episode of his acclaimed HBO series "Last Week Tonight" to debunking Trump's entire biography (including his name, which inspired a popular run of merchandise emblazoned with "Make Donald Drumpf Again"), was similarly apoplectic over the candidate's insinuations about the Khans.
After calling Trump a "f****** a******" direct to camera, a clearly emotional Oliver said: "The main takeaway from these two weeks is that, incredibly, we may be on the brink of electing such a damaged, sociopathic narcissist that the simple presidential duty of comforting the families of fallen soldiers may actually be beyond his capabilities -– and I genuinely did not think that was a part of the job that someone could be bad at."
"The Daily Show" host Trevor Noah, who is sometimes dinged for being more toothless than his predecessor Jon Stewart (another frequent Trump foe), has nevertheless been merciless when it comes to the GOP nominee.
"Whether you're a Democrat, or even a Republican, you cannot lie and say Donald Trump would be a good president. That's just a fallacy," he frankly told The Daily Beast in a recent interview.
And its not just cable-based comics calling Trump out. NBC's Seth Meyers has gone further than most of his peers, calling Trump's statements racist on-air and officially banning him from ever appearing on his "Late Show."
Following the June 12 shooting massacre at the Pulse nightclub in Orlando, Meyers delivered one his now-signature "A Closer Look" segments, but instead of just plumbing Trump's controversial reaction to the tragedy for laughs, he took him to task.
"Trump is stoking fear and spreading hate, and this is important because we can't become immune to it," he told his audience. "We cannot allow it to become normalized, which is why we need robust, independent press like the newspapers Trump banned from his campaign to challenge the fear mongering, and provide us with sober, clear-eyed reporting."
Meyer's tensions with Trump can be traced all the way back to 2011, when the comedian took several timely potshots at the former "Apprentice" star during the White House Correspondents Dinner. Following the event, which became more infamous after the fact because it preceded President Obama's order to execute Osama bin Laden, Trump griped that Meyers "has no talent," and added, "He fell totally flat. In fact, I thought Seth's delivery was so bad that he hurt himself."
When Meyers announced that Trump would never be welcome on his show, the presidential contender said: "He has begged me to do the show for the last two years. I have told him emphatically 'no.' I only like doing shows with good ratings, which as everybody knows, I only make better (by a lot)." For the record, Meyers has routinely topped the ratings in his 12:30 a.m. time slot.
Meanwhile, Meyers' network-based competitors have been a little less demonstrative, although CBS' Stephen Colbert did a daring segment in June linking Trump's ideology to Nazism and more recently referred to the Republican standard bearer as a "d-bag."
But, for the hosts, taking a political stance can always mean risking a backlash from viewers at home, which may be more politically diverse than studio audiences in Los Angeles and New York.
For instance, TBS' Conan O'Brien, who typically steers clear of taking political stands, was pilloried by critics on the right for officiating a same-sex marriage in 2011 and for making a sincere plea for the country to "grow up" on the issue of gun control following the Orlando tragedy. He too has made the Hitler-Trump comparison, ostensibly for comedic effect.
And some reports have suggested that Colbert's early struggles in the ratings were a direct result of the perceived liberal bias of the host. According to a survey published last fall in The Hollywood Reporter, Colbert's audience was disproportionately composed of Democratic voters (47 percent Democrat compared to 17 percent Republican), while ABC's Jimmy Kimmel and NBC's Jimmy Fallon's audiences are evenly split between viewers from both parties.
Trump has enjoyed a warmer reception on those shows -- and the same goes for "Saturday Night Live," which courted him to appear as its host last September. The episode drew huge ratings, but also criticism for handling Trump with kid gloves, and for largely ignoring his penchant for denigrating minorities.
But Valderamma has another theory about why some comedians are souring on Trump -- they feel partly responsible for his rise. "It was easy at the beginning [to score laughs at his expense], but now I think it's reached this critical mass where we can't afford to joke anymore," she said. "He likes the attention but he is also a baby man with a tiny soul. This is a dangerous person."
Ironically, Valderamma admits that the first joke she ever told on stage roughly four years ago revolved around the theoretical prospect of a Trump presidency. She imagined a scenario where even if he lost it would confirm "how beautiful it is that an entitled millionaire can't get everything he wants."
She liked the thought of Trump "losing but opening up his limo door and it's full of balloons because everyone was sure he would win and now he just has to angrily pop a bunch of balloons."