The Primetime Emmy Awards on Sunday embraced the diversity of the television industry, presenting a stark contrast to the Academy Awards seven months ago, which arrived under a wave of criticism for its second straight year of all-white acting nominees.
"Game of Thrones," "Veep" and "The People Vs. O.J. Simpson" were the night's big winners — but the award ceremony's most diverse slate of nominees ever stole the show, a fact that was not lost on host Jimmy Kimmel.
Related: Here Are the Big Emmy Winners of the Night
"The only thing we value more than diversity is congratulating ourselves on how much we value diversity," he joked, before sarcastically urging audience members of color to thank their white colleagues for their "bravery."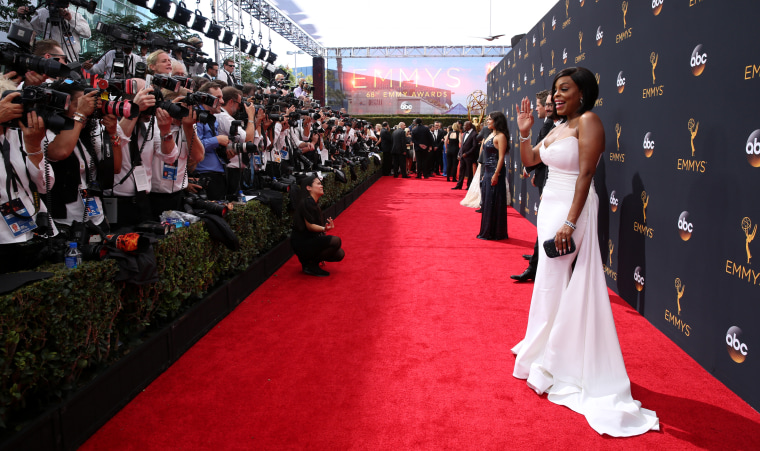 And while the show did highlight several winners of color — from Sterling K. Brown of "The People vs. O.J. Simpson," to Rami Malek of "Mr. Robot," Regina King for "American Crime," and Key and Peele for Variety Sketch Series — there were also calls for more improvement.
Related: 'Master of None' Wins at Emmys, Celebrates Story of Immigrant Parents
"There's 17 million Asian Americans in this country, and there are 17 million Italian Americans — they have 'The Godfather,' 'Goodfellas,' 'Rocky,' 'The Sopranos' — we got Long Duk Dong," quipped Alan Yang, who won an Emmy for writing an episode of Netflix's "Master of None." "So we've got a long way to go but I think we can get there."
Jeffrey Tambor, a perennial winner for his acclaimed performance in the lead role on Amazon's "Transparent," ended his acceptance speech with an impassioned call for Hollywood to "give transgender talent a chance."
"I would not be unhappy were I the last cisgender male to play a female transgender on television. We have work to do," he told the audience.
Related: Emmys 2016 recap: Memorable moments and highlights from the awards show
Meanwhile, amid the celebration, there was still plenty of time to take shots at Republican presidential nominee Donald Trump, who ironically gained renewed national prominence as a reality TV show star.
The political jibes at Trump's expense came early in the form of a well-received, self-deprecating Jeb Bush cameo, where the former presidential candidate was re-cast as a taciturn Uber driver.
Bush, who said that he was "in between jobs right now," told Kimmel "if you run a positive campaign the voters ultimately will make a positive choice," before calling that statement a joke and peeling out. "Jeb exclamation point!" he shouted, in a spoof of his quixotic campaign moniker.
"If it wasn't for television, would Donald Trump be running for president?" Kimmel asked the audience during his opening monologue. "No, he would be at home right now quietly rubbing up against his wife Malaria [sic] while she pretends to be asleep."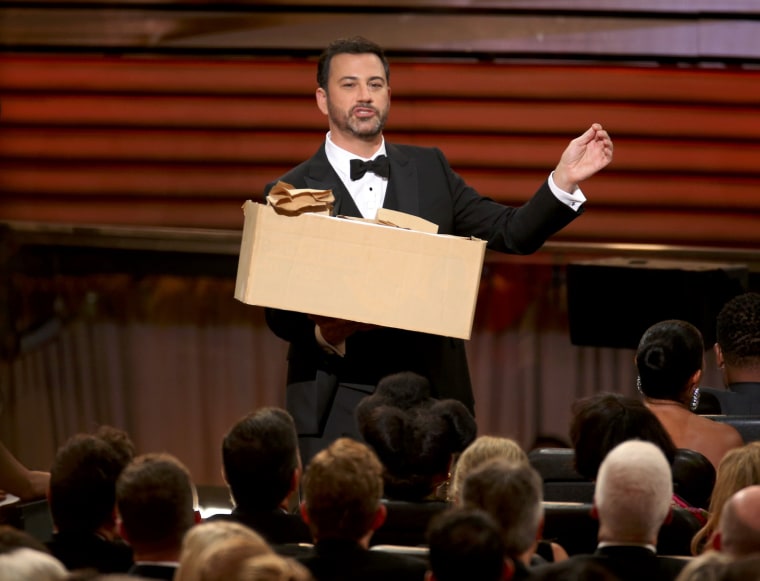 Kimmel also singled out reality TV guru Mark Burnett for creating what he called "the Trump phenomenon." Burnett was the producer of Trump's hit "Apprentice" series.
"If Donald Trump gets elected and he builds that wall, the first person we're throwing over that wall is Mark Burnett," he said.
Related: Julia Louis-Dreyfus Dedicates Emmy Win to Late Father
Aziz Ansari, the star of "Master of None" and an outspoken opponent of Trump, was even more explicit in his criticism of the candidate.
"I want everyone to know that after careful consideration, I've decided I'm going with Trump, which is why I'm also recommending we get rid of all Muslim and Hispanic nominees from the ceremony," he joked. "This would all be so much easier if we were at the Oscars."
PHOTOS: Stars Shine at Emmys
Emmy winner Jill Soloway, the creator of "Transparent," blasted Trump​ for his treatment of women and minorities.
"[He is] one of the most dangerous monsters to ever approach our lifetimes," Soloway said backstage. "He's a complete dangerous monster and any moment that I have to call Trump out for being an inheritor of Hitler, I will."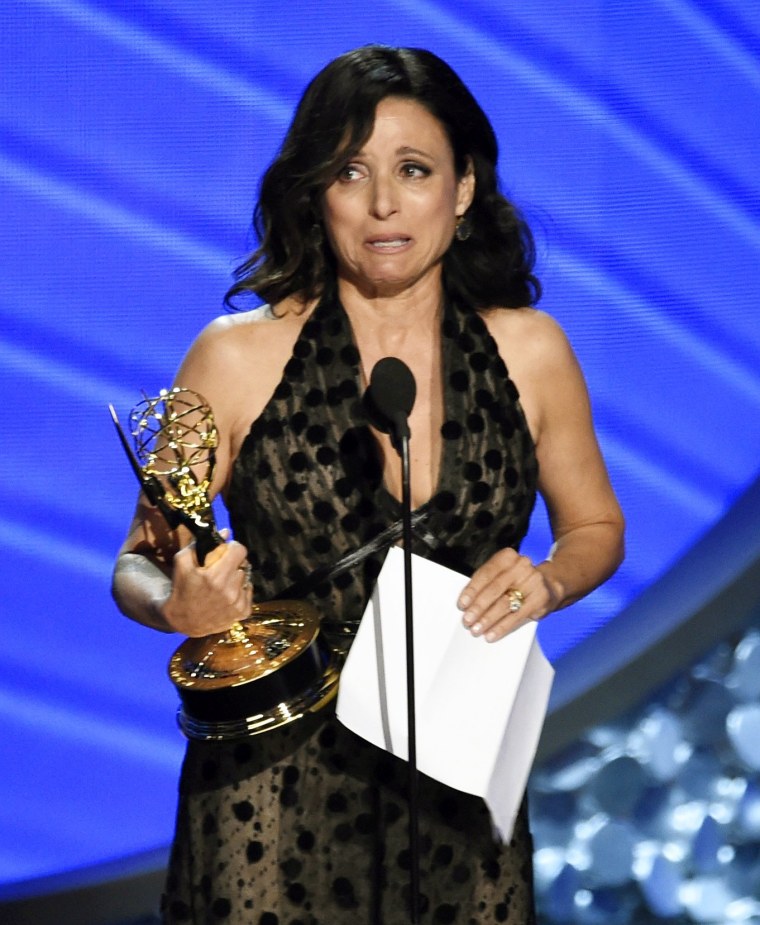 In an emotional speech, coming just two days after the death of her father, Julia Louis Dreyfuss — winning a record fifth consecutive Emmy for "Veep" — apologized to the audience because she believes real life is starting to resemble her subversive political comedy.
"Our show started out as a political satire but it now feels like a sobering documentary," she said. "So I certainly do promise to rebuild that wall and make Mexico pay for it"
However, veteran actor Courtney B. Vance, who won an Emmy for his acclaimed portrayal of Johnnie Cochran in "The People vs. O.J. Simpson," gave the most succinct political statement of the night when he concluded his acceptance speech by declaring: "Obama out, Hillary in."